Many people believe that blockchain, dapps, Bitcoin, and cryptocurrencies, in general, are here to stay.
What started nine years ago as a complex concept of a digital currency that only a few people understood has now evolved into a full-fledged business. Bitcoin traders and investors all over the world are drawn towards crypto exchanges and are always in search of additional ways to earn more money.
Although the prices keep changing almost on a daily basis, the crypto market is steadily increasing in total value. The December 2017 Bitcoin bubble quickly imploded, leading to a bearish 2018. However, the vast majority of investors are still optimistic and have their gaze towards the future.
This is all due to the blockchain technology which powers the crypto world. Whether you are a Bitcoin trader or a blockchain enthusiast, here are the top blockchain predictions for 2019 that will help you better understand what this technology is all about.
1. Blockchain Will Meet Internet of Things
According to a report by International Data Corporation, many IoT companies will be incorporating blockchain technology into their products. IDC predicts that 20% of IoT deployments will have blockchain services installed by 2019.
With the help of blockchain technology, they are projected to improve services and thus increase sales. In fact, we already have digital startups in this niche, and we can only expect the sector to grow in 2019.
Why blockchain? Because it is based on a distributed and decentralized system that provides a secure framework for communication between IoT devices. It allows the automated exchange of data between them and also has high resistance to cyber attacks and other cyber issues.
2. Mass Adoption of Blockchain
According to a 2018 Deloitte's Global Blockchain Survey, 40% of respondents reported that their organization will invest $5 million or more in blockchain technology in 2019.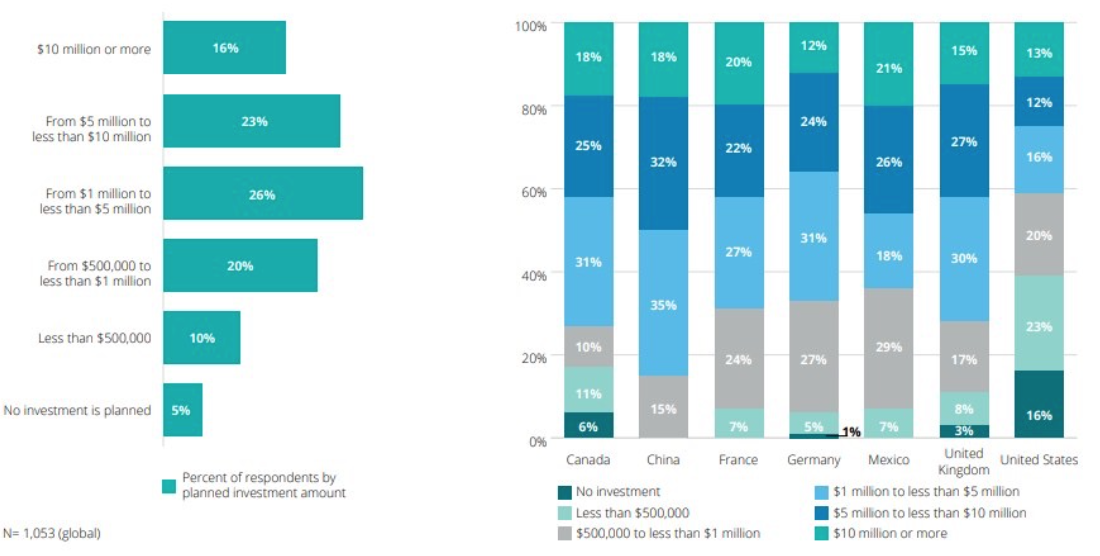 The same research reveals that 74% of respondents believe that this tech will bring many benefits to their companies.
To start with, IBM has already developed a blockchain product that allows startups and developers to build decentralized apps. As more and more companies are moving towards this emerging technology, we can expect it to get a certain amount of traction in the coming year.
3. Trading on Crypto Exchanges
Crypto exchanges have recently been growing both in their number and popularity. In fact, their impact on the crypto world is so significant that a single tweet or public announcement by the CEO of any leading crypto exchange could influence the price of specific cryptocurrencies.
Such was the case a few weeks ago when Coinbase and Binance, arguably the world's leading crypto exchanges, publicly supported the upcoming Bitcoin Cash hard fork, prior to the controversy and chaos it caused in the middle of November.
As cryptocurrencies continue to evolve, so will crypto exchanges and their impact on the crypto world. The following year will be no exception.
4. Gaming and the Crypto Space
There are various startups using crypto tokens and launching a number of video game-related services based on blockchain. For example, a Singapore based startup Bountie plans to launch an online gaming platform where players would be rewarded in cryptocurrency for the time they spend playing games on it.
Later on, they can use these coins to buy a new game, merchandise, etc.
The blockchain-based gaming platforms might require a bit more effort to be developed, but some of them are set to be released in 2019.
5. Decentralized Apps Will Continue To Grow
The first Ethereum dapp game was CryptoKitties. The goal of this game was to collect and breed digital cats.
This decentralized app did not revolutionize any system, but it did bring an idea that caught the attention of various developers who quickly realized the potential of dapps and the Ethereum network in general.
That said, experts believe that 2019 is the year when dapps will grow in popularity.
6. Blockchain Will Disrupt Industries
Throughout the internet, the term "blockchain" is linked to ICOs, Bitcoin, and everything that revolves around cryptocurrencies. However, this is just one of the numerous applications of the technology that is spreading like wildfire.
The financial industry is only one area where this piece of technology changed things for the best.
Did you know, for example, that supply chain and shipping industry have also profited from blockchain? Now that data can be tracked via immutable public ledger, shipping and transporting goods such as fresh food has become much more efficient and reliable.
Other industries that have implemented blockchain in their operations include cybersecurity, insurance, healthcare, etc.
It is safe to say that 2019 should see blockchain adoption on an unprecedented scale. We should not be surprised to see it in virtually every industry.
7. Decentralized Exchanges Will Increase
There is a chance that the number of decentralized crypto exchanges will rise in the coming year.
Although the majority of the present crypto exchanges are (ironically) centralized, the decentralized ones will increase in number, as they offer better user control, higher security level, and better liquidity.
8. Government Agencies Are More Likely to Adopt Blockchain
The idea of the immutable distributed ledger and its security levels has attracted various governments to consider using it for storing data on such a system.
It can hold various data chunks from any part of the world. Estonia, for example, has already implemented blockchain technology with X-Road, a decentralized ledger that stores credentials of all citizens.
Summing Up
It is certain that blockchain will revolutionize business processes for many industries. However, full adoption will require a great deal of time and effort.
Moreover, amidst all the Bitcoin, blockchain, and cryptocurrency predictions, there is one thing that we know about this space – blockchain and crypto industries are moving very fast. 
Check Latest Headlines on HodlX
Follow Us on Twitter Facebook Telegram
Check out the Latest Industry Announcements
Disclaimer: Opinions expressed at The Daily Hodl are not investment advice. Investors should do their due diligence before making any high-risk investments in Bitcoin, cryptocurrency or digital assets. Please be advised that your transfers and trades are at your own risk, and any loses you may incur are your responsibility. The Daily Hodl does not recommend the buying or selling of any cryptocurrencies or digital assets, nor is The Daily Hodl an investment advisor. Please note that The Daily Hodl participates in affiliate marketing.