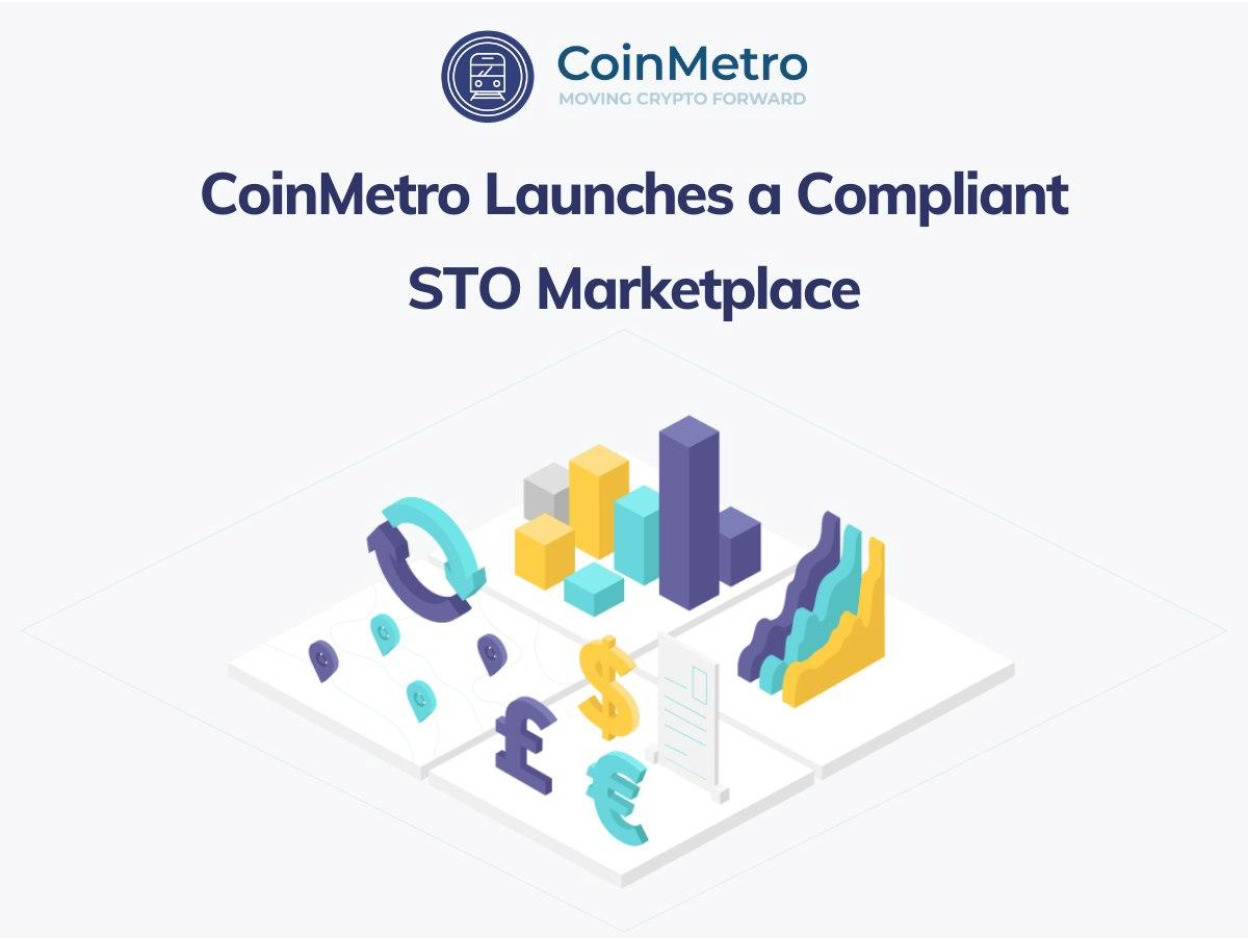 August 24, 2020 – Tallinn, Estonia
CoinMetro, a digital currency exchange, and Ignium, a central securities depository built on blockchain technology, are today announcing the launch of a new digital securities marketplace. This breakthrough platform allows both retail and institutional investors to purchase digital bonds, convertibles and equities in established companies and startups that are raising funds in a primary market capacity.
The launch of the marketplace has been made possible through a regulatory sandbox created by the Capital Markets Authority (CMA) of Montenegro. CoinMetro provides the platform for investors to purchase the securities and a platform to conduct deals on the secondary market. Ignium's system provides the issuance, primary distribution, registrar and settlement of the digital securities, as well as corporate services for the issuers. Take a look at CoinMetro's new security token platform.
After the ICO boom of 2017 and 2018, investors and hedge funds, including Tim Draper, Andreessen Horowitz, Pantera Capital, Polychain Capital, Wavemaker, and many others were touting the rise of security tokens as the next big investment vehicle. Fast forward two years and the highly anticipated security token offering (STO) landscape is still sparsely populated: STO volumes have yet to eclipse those of the ICO market. Why is this?
"In theory, the STO market should be well on its way to widespread adoption: the benefits of digital securities are clear and undisputed. However, in order for the security token market to evolve, it must be supported by a proper capital market infrastructure with all of the necessary elements; primary, secondary and post-trade. Currently, these essential building blocks are not in place. This is why we are 'building the house from the foundation': the capital markets infrastructure must be redesigned from the ground up, starting from the underlying infrastructure to which exchanges and primary offering platforms can connect." – Reimo Hammerberg, founder and CEO of Ignium.
Among many others, the World Bank and Santander already began offering tokenized bonds to investors in 2019. However, these were private and institutional offerings that were mainly intended to test how digital securities would work. CoinMetro and Ignium aim to go beyond that. Through their partnership, these two firms are creating a market infrastructure where access to global capital markets and investment opportunities are available to a much wider audience.
"Trust is a big issue in STO adoption. Regulators think the best way of protecting investors is to stop them from investing. However, we all know prohibition doesn't work; it didn't work for alcohol and drugs, it hasn't worked for capital markets. People will always try to find ways to surpass barriers. This is exactly what happened in the ICO boom: issuers found a way around regulations and exploited it. This is why CoinMetro and Ignium are focused on working with regulators, rather than around them, and finding common ground rather than trying to evade them altogether." – Kevin Murcko, CEO of CoinMetro.
"The Capital Markets Authority (CMA) of Montenegro has been trying to innovate for a couple of years now, and we found we were on the same page with Ignium and CoinMetro on how we believe regulations should be designed and implemented. This is why we have partnered within this sandbox. We believe that we need a new approach in investing for the young population that is taking over." – Zoran Djikanovic, President of the Capital Markets Authority of Montenegro.
Ignium's issuance, custody and settlement system, as well as CoinMetro's securities marketplace and secondary trading platform are now live and will enable users to purchase digital securities such as bonds and equities. The marketplace by CoinMetro and Ignium is the first end-to-end digital securities marketplace in Europe. Depending on the issuer, this gives access to global investors.
About CoinMetro
An EU-licensed exchange, CoinMetro is owned and operated by CoinMetro Group OÜ, a company incorporated in Estonia. The CoinMetro Platform is an exchange-based order book for various pairings of cryptocurrencies and fiat currencies and is now a primary and secondary market for digital securities. For press inquiries, please contact Liina Laas (email: liina@coinmetro.com, phone: +372 56 27 3661).
About Ignium
Ignium enables a direct, affordable and reliable connection between companies and investors globally. The company accomplishes this through a proprietary infrastructure where settlement of digital securities and money happens in real-time and without intermediation. Founded in Estonia by Reimo Hammerberg and Kevin Murcko in 2020, Ignium is currently seeking companies and investors that are interested in embracing an innovative, accessible, and affordable fundraising model.
For press inquiries, Rachel McIntosh (rachel@ignium.io; +358 41 474 2612). For US phone calls, please contact Tom Gooch (+1 314 488 6920).
This content is sponsored and should be regarded as promotional material. Opinions and statements expressed herein are those of the author and do not reflect the opinions of The Daily Hodl. The Daily Hodl is not a subsidiary of or owned by any ICOs, blockchain startups or companies that advertise on our platform. Investors should do their due diligence before making any high-risk investments in any ICOs, blockchain startups or cryptocurrencies. Please be advised that your investments are at your own risk, and any losses you may incur are your responsibility.
Follow Us on Twitter Facebook Telegram
Check out the Latest Industry Announcements