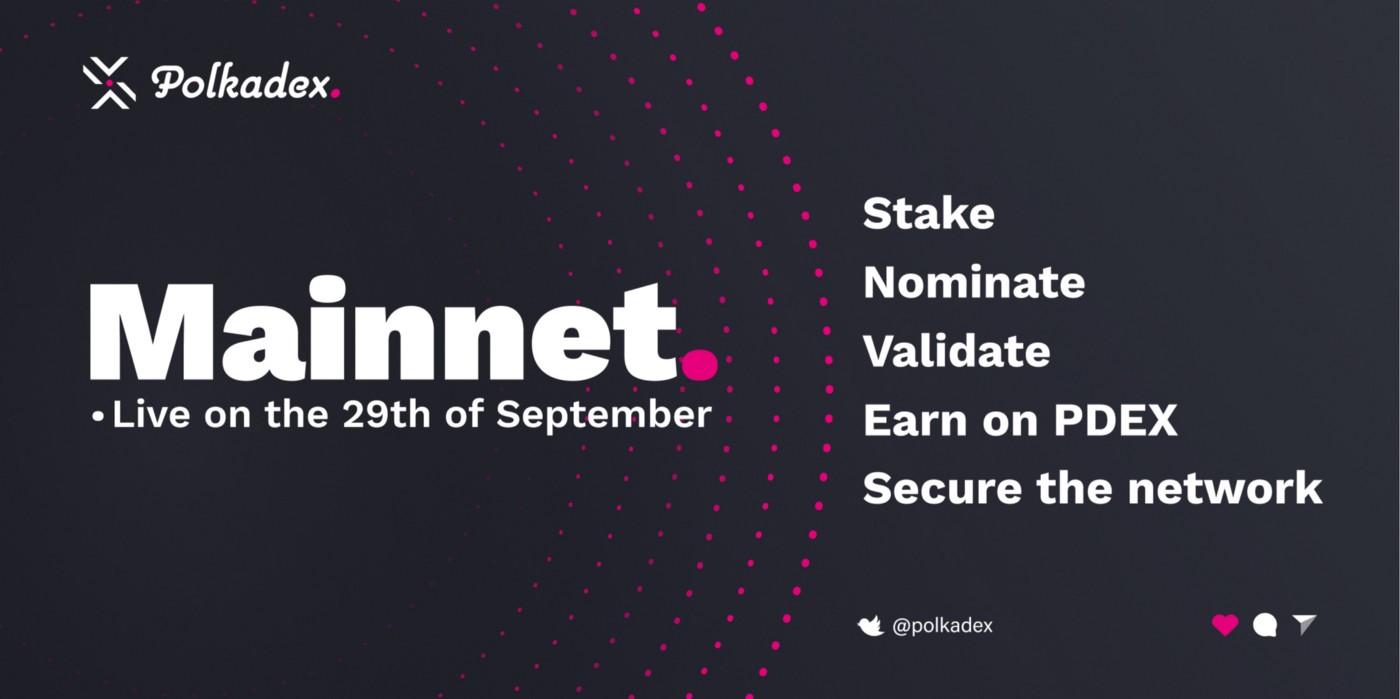 September 29, 2021 – London, United Kingdom
---
Native network shift to precede testnet trials of new offerings Polkadex, the fully decentralized peer-to-peer orderbook-based cryptocurrency exchange for the DeFi market, is set to roll out its mainnet release on September 29, 2021.
By design, Polkadex is an expansive project, consisting of several innovative solutions built on the Polkadex blockchain. In this case, 'mainnet' refers to the main chain upon which Polkadex's remaining components will be released intermittently.
After the mainnet launch, the Polkadex team will begin the migration of existing ERC-20-based PDEX tokens from Ethereum to the Polkadex network, thereby providing a one-way bridge for PDEX to be converted into Polkadex's native token.
Following the successful migration of PDEX tokens, other relevant components of the project – including PolkaIDO, Polkadex Orderbook and Polkapool – will gradually be implemented and proven on the testnet before being moved to the mainnet.
Once the migration protocol is installed on the mainnet, users can transfer PDEX from Ethereum to run validator nodes to ensure the network's security and earn PDEX tokens in return.
In addition, PDEX token holders will be able to stake their tokens, nominate validators and generate earnings on their PDEX tokens. At the same time, the testnet will continue to run concurrently with the mainnet, helping developers test their projects on Polkadex before mainnet launch.
Gautham J, CEO of Polkadex, said,
"This mainnet release is a big milestone for Polkadex. It marks the beginning of the whole series of events unfolding in the next few months. Polkadex network will act as the main decentralized layer hosting all our dApps including PolkaIDO, Polkapool and Polkadex Orderbook."
About Polkadex
Built on Substrate, Polkadex defines itself as the trading engine for web 3.0 and DeFi.
Fully decentralized, it offers the best of both centralized and decentralized exchanges and combines them into a comprehensive tool that preserves the self-sovereignty of funds while enabling intuitive trading. As a platform, Polkadex aims to optimize four different aspects of the DeFi ecosystem, including liquidity, customer experience, custody of assets and execution speed of trade orders, using a myriad of features like on-chain market maker tools, bridge mechanism and trader assets management, among several others.
Website | Telegram | Twitter | Medium | YouTube
Contact
Kseniia Baziian, CMO of Polkadex
This content is sponsored and should be regarded as promotional material. Opinions and statements expressed herein are those of the author and do not reflect the opinions of The Daily Hodl. The Daily Hodl is not a subsidiary of or owned by any ICOs, blockchain startups or companies that advertise on our platform. Investors should do their due diligence before making any high-risk investments in any ICOs, blockchain startups or cryptocurrencies. Please be advised that your investments are at your own risk, and any losses you may incur are your responsibility.
Follow Us on Twitter Facebook Telegram
Check out the Latest Industry Announcements