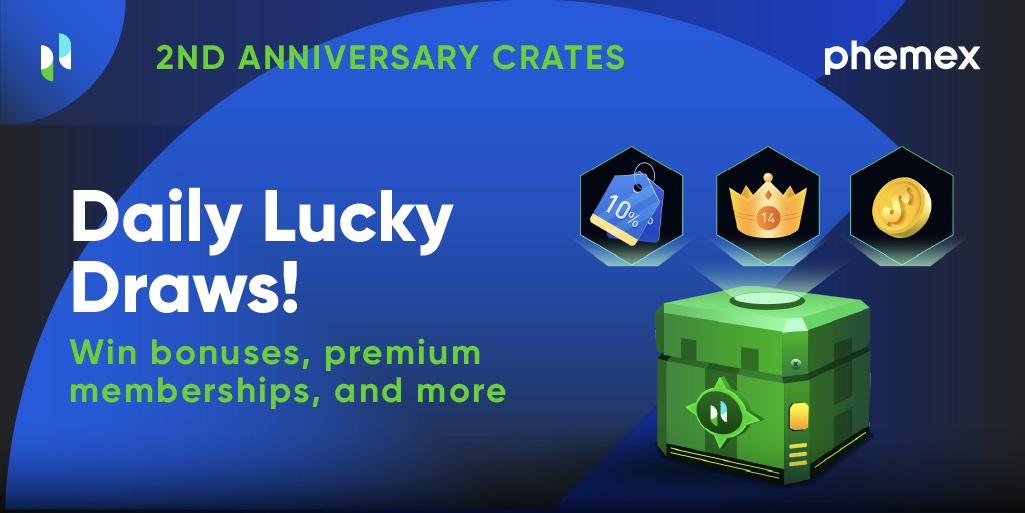 ---
Phemex continues to celebrate its second year anniversary after the new year to show customers appreciation. Through the energy crate opening promotion, each user has the opportunity to open a virtual crate three times per day for a chance to win fantastic gifts.
Trading incentives, contract reductions and free premium memberships are among the prizes available.
Participating in this event is completely free. All you have to do is open the crates and take advantage of the free daily treats. You can also increase your chances of winning by sharing the event on social media.
Phemex's energy crates event will only last three weeks – from December 24, 2021, to January 13, 2022 –so act quickly before it's too late.
How does the $200,000 in daily free prizes work?
The tasks are simple and clear. Participants can open up to three energy crates per day during the event. There are a total of 63 free boxes that can be opened for each account from the start of the event on December 24, 2021, to the end on January 13, 2022.
Keep in mind that not all boxes contain prizes. Many have surprises in them – but some of them are empty. Your accumulated awards can always be viewed directly on the event landing page.
After KYC verification is finished, rewards can be claimed and used. If you are not sure how it works, check out Phemex's KYC user guide on the subject.
When the event concludes, prizes from opened crates will be listed on the landing page until January 13, 2022. The awards won't expire even after the event has ended. A total of $200,000 will be given out in prizes, with crates containing several types of gifts.
What are the rules?
Just like in the earlier campaigns, users will follow a set of rules in order to participate in the events. This time the rules are fewer but they must be met.
The second-anniversary energy crate event has a limited quantity of registered Phemex users, and the participating account must be in a normal state. Accounts that have been locked or frozen will be unable to participate.
Participants in the event must be registered and have completed KYC in order to collect and use event rewards.
Prizes will be accumulated and can be redeemed once users have completed the KYC process.
After the event, users can access the rewards directly from their accounts.
Anyone who participates in this event is considered to have accepted all of the event's regulations, and Phemex reserves the right to make reasonable changes to such rules within the scope allowed by law.
If Phemex discovers the use of any improper channels to take part in this event, Phemex has the right to terminate the user's participation and cancel eligibility for awards.
In this competition, users can register only through their main accounts – sub-accounts will not be counted.
Participants are not allowed to sign up with multiple email addresses to collect additional bonuses. If this occurs, the account will be banned when the system finds any form of cheating.
Since Phemex works with reputable partners to maintain confidentiality, all KYC information will be safe and protected. It is critical to emphasize the importance of the know-your-customer process in preventing fraud and illicit behavior. In case users are not sure about the rules, they can find them also on the page of the event.
Conclusion
Phemex, as a company, is focused on providing its users with a practical and straightforward approach to trading and managing risk. Since the platform's launch, it has focused on empowering individual traders.
Phemex ensures that everyone has equal opportunities by providing access to the correct set of tools for trading simple and managing risk. Through these events and others to come, Phemex constantly makes trading more enjoyable for everyone.
Keep your eyes open for all the events Phemex organizes by following them on social media.
Facebook | Twitter | Telegram | LinkedIn | YouTube | Instagram
This content is sponsored and should be regarded as promotional material. Opinions and statements expressed herein are those of the author and do not reflect the opinions of The Daily Hodl. The Daily Hodl is not a subsidiary of or owned by any ICOs, blockchain startups or companies that advertise on our platform. Investors should do their due diligence before making any high-risk investments in any ICOs, blockchain startups or cryptocurrencies. Please be advised that your investments are at your own risk, and any losses you may incur are your responsibility.
Follow Us on Twitter Facebook Telegram
Check out the Latest Industry Announcements