The Bitcoin bull continues with investors, analysts, and bankers weighing in on its long and short-term gains.
$10,000
Hedge fund manager Mike Novogratz says Bitcoin will end the year at $10,000.
$14,000
Standpoint's Ronnie Moas predicts bitcoin will surge another 70% in 2018 with a price target of $14,000.
According to Moas, 95% of the 1000+ cryptocurrencies are pump-and-dump scams that are creating a dot-com style bubble that will burst. He focuses on the top 20 cryptocurrencies that represent over 90% of the cryptocurrency market cap.
$55,000
FundStrat Global Advisor co-founder Tom Lee predicts Bitcoin could rise as high as $55,000 by 2022.
$500,000
John McAfee, CEO of MGT Capital Investments, predicts Bitcoin will hit $500,000 by 2020. And if it doesn't…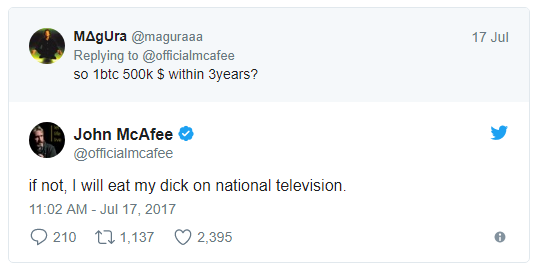 $1,000,000
Wences Casares, CEO of bitcoin wallet Xapo and member of PayPal's board of directors, predicts Bitcoin will hit $1,000,000. "Put 1% of your net worth in Bitcoin and forget about it for 10 years."
[Snippet1]