Cryptocurrency is a tough nut to crack for anyone looking to adopt the hobby. Mining digital coins is practically impossible today thanks to the costs involved in building mining rigs, and investing in a specific currency often involves high levels of risk due to market volatility and speculative investment. But what if there was a way to receive crypto without having to spend a single penny of fiat money?
It sounds too good to be true, but there are certain platforms that provide opportunities to earn cryptocurrency without expending anything except time and effort. We're not talking inefficient faucets or one-time-only airdrops, either — there's a cryptoblogging platform that rewards readers and writers for posting and curating content. It's called Steemit, and it's made more than a few fortunes since its inception in 2016.
Monetizing Blogging through Blockchain-Based Technology
In many ways Steemit is a typical blogging platform. Free to sign up, the site allows users to compose blog posts complete with formatting options and image and video embedding. Users can follow their favorite authors to populate their personal feed and use a curation system that encourages upvoting and sharing worthy content, much in the way users on sites like Facebook and Reddit can as well.
Yet this is where the similarity ends. Because Steemit is tied directly to the Steem cryptocurrency blockchain, every post on the platform has the opportunity to earn the content creator a reward from a pool of cryptocurrency created by mining activity. The more upvotes a post earns, the higher the potential payout — and that payout is split between not just the creator but between all the other Steemit users who upvoted or shared the content.
Automatic Payments, No Censorship, and Self-Policing Communities
Steemit, like the blockchain it's built upon, is a highly transparent system. Pending payments on blog posts, which can accrue value for seven days after posting, are clearly shown, as are who upvoted the content. Payment is automatic after the seven day wait period is up, controlled by advanced algorithms coded into the Steem blockchain by smart contracts.The content of every post is also recorded immutably in the blockchain as data, making it highly resistant to tampering and censorship. This has made Steemit a haven for free speech advocates and artists, especially those who feel alienated by arbitrary community standard rules set in place by other social media platforms.
However, Steemit isn't a Wild West of offensive, illegal, or pornographic content. Not Safe For Work tags hide content from viewers even as it records it in the blockchain, leaving it visible for anyone truly motivated enough to seek it out. The site's downvote flagging system also reduces visibility of posts considered inappropriate or offensive while still preserving those posts in the blockchain, which means unpopular or controversial content isn't truly stifled. Instead, the community polices itself efficiently, ensuring that truly onerous content is not rewarded.
Encouraging Vested Interest with Steem Power
Rewarding content creators and curators with cryptocurrency is all well and good, but what's to prevent individuals from making a few hundred — or even a few thousand — dollars' worth of Steem on a wildly popular post and then simply exchanging it for Bitcoin, Ether, or some other cryptocurrency? Dan Larimer and Ned Scott, the creators of Steemit (and the masterminds behind the decentralized crypto exchange BitShares), designed the platform to incentivize and reward investment in the platform itself.
When any payout occurs, the recipient receives his or her payment in two ways. First, they receive around half their payout straight Steem. The other half of their payout, however, goes into a vested account known as Steem Power (SP). Dependent on the amount of SP a user has banked, the value of their upvote increases, thus encouraging users to build their SP balance in order to be more powerful curators. SP can be divested over 13 weekly payments if desired, preventing users with high SP totals from flooding the market, even as users can access their liquid Steem at any time.
Open Source Encouragement
Beyond its ability to directly reward content creators and curators, Steemit further distances itself from traditional social media or blogging platforms. One of the most noteworthy ways of encouraging interaction with the platform is its open source nature. Web developers are constantly creating new and interesting ways to interact with the Steemit platform, from blockchain explorers to advanced blog entry editors to mobile apps and more. There's even a Steem-specific video hosting service, similar to YouTube.
These apps, like the site itself, are all free to use and can be found on the Steem Tools repository. Users often fund the development of these apps by upvoting content posted by the developers, showcasing the potential of the platform as a crowdfunding option that exists outside of an ICO or a third-party website like Kickstarter or IndieGogo.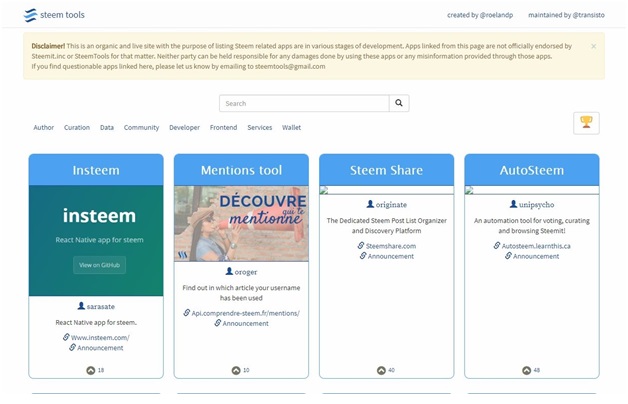 Slow and Steady Wins the Race
Fair warning: nobody becomes a millionaire on Steemit overnight. While the valuation of the Steem cryptocurrency is stable — often between $3 and $4 USD, which is quite healthy for a relatively young cryptocurrency — new content creators will often experience a slow creep when it comes to being rewarded by curators.  However, like with anything, consistency and diligence is key. Posting often, and posting valuable, high-quality content, will attract followers over time.
Building a reputation on a platform like Steemit has the potential to be quite rewarding, but it's no get-rich-quick scheme. However, success on the platform can lead to moderate to even large amounts of cryptocurrency accumulation, and all without financial risk on your part or having to understand how blockchain technology works for the most part. This makes Steemit an excellent platform for any type of content creator that wants to enjoy cryptocurrency as a hobby, anyone who wants to be free of the marketing-industrial complex of social media sites like Facebook, or any combination of the two.
Free to sign up, free to use, and easy to navigate, Steemit is one of the best use cases for blockchain-based technology out there today.
Author: Catherine Tims is a blog writer and copyeditor.. After receiving her Master's degree in English Language and Linguistics at the University of Arizona, she taught writing to graduate students at the University of Illinois/Champaign-Urbana. She has her own writing business, Ivy League Content, and freelances full time for business clients who need highly-researched articles.
Check Latest Headlines on HodlX
Follow Us on Twitter Facebook Telegram
Check out the Latest Industry Announcements
Disclaimer: Opinions expressed at The Daily Hodl are not investment advice. Investors should do their due diligence before making any high-risk investments in Bitcoin, cryptocurrency or digital assets. Please be advised that your transfers and trades are at your own risk, and any loses you may incur are your responsibility. The Daily Hodl does not recommend the buying or selling of any cryptocurrencies or digital assets, nor is The Daily Hodl an investment advisor. Please note that The Daily Hodl participates in affiliate marketing.