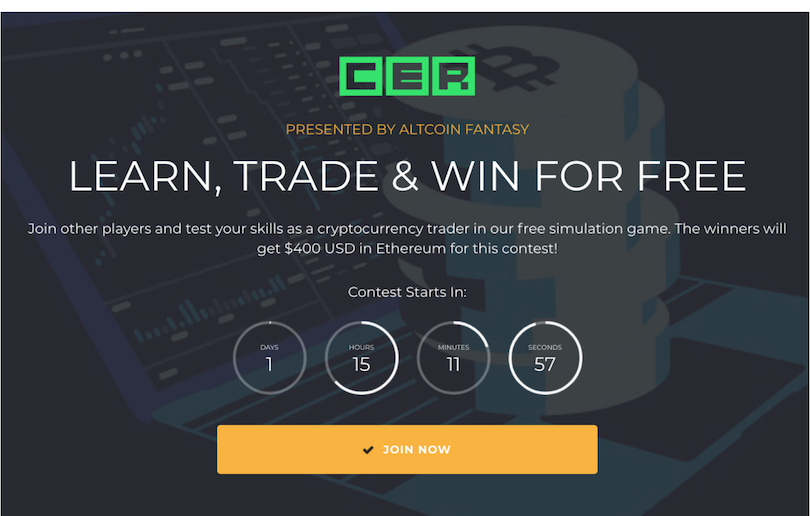 Vancouver, BC
---
Altcoin Fantasy

– the free weekly crypto trading competition simulator

– announces a contest with Crypto Exchange Ranks (CER) by Hacken, an all-inclusive objective crypto exchange ratings and analytics service designed to make proper investment and trading decisions. The parent company, Hacken, is a coin listed on popular cryptocurrency exchanges such as KuCoin and YoBit. Altcoin Fantasy is partnering with CER by Hacken to give away $400 USD in prizes for the next contest.The contest will start Sept 5, 2018 and will end on Sept 12, 2018.
Altcoin Fantasy is a free bitcoin/altcoin trading simulation that hosts weekly competitions with the aim of getting people excited about the cryptocurrency and blockchain space. It features a realistic, crypto fantasy trading simulation platform and has helped tens of thousands learn how to trade altcoins, risk-free.
Users start with a virtual USD altcoin trading account for each contest and use tools that are aimed at educating players on how to trade on the platform, as well as trade with different digital currencies and alt coins. Price charts and news are available to users on the platform as well as a leaderboard where they can see other players' trades throughout the contest period, if they're interested in signals from other players.
This cryptogame is absolutely free to play and at the end of each weekly contest, the top traders will win prizes. To make it more exciting, there will be prizes throughout the week to engage users to learn about the different cryptocurrencies. Altcoin Fantasy is available on the web and on mobile from the Apple App store and the Google Play store.
"We are excited to be partnering with CER by Hacken because we fully believe in transparency when it comes to cryptocurrency exchanges. There are bots out there that can simulate trading and artificially inflate volumes and Hacken solves this issue by bringing full transparency to the transactions.
With Crypto Exchange Ranks, traders can see the actual volumes for exchanges in addition to surfacing trends, which is great since you need to trust that the crypto exchange you are using is secure and reliable. The Hacken team that's behind the project is focused on increasing security to the Internet by providing cybersecurity products to combat hacking. That's great for the whole cryptocurrency space as it is a frequent target by hackers/scammers," says Tommy Chan, CEO of Altcoin Fantasy.
CER is the first complex and sophisticated rating service which provides users with a professional and intuitive crypto exchange analysis platform, offering users access to real-time objective statistics which are gathered and processed using advanced algorithms and precise mathematical models. Their mission is to innovate the global cryptocurrency financial system and set clear and objective standards for crypto exchanges as a backbone of the crypto economy.
Seeing how difficult it is to trust exchanges in the current ecosystem, they've provided a unique solution, analyzing and processing a broad complex of data through advanced economic-mathematical modeling, artificial intelligence, machine learning, natural language processing and cybersecurity assessments.
Contest Details
The contest duration is 7 days.
Prize Breakdown
1st place (top trader) – $150 USD in Ethereum

2nd place – $100 USD in Ethereum

3rd place – $50 USD in Ethereum

4th & 5th place – $25 USD in Ethereum

6th to 10th place – $10 USD in Ethereum

11th to 50th place – 1,000 ACF Points

51st to 100th place – 500 ACF Points
ACF Points can be redeemed for real crypto such as Ethereum, BRD Wallet credits, and even an Oculus Go!
Sign up now for the next contest to learn, trade, and win on Altcoin Fantasy's free altcoin cryptocurrency trading simulator.
This content is sponsored and should be regarded as promotional material. Opinions and statements expressed herein are those of the author and do not reflect the opinions of The Daily Hodl. The Daily Hodl is not a subsidiary of or owned by any ICOs, blockchain startups or companies that advertise on our platform. Investors should do their due diligence before making any high-risk investments in any ICOs, blockchain startups or cryptocurrencies. Please be advised that your investments are at your own risk, and any losses you may incur are your responsibility.
Follow Us on Twitter Facebook Telegram
Check out the Latest Industry Announcements