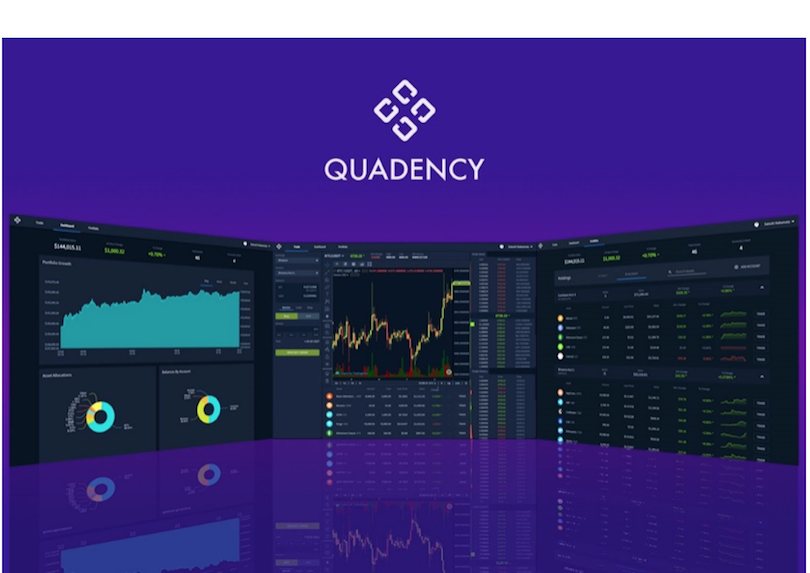 October 19, 2018 – New York, NY
---
After months of successful testing with users who had signed up for early access, Quadency's advanced crypto asset trading platform is now live for both retail and institutional traders.
While everyone from blockchain startups to investment banks launched new exchanges this year to keep up with crypto's rapid growth, the team at NYC-based Quadency was hard at work improving the way traders manage their holdings – regardless of exchange. Plagued by a fragmented mix of assets, cumbersome user experiences, and a general lack of standards across order types and functionality, the ecosystem had left much to be desired for serious traders.
Through these growing pains, industry veteran and Quadency CEO Rosh Singh saw an opportunity. "I was amazed that many top-ranking exchanges lacked basic features that traders coming into crypto from varying backgrounds would expect. Without these tools, everyone's just shooting blind." Unable to find a comprehensive solution that fit the bill, Singh and his team set out to bridge the gaps with their professional grade, all-in-one trading and portfolio analytics solution.  
Well received by early users, Quadency's easy-to-use platform offers a masterful integration of industry-leading charting tools and advanced order management features. Layered over multiple exchange options (including Binance, Coinbase Pro, Bittrex, Kucoin, and Poloniex to date), these features compliment personalized dashboard widgets that give investors a holistic view of their portfolio across exchanges. With security a top priority, CTO Tony Tran notes:
"In the age of trustless, decentralized systems, trusting a third party with API keys may at first seem conflicting; but leveraging financial industry best practices, I'm confident we deliver a superior user experience without sacrificing best of breed security protocols. All new exchange integrations and trading features also undergo rigorous testing to ensure the safety of our users is not compromised as the platform grows."
Beyond the retail offering, Quadency has been developing solutions for hedge funds and investment firms. Rosh, whose background spans forex trading, personal finance, and compliance, explained, "Our modern architecture is designed from the ground up with consideration for the needs of institutions looking to enter this exciting space – including custom tailored security protocols, historical and real-time data products, aggregate portfolio analytics, and algorithmic trading, to name a few."
For more info visit Quadency.com. Media inquiries, contact press@quadency.com
This content is sponsored and should be regarded as promotional material. Opinions and statements expressed herein are those of the author and do not reflect the opinions of The Daily Hodl. The Daily Hodl is not a subsidiary of or owned by any ICOs, blockchain startups or companies that advertise on our platform. Investors should do their due diligence before making any high-risk investments in any ICOs, blockchain startups or cryptocurrencies. Please be advised that your investments are at your own risk, and any losses you may incur are your responsibility.
Follow Us on Twitter Facebook Telegram
Check out the Latest Industry Announcements