Finder.com just released its monthly survey of fintech leaders, covering top and trending coins.
Among the 13 coins on the list, all are projected to have bullish movement in 2019, with Cardano projected to be the biggest gainer by March with forecast growth of 54%. By year end, the panel projects the largest movements from EOS (727%), Binance Coin (459%), Tron (449%), and Ethereum Classic (385%).
How Will Bitcoin Fare?
The panel projects nominal growth through the beginning of March at 2% but expects a healthy 98% price jump pushing Bitcoin to around $6,549 by year's end. If that holds true, Bitcoin's total market cap would increase to $118.8 billion, marking a 95% total increase in 2019.
Bitcoin is currently trading at $3,403, at time of writing, with a market cap of $59.6 billion, according to data compiled by CoinMarketCap.
What Distinguishes Big Movers? 
Cardano
The brainchild of Charles Hoskinson's IOHK, Cardano is designed to utilize on a Proof-of-Stake (PoS) concept, reducing the expensive electricity requirements needed to operate first-generation blockchains such as Bitcoin and Ethereum. Cardano recently released version 1.4 testnet, dubbed its most significant update yet. According to the panelists, Cardano's native cryptocurrency ADA, at $0.03, is heavily undervalued.
EOS
EOS aims to be the go-to platform for building decentralized applications. The panelists have some mixed reviews about EOS partly due to its having to compete with similar blockchain heavy hitters such as Ethereum and NEO. However, the general sentiment around EOS, like other decentralized app platforms, is that the number of use cases they can support is virtually limitless.
Says panelist Brendan Towler,
"I suspect their scope as an institutional technology will increase, and their value along with it."
EOS is current trading around $2.26. The average year-end price prediction puts it at about $18.70.
Binance Coin
Binance Coin serves to improve liquidity between coins on crypto trading platform Binance by providing feeless token conversions. Binance CEO Changpeng Zhao is also pushing hard for BNB's adoption as a means of payment in the real world. Currently trading around $8.02, panelists estimate it will increase to around $34.90 by year end.
Tron
Among the top 10, Tron (TRX) was the a big gainer in January, and its climb is expected to continue. Tron's main objective is to provide a decentralized entertainment ecosystem, from music to video streaming and gaming. The platform will allow users to reward content creators instantly with TRX, and it will also leverage the user base of its biggest acquisition, file-sharing giant BitTorrent.
Despite the climb, Tron posted one of the biggest spreads for year-end price predictions, ranging from a bearish $0.0076 to a bullish $0.43.
Tron is currently trading around $.025 with forecasts of $.15 by year end.
Finder's Cryptocurrency Predictions February 2019 Report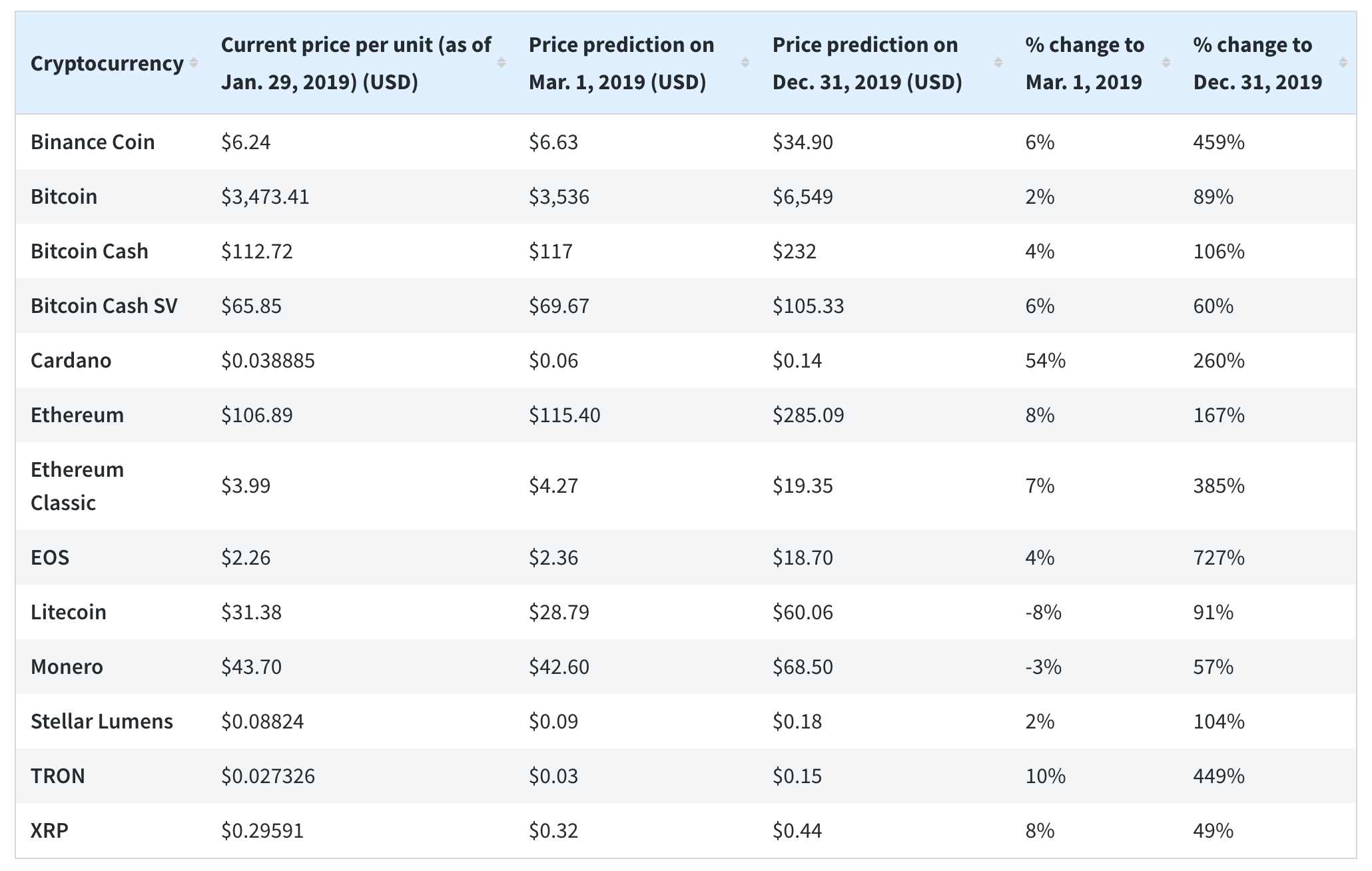 You can check out the full report here.