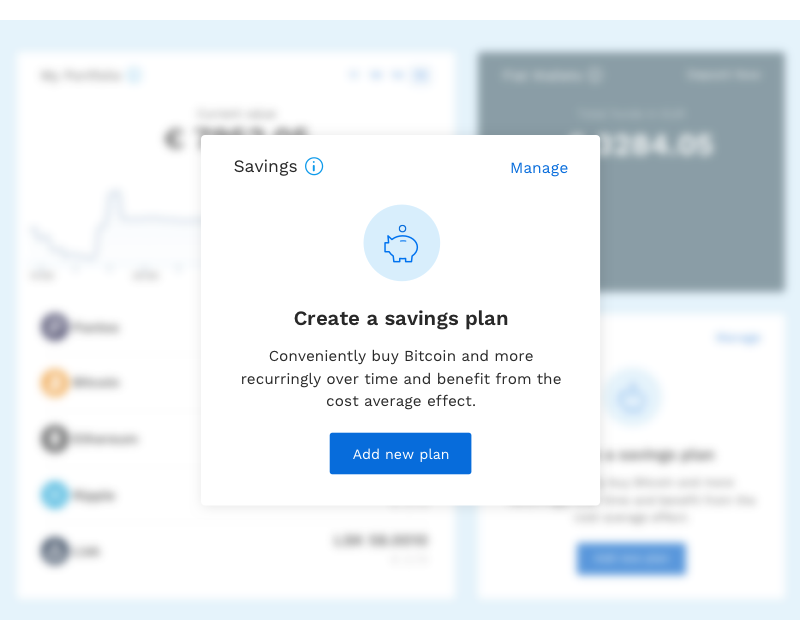 March 18, 2019 – Vienna
Vienna-based fintech company Bitpanda has added a long-awaited option for recurring buys on their trading platform. With Bitpanda Savings users can conveniently set up recurring buy options for Bitcoin and any of the over 20 digital assets on Bitpanda's platform.
With Bitpanda Savings, the Viennese fintech allows its over 900,000 users to buy cryptocurrencies automatically on a regular basis (daily, weekly, biweekly and monthly). According to the company, a recurring buy feature is one of the most anticipated functionalities by its community. As part of the launch, the company will reward fully-verified users who set up a savings plan with a randomly chosen cryptocurrency supported on their platform worth between 5 EUR and 200 EUR.
"The savings feature is the first step for us to become the go-to place for wealth building using digital assets," says Eric Demuth, Bitpanda co-founder and CEO.
The company has a reputation as Europe's leading retail broker for easy-to-use, safe and trustworthy trading of Bitcoin and other digital assets.
In the last few months, Bitpanda has been constantly growing in terms of both team size and new features on their trading platform. Bitpanda recently released its Android app, which brings the intuitive trading experience across desktop and mobile. Users can now buy, sell and trade digital assets on the go with the same high-quality service that users already enjoy on the web platform.
The Austrian fintech company also launched Bitpanda Swap, which allows for the instant exchange of one cryptocurrency with another and also builds on pre-existing products.
---
About Bitpanda
Bitpanda is a fintech based in Vienna, Austria and was founded in 2014. The company has since grown into Europe's leading trading platform for buying and selling digital assets like Bitcoin. Bitpanda has over 900,000 users and more than 95 team members. The company is a firm believer in the innovative power of cryptocurrencies and blockchain technology. Its mission is to be the key driving force in the ongoing fintech revolution by providing easy-to-use, safe and trustworthy access to any digital asset for both new and experienced users.
This content is sponsored and should be regarded as promotional material. Opinions and statements expressed herein are those of the author and do not reflect the opinions of The Daily Hodl. The Daily Hodl is not a subsidiary of or owned by any ICOs, blockchain startups or companies that advertise on our platform. Investors should do their due diligence before making any high-risk investments in any ICOs, blockchain startups or cryptocurrencies. Please be advised that your investments are at your own risk, and any losses you may incur are your responsibility.
Follow Us on Twitter Facebook Telegram
Check out the Latest Industry Announcements