Since Bitcoin set sail in 2009, cryptocurrencies have made waves across the globe. The big question on everyone's lips – What will these coins be worth in the future?
After the price of Bitcoin surged in May 2019, we asked a panel of 10 fintech leaders their thoughts on Bitcoin's rise, including whether they think consumers should buy, hold or sell and what might be in store for the cryptocurrency. Predictions are speculative and reflect the panelists' views and opinions, which can change over time. Predictions are not a recommendation to trade, and you shouldn't rely on them for the purposes of trading. Do your own research or seek advice.
Why the price of Bitcoin is up
Eight out of 10 panelists think the price of Bitcoin increased due to crypto-related announcements made at Consensus 2019 in New York City, such as those by Bakkt and Microsoft.
BitBull Capital chief operating officer Sarah Bergstrand says,
"The past three years, a few weeks before Blockchain Week, we have seen the rising of prices and of the overall market cap, especially during the three-day Consensus conference. It also tends to fall as soon as the conference is over."
Digital Capital Management chief operating officer Ben Ritchie puts it this way,
"The rise in the price of Bitcoin on the surface appears to be a result of the release of positive news flowing from Consensus this year. However, there may be some additional underlying factors. These include the stability of Bitfinex and the USDT following their recent $850 million raise in 10 days, and Binance looking to buy back their BTC position following the hack of 7,074 BTC. There is also an increased use of algorithmic trading pushing volumes significantly higher and fueling confidence – and, with it, opportunity."
The next most-cited factors were US-China trade tensions (50%) and the impending reduction in Bitcoin emission, also known as the halvening (50%).
Arca chief investment officer Jeff Dorman says there's "not one specific reason" for Bitcoin's rally.
"It's mosaic theory. Pent-up demand spilled out because of Fidelity's new platform, China's trade wars, short liquidations and Bitfinex's forced buying from people who bought BTC with USDT in order to get out of USDT."
Three panelists say the price surge is due to institutional investors embracing cryptocurrency, while two say it's because retail investors believe it's a good time to buy.
Ajay Shresthra, a PhD candidate at the University of Saskatchewan, suggests that as NASDAQ prepares for cryptocurrency trading on its exchange, it's contributing to the price surge. Nafis Alam, associate professor at Henley Business School, says another factor may be an impending financial crisis, while Rouge Ventures managing director Desmond Marshall thinks Russia going full force in supporting crypto is a key reason for the price surge.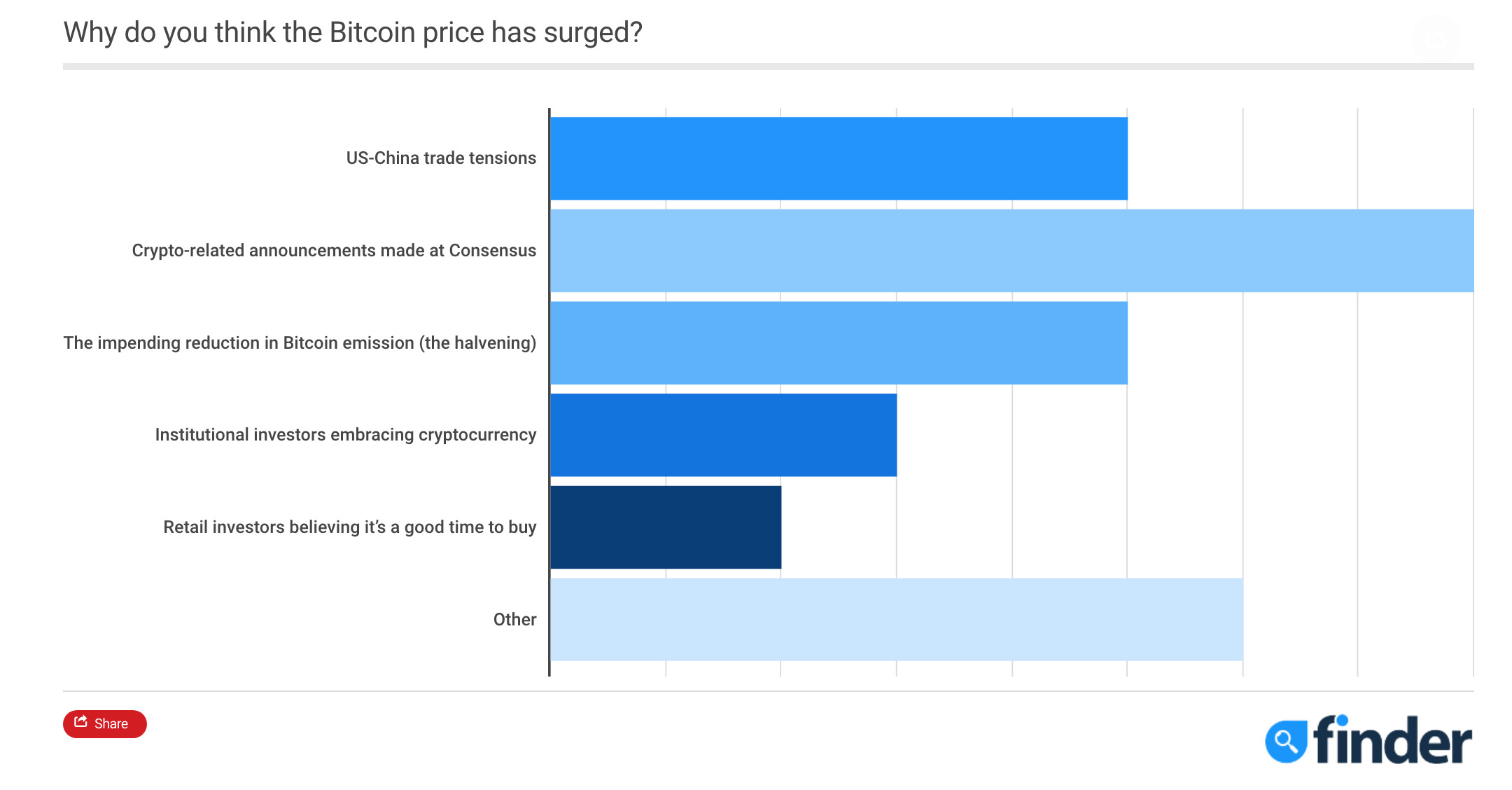 Bitcoin price predictions
Bitcoin is predicted to hit $7,543 by June 1st, according to the average of our panelists' predictions. (Where panelists predicted a price range, we used the middle figure to calculate the panel average. Where panelists gave only an upper limit, we used that figure to calculate the average.)
Both Bergstrand and WishKnish CEO Alisa Gus think Bitcoin will be as high as $8,500 on June 1st, while Alam is more conservative, predicting the price at between $5,500 and $6,000.
When asked about a price forecast for Bitcoin by the end of the year, our panelists predicted an average $9,659 by December 31st. Here too, Alam's prediction is conservative at $4,000 at the end of December. Technologist Joseph Raczynski predicts the highest end-of-year price at $17,000.
Dorman declined to predict a price, saying,
"Making short-term price predictions isn't practical. Making probability-weighted investment decisions is better. And right now, it is a good risk–reward to continue to accumulate BTC. One BTC will always equal 1 BTC. Pricing BTC in terms of USD is dependent on a lot of things, including the inevitable weakness of the USD caused by unsustainable debt and inflation."
How high will Bitcoin go?
Only 40% of our panelists think Bitcoin will exceed its all-time high of around $20,000 in this bull run. Interestingly, panelists are divided on whether a crash similar to the one we saw in December 2017 will soon follow, with 50% of panelists responding yes to this question and 50% responding no.
What does this mean for consumers?
When asked if they think consumers should buy, hold or sell Bitcoin, 50% of our panelists said buy, while 30% said hold and 20% said sell.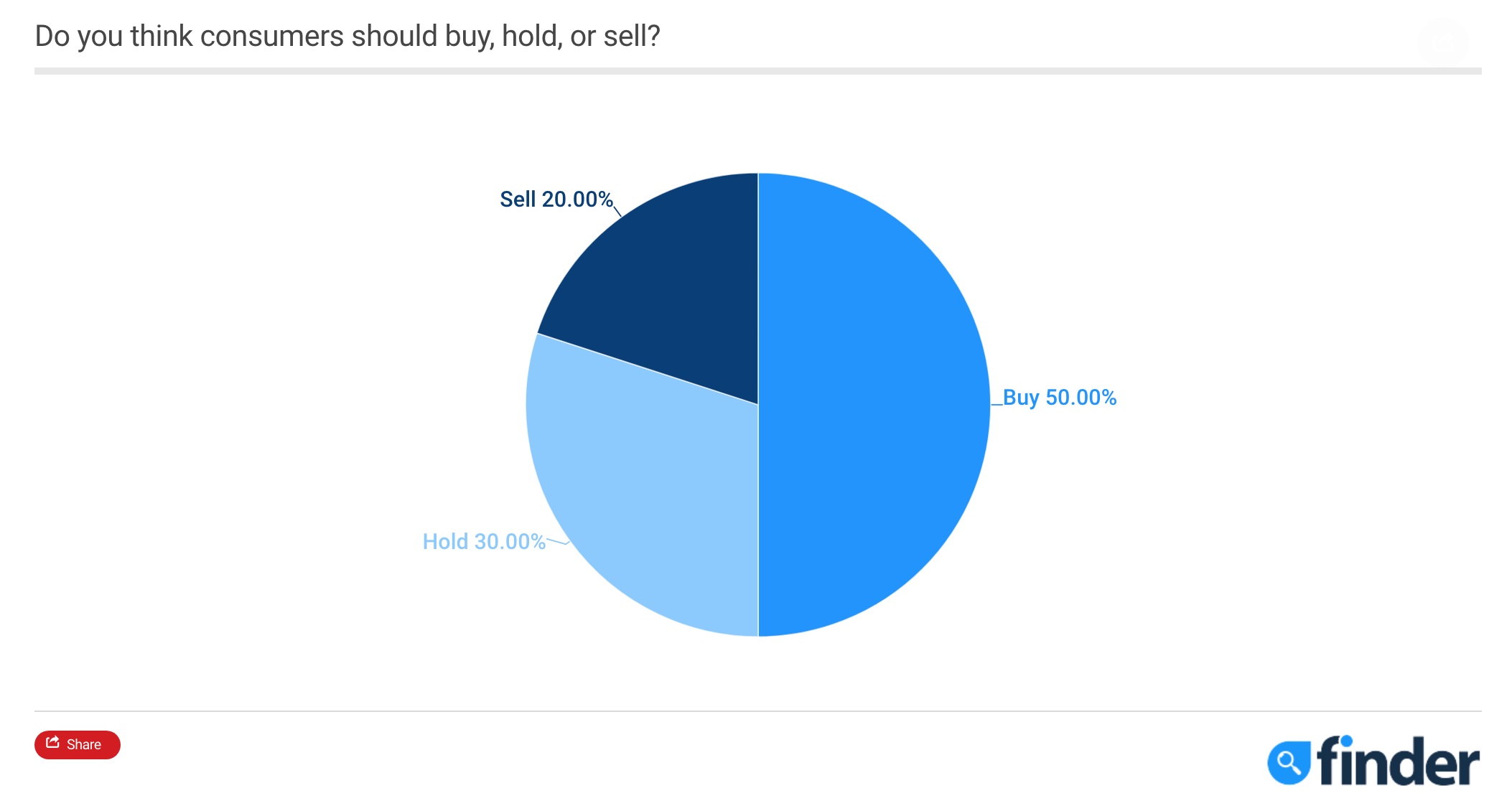 Fred Schebesta, founder of Crypto Finder and HiveEx, is one panelist who thinks it could be a good time to buy. "If you believe in Bitcoin and its past, it's the low time," he says.
Ritchie appears to agree.
"The fundamentals of Bitcoin improved significantly during the bear market, despite negative sentiment suppressing the price. The utility and adoption of Bitcoin has increased during this period. And now that sentiment has returned, so does its medium to long outlook."
Dorman suggests consumers should be consistent in their strategy.
"Timing the market isn't the goal. It's prudent to buy now, buy if it goes down and buy if it goes up. A consistent strategy over time is the best way to gain exposure without trying to pick bottoms or tops."
Gus is a panelist who suggests that consumers hold.
"I feel like BTC is back where it belongs, in the $6K to $10K range," she explains. "And while, eventually, I do see it rising past $10K for a long-term gain, it shouldn't be anytime soon — if it does, it is unlikely to hold on to that level for long. Let the market rest a bit after the rally."
Instructor at Programming Blockchain, Jimmy Song, and Raczynski also suggest that consumers hold. Song says,
"Bitcoin has real decentralized scarcity. Long term, it's a good bet."
And Raczynski says,
"I do believe BTC is going higher, but the run-up over the last three weeks has been huge. BTC historically runs in spurts, but there are rumors that whales are prepping to sell nearly a billion in BTC, ETH and Ripple. Flush them out, and in time BTC will rise."
Alam is one of the two panelists who says sell.
"It's a temporary surge," he explains. "Nothing much has changed in the Bitcoin feature. It was a speculative instrument and will remain ever [thus]."
The other panelist who suggests selling, Shrestha, says simply,
"Good times may not last."
---
The full details of the finder.com survey, complete with comments from the panelists, can be found here.
Check Latest Headlines on HodlX
Follow Us on Twitter Facebook Telegram
Check out the Latest Industry Announcements
Disclaimer: Opinions expressed at The Daily Hodl are not investment advice. Investors should do their due diligence before making any high-risk investments in Bitcoin, cryptocurrency or digital assets. Please be advised that your transfers and trades are at your own risk, and any loses you may incur are your responsibility. The Daily Hodl does not recommend the buying or selling of any cryptocurrencies or digital assets, nor is The Daily Hodl an investment advisor. Please note that The Daily Hodl participates in affiliate marketing.