While the recent rise in BTC's price suggests FOMO may still be around, major institutional support and correlations data suggest the 2019 crypto rally isn't the same as the 2017 boom.
Yesterday, the price of bitcoin (BTC) climbed past $11,000 USD for the first time in over one and a half years. That represents an increase of over 16% in the past week, with the price of BTC continuing to increase at the time of writing.
Price of Bitcoin, June 14th – June 24th, 2019
Volume-Weighted Average Price of BTC in USD
The relatively sustained increase in BTC's price over the past couple of weeks has many crypto veterans and newcomers alike comparing the state of the market to the bull market of late 2017. But the full picture of the similarities and differences between BTC's two $11,000+ moments illustrates how far crypto has come in a relatively short time? – ?and where it still has opportunities to mature.
Both rallies seem to be colored, at least in part, by FOMO, or "fear of missing out." In the late 2017 rally, the sharp rise in BTC's price led many to discover crypto for the first time, which may have fostered hype and speculation that drove crypto prices even higher. While the current rally has not been as dramatic as 2017, there are signs that FOMO is still playing a role; for instance, Google Trends, Google's service for tracking the popularity of search terms, shows that this most recent rally has corresponded with the highest volume of search traffic for the term 'bitcoin' since early 2018. This is typically an indicator of increased interest in the space either by newcomers or those who have not recently been involved in the space.
Both rallies have also seen BTC's price rise on starkly similar timescales. In the current June 2019 rally, it took the price of BTC eight days to make the climb from $9,000 to $11,000; in 2017, it took the price of BTC seven days to make that same climb.
Price of Bitcoin in 2017 Crypto Rally, November 25th – December 5th
Volume-Weighted Average Price of BTC in USD

Yet despite these prima facie similarities between the two rallies, other data indicate that the current rally may be more substantive than the 2017 rally. For instance, one of the reasons why some worry that FOMO was the major catalyst of the 2017 rally was that there was no clear news in the crypto sector that precipitated this dramatic increase; in contrast, the current rally corresponds with at least two major news items for retail and institutional investors: details of Facebook's crypto project, Libra, and BTC mining company Bitmain's pursuit of a U.S. IPO.
While the impact of Facebook's impending crypto network isn't totally clear yet, the consortium of companies it's building around the project? – ?including Uber, Booking.com, and PayPal? – ?suggests that at least some major companies are ready to invest resources in crypto-centric projects. This is the kind of validation for the sector that was largely hypothetical back in 2017.
It's also possible that concerns over Facebook's track record with privacy, ironically, may be leading people to be materially more interested in BTC? – ?a cryptocurrency outside of any company's control? – ?than in Facebook's in-house cryptocurrency. Major news that intrinsically demonstrates the need for a decentralized, censorship-resistant currency? – ?such as India's renewed efforts to ban cryptocurrency? – ?can reinforce the fundamentals of coins like BTC in the eyes of the market.
BTC led the crypto rally in 2017 and is leading the charge again now; however, it's noteworthy that BTC's correlations with other cryptocurrencies, which have been close to 1 in recent times of extreme market volatility, have actually been slightly lower than usual.
30-Day Correlations of BTC, ETH, BCH, LTC and BSV (June 24th, 2019)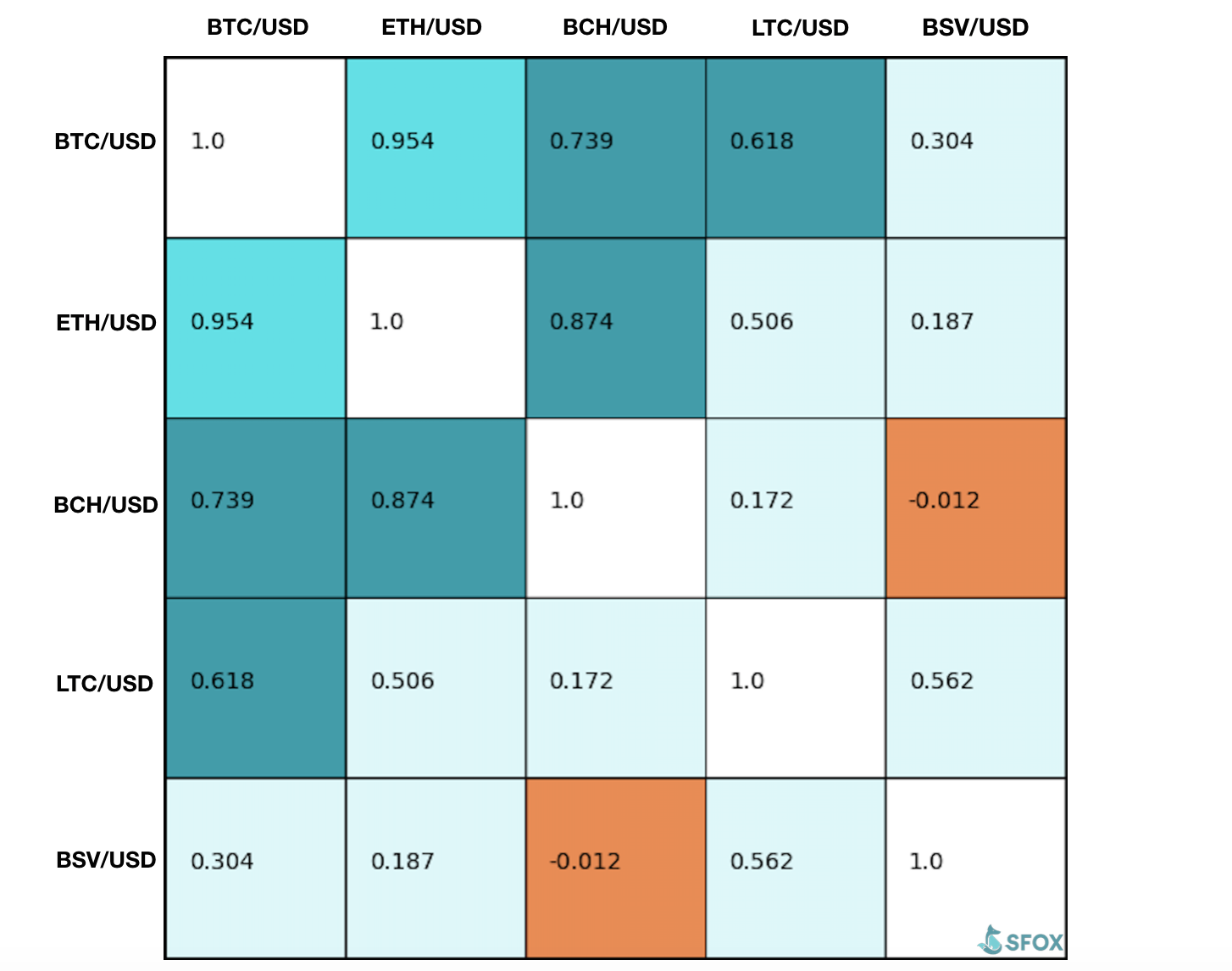 The diversity of crypto – crypto correlations reinforce the narrative that the cryptocurrency sector has been maturing well beyond BTC in recent years. Even though BTC still controls the lion's share of the space's market cap, other major coins are beginning to step out of BTC's shadow. This suggests that, in the current 2019 crypto rally, traders may be looking to coins other than BTC to a greater extent than they did back in 2017.
In sum, while both the 2017 and 2019 crypto rallies were swift and no doubt influenced by trading psychology factors like FOMO, the data indicate that crypto is markedly more mature now than it was a year and a half ago? – ?and that maturity may suggest that this rally is more fundamentals-driven than the last one was.
You can check out the original post here.
---
SFOX Volatility Snapshots are close looks at noteworthy movements in the cryptocurrency markets throughout the month, analyzed by the SFOX Research Team using global performance data from eight major exchanges and liquidity providers.

 
Check Latest Headlines on HodlX
Follow Us on Twitter Facebook Telegram
Check out the Latest Industry Announcements
Disclaimer: Opinions expressed at The Daily Hodl are not investment advice. Investors should do their due diligence before making any high-risk investments in Bitcoin, cryptocurrency or digital assets. Please be advised that your transfers and trades are at your own risk, and any loses you may incur are your responsibility. The Daily Hodl does not recommend the buying or selling of any cryptocurrencies or digital assets, nor is The Daily Hodl an investment advisor. Please note that The Daily Hodl participates in affiliate marketing.