A panel of some of Bitcoin's biggest proponents and detractors has wrapped up at the CC Forum conference in London.
Nouriel Roubini, Brock Pierce, Bobby Lee, Tone Vays and Craig Wright debated the future of Bitcoin, altcoins, fintech and finance.
Roubini began the conference with a bang, offering his signature take on Bitcoin and blockchain technology.
The economist says he's no defender of the current financial status quo. But he thinks the fintech revolution will ultimately have nothing to do with crypto assets.
"I'm not a defender of the traditional financial system. I wrote a whole book analyzing the role the financial system had in the financial crisis. Excessive leverage, excessive de-staking. Not enough coverage. Not enough liquidity. So I'm the first critic of it.
The question is, what are the solutions to it? I would say that some of the inefficiencies of the financial system are being addressed by what I call the fintech revolution. The fintech revolution has pretty much nothing to do with crypto or blockchain. It's a combination of AI, big data and IoT…
With Bitcoin, you can do five transactions per second when Visa can do 25,000 transactions per second. You have things in China like Alipay or WeChat Pay that billions of people use every day for transactions… There's a lot of talk within blockchain and crypto about revolutionizing financial intermediation.
Cryptocurrecy is a misnomer. They're not a unit of account; they're not a means of payment; they're not a store of value. If for every good and service I have to use a different token, I don't know the relative price of two goods. I have to be able to have a single numerer to know the price of a can of Coke as opposed to a can of Pepsi. If there is a Coke coin and a Pepsi coin, it's chaos.
So people talking about tokenization and having a token for everything is returning to the Stone Age. Even the Flinstones had a more sophisticated financial system than crypto. They [had] shell dollars and they were using them to avoid the barter, while you guys want to go back to the barter."
Bitcoin bull and veteran Wall Street trader Tone Vays, wearing a shirt that read "We Are All Satoshi Except For Craig S. Wright" while sitting next to self-proclaimed Bitcoin inventor Craig Wright, agreed with Roubini's assessment of the issues in the traditional financial system.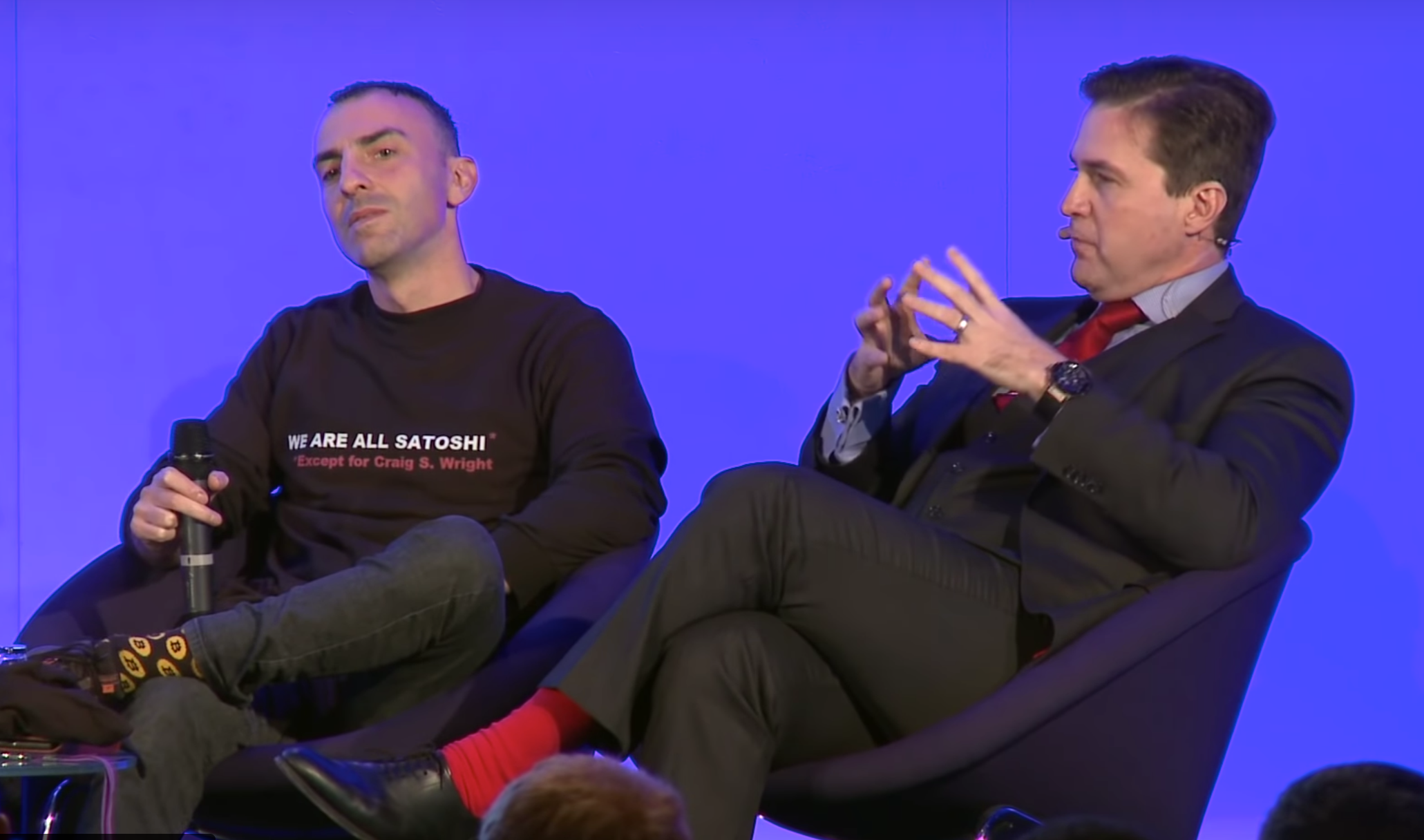 But Vays thinks Bitcoin is the solution.
"The biggest problem is the easy money printing of governments all over the world, and Bitcoin fixes that. But just Bitcoin. Not shitcoins, not Ethereum, not other cryptocurrencies, not fake Bitcoin forks…
Bitcoin helps to fix that and so that's what I'm looking forward to. As far as black swans that Nouriel mentioned, yes, they're there. And they come up. They come up more and more often."
Vays and Wright clashed on whether governments will begin to find new ways to seize crypto assets.
On that point, Bobby Lee, co-founder and former CEO of China's first crypto exchange BTCC, and computer scientist Craig Wright became unlikely allies over the notion that governments can and will increasingly challenge the idea of cryptocurrencies being censorship resistant as they find ways to seize crypto assets.
Says Lee,
"In China, real estate transactions are controlled by the government. So imagine if you have real estate on the blockchain and you own the private key to that unit or to that allocation of real estate on the blockchain.
But you having the private keys to it is meaningless, because the actual real estate could be confiscated. It could be forbidden to be transferred to someone else. So in the end, when you use blockchain and private keys to represent external assets, you still have that trust issue. And if you can't solve that trust issue, then it's meaningless. Bitcoin itself is not based on anything else. It's not backed by anyone else."
Says Wright,
"In 2020, there's going to be Bitcoin seized by government. And those miners are going to help them. Why? Because only nodes – section 5 of the white paper – matter. And nodes are miners. They validate blocks. The system is designed that way.
Tone has this idea that you can't seize Bitcoin. Which next year, you'll see is completely wrong. And a whole lot of people will be really, really be annoyed, but too bad. And he has this totally wrong idea about Lightning scaling… So he's got this system that doesn't really scale, that has security vulnerabilities and basically shits all over Bitcoin. He says it can scale because every person is going to have petabytes of information at home. Yay!"
Brock Pierce says that despite governments' ability to seize property, he believes the tokenization of assets will continue to emerge, with central banks and governments adopting digital assets of their own.
"The technology has applications for central banks and governments as well. I was one of the founders of Tether. Tether was my idea, to put a real-world asset on the blockchain. Obviously, I've not been involved with that business since not long after its creation, for liability reasons more than anything else. And unfortunatey, it's not performed in the ways that I intended it to do.
But it did accomplish its mission of demonstrating that there is demand for putting real-world assets on the blockchain."
You can check out the full debate below.
[the_ad id="42537"] [the_ad id="42536"]
Check Latest News Headlines
&nbsp
Disclaimer: Opinions expressed at The Daily Hodl are not investment advice. Investors should do their due diligence before making any high-risk investments in Bitcoin, cryptocurrency or digital assets. Please be advised that your transfers and trades are at your own risk, and any loses you may incur are your responsibility. The Daily Hodl does not recommend the buying or selling of any cryptocurrencies or digital assets, nor is The Daily Hodl an investment advisor. Please note that The Daily Hodl participates in affiliate marketing.