How well do you know crypto?
The revolutionary world of crypto has brought incredible global changes and a more secure financial world. While savvy crypto traders might remember Laszlo Hanyecz, the American who bought a pizza for 10,000 BTC in 2010, or Bitcoin's surge to an all-time high of $20,000 in 2017, here are five more interesting crypto stats to ponder.
1. Bitcoin is not the world's most used crypto
Shocking, huh? Bitcoin might account for about 70% of all cryptocurrency's market value, but its trading volume tells a different story. According to data from CoinMarketCap, the token with the highest daily and monthly trading is not Bitcoin, but Tether, whose market cap is 30 times less than the crypto king.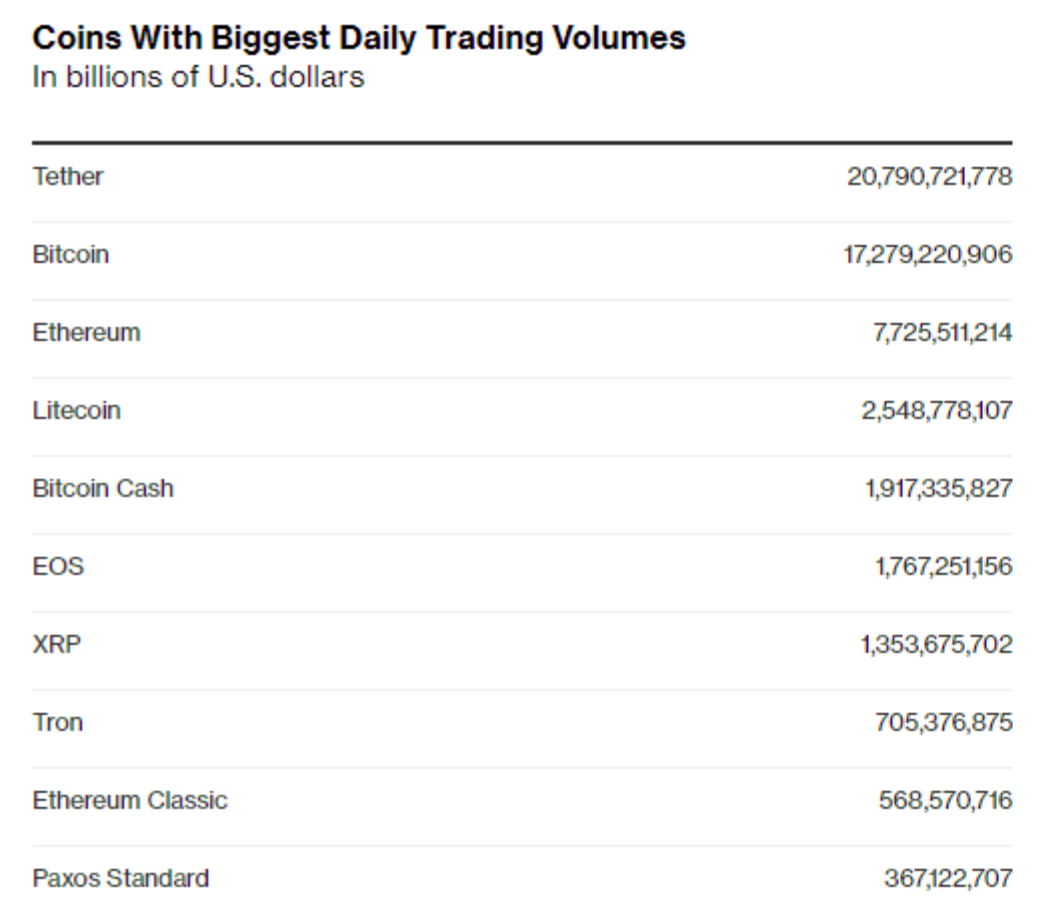 Although it is difficult to obtain concrete trading volume figures for crypto, the website's data still shows that Tether's volume surpassed that of Bitcoin's for the first time in April of this year and has constantly exceeded it since early August, at about $21 billion per day, with its monthly trading volume about 18% higher than BTC.
As Bitcoin is halving in May 2020, the supply is becoming increasingly scarce. It's logical for Bitcoin holders to accumulate the coin instead of trading it, in order to make a profit in the long run. Demand is expected to go up drastically after halving when the Bitcoin market faces less selling pressure.
2. Bitcoin is running out in 120 years
Did you know the 18 millionth Bitcoin has been mined recently? On October 18, the 18 millionth Bitcoin was released into the supply. ?We're another step closer to its 21 million hard-coded cap, with only three million Bitcoins left to be mined. At a rate of approximately 1,800 BTC mined per day and block reward halving happening every 4 years, we will be running out of new Bitcoins in……120 years!
So, what will happen to Bitcoin after all 21 million are mined?
Bitcoin miners are most directly affected by the limited Bitcoin supply, as they will be forced away from the block reward they receive and will have to rely on transaction fees to maintain operations, leading to an increase in their mining cost and possibly a reduction in the number of miners. But for traders, Bitcoin's price is expected to rise due to the limited supply and its continuous spread into the larger financial world.
3. Only 19% of the world's population used cryptocurrencies in 2018
While we Bitcoin hodlers are rooting for the surge in BTC price, the majority of the population has actually never owned crypto.
While we might be moving towards global adoption, the number of crypto users is surprisingly low?. ?Only 19% of the world's population has purchased crypto, according to data from the latest survey released by Kaspersky Lab in June 2019.

The survey also revealed that only 10% of the respondents said they "fully understand how cryptocurrencies work".
For those who don't own crypto, only 14% expressed their willingness to use crypto in the future. Ouch, what a snap in the face.
4. There are over 40 million crypto wallets and almost 5,000 crypto ATMs worldwide
Crypto wallets are a necessity for traders. How would you keep your assets safe without a highly secure wallet?
The number of crypto wallets has been steadily increasing since 2014 along with the spike of decentralized exchanges and digital assets, jumping rapidly from 1 to 2 million wallets worldwide.
In 2016, crypto wallets became one of the major trends as the number of users continued to surge exponentially to five million. Today, the total number of crypto wallet users has reached just over 40.2 million in Q3, according to data from Statista, which is an enormous increase from less than eight million users in Q2 2016.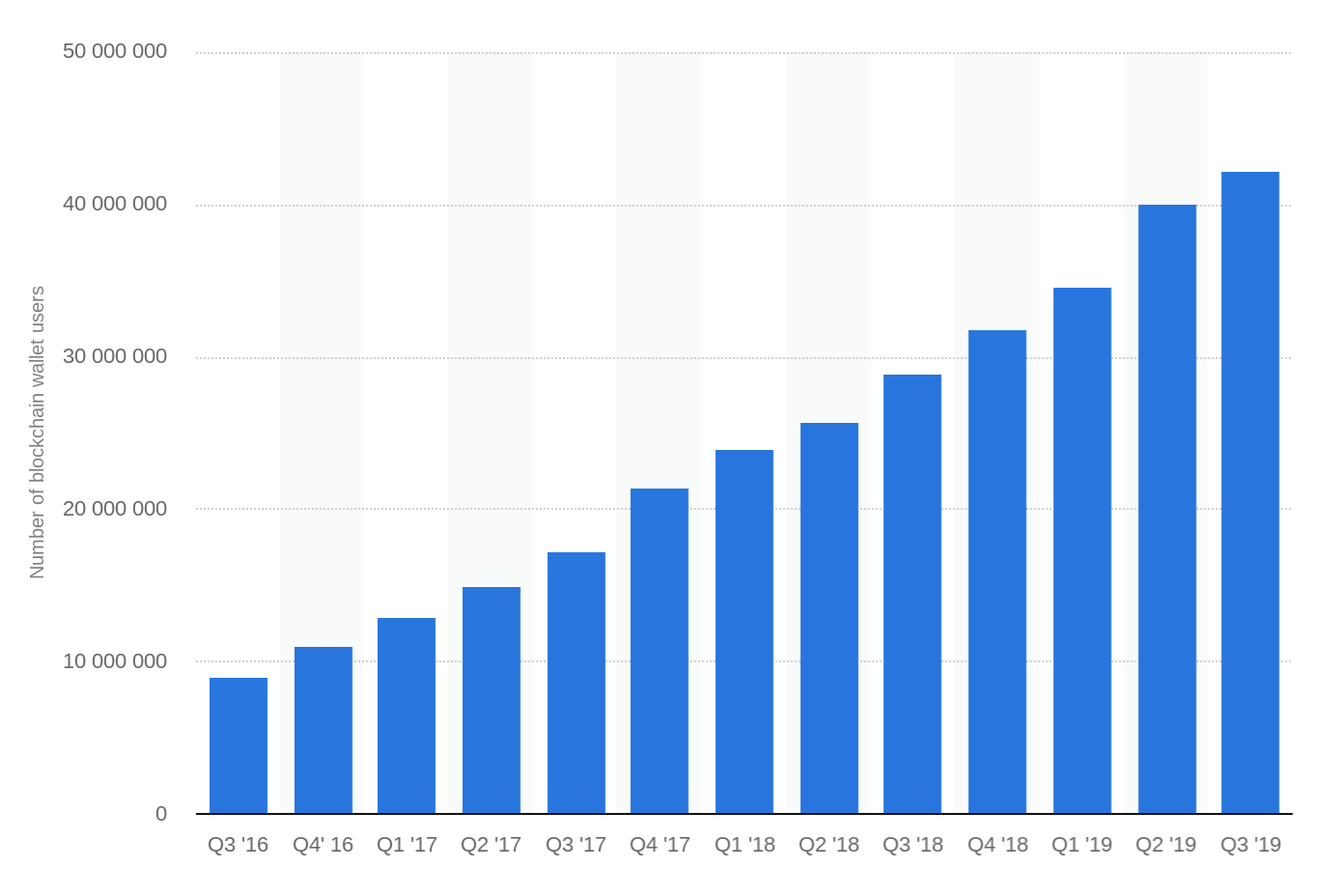 The same goes for crypto ATMs. Back in 2008, who would have thought that crypto would become this easily accessible?
Crypto ATMs first appeared in 2013 in Canada, when the Las Vegas-based startup Robocoin launched the first bitcoin-based ATM in Vancouver, hoping to get Bitcoin usage to the public by offering an easier way for people to buy and sell Bitcoin. Six years later, the crypto ATM made history by landing in Venezuela, the land of the underbanked, amidst stringent government regulations and an unstable economic situation.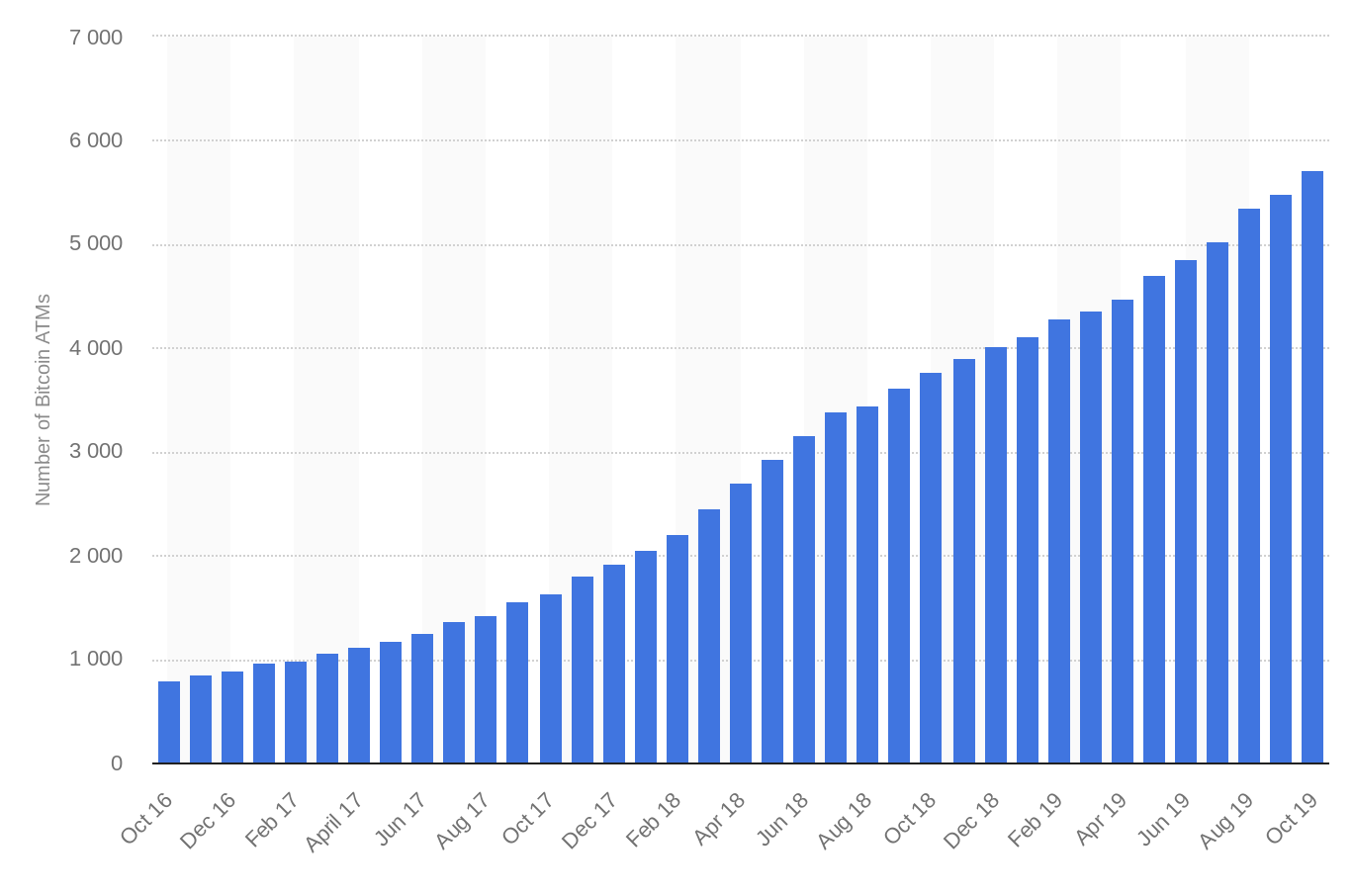 Bitcoin ATMs have also seen the highest monthly increase in May 2019 in almost a year with a net growth of 228 across the globe? with ?306 Bitcoin ATMs installed in May alone.
Crypto ATMs today have extended their support for other cryptocurrencies as well: 69.6% of all machines now support other tokens in addition to Bitcoin.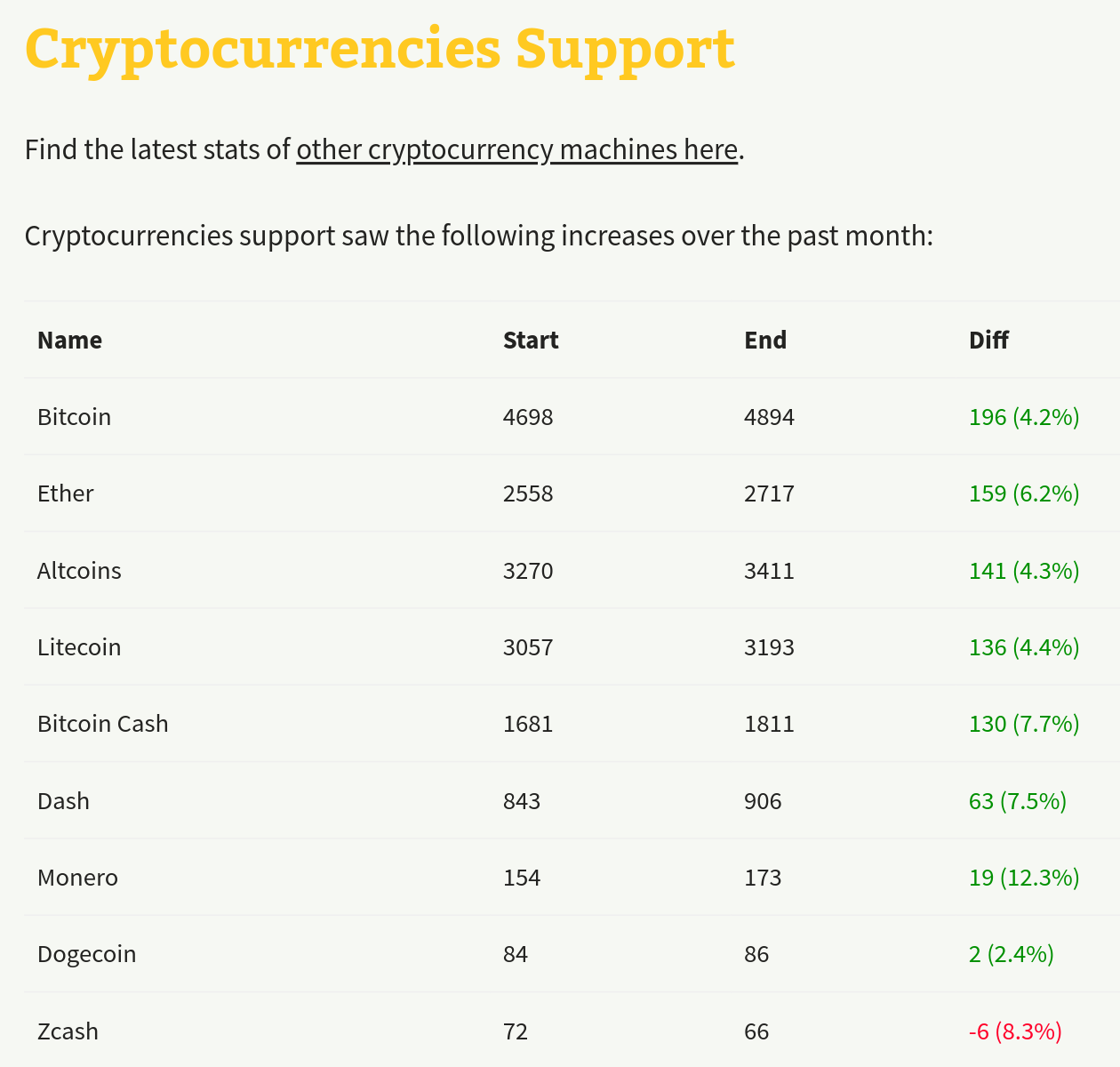 5. Bitcoin price is up 838,000,000% in Ten Years' Time
We saved the best for last.
Who would have thought that the virtual currency that was once created to tackle the inefficiency of traditional fiat could become the world's hedging tool and an economic commodity?
Since we've come to know Bitcoin in 2009, the crypto king has been on a remarkable journey. Looking at Bitcoin's price 10 years ago, for just over $5, you could get approximately 5,000 BTC, as recorded in the first transaction. Saifedean Ammous, author of The Bitcoin Standard, marked in his recent tweet that the price of Bitcoin has actually rallied some 838,078,685% today. Even with its 40% correction this year, BTC price has still gained over 120%, with many Bitcoin price metrics still overwhelmingly bullish.
Ten years ago today, 5,050 btc were sold for $5.02 in the first market transaction for bitcoin.

Today, they'd be worth $42,171,792.50.

A rise of 838,078,685%. https://t.co/yCvJ9TrrSn

— Saifedean Ammous (@saifedean) October 12, 2019
At the same time, the number of BTC whale addresses, which hold more than 1,000 coins, has also set a new record this month, reaching over 2,000. This huge spike in whale addresses in 2019 could be linked to an influx of exchanges on the market, or simply indicate that the whales accumulated a lot of Bitcoin during the 2018 bear market when the price was dropping.
Number of #Bitcoin addresses holding more than 1000 $BTC ? pic.twitter.com/SGdBXrob5e

— glassnode (@glassnode) October 11, 2019
This post originally appeared on OKEx Blog. Read more.
Disclaimer: This material should not be taken as the basis for making investment decisions, nor be construed as a recommendation to engage in investment transactions. Trading digital assets involve significant risk and can result in the loss of your invested capital. You should ensure that you fully understand the risk involved and take into consideration your level of experience, investment objectives and seek independent financial advice if necessary.
---
About OKEx
OKEx is a world-leading digital asset exchange headquartered in Malta, offering comprehensive digital assets trading services including token trading, futures trading, perpetual swap trading and index tracker to global traders with blockchain technology. Currently, the exchange offers over 400 token and futures trading pairs enabling users to optimize their strategies.
Follow us on Twitter.
Check our latest press material on Press Room.
Check Latest Headlines on HodlX
Follow Us on Twitter Facebook Telegram
Check out the Latest Industry Announcements
Disclaimer: Opinions expressed at The Daily Hodl are not investment advice. Investors should do their due diligence before making any high-risk investments in Bitcoin, cryptocurrency or digital assets. Please be advised that your transfers and trades are at your own risk, and any loses you may incur are your responsibility. The Daily Hodl does not recommend the buying or selling of any cryptocurrencies or digital assets, nor is The Daily Hodl an investment advisor. Please note that The Daily Hodl participates in affiliate marketing.