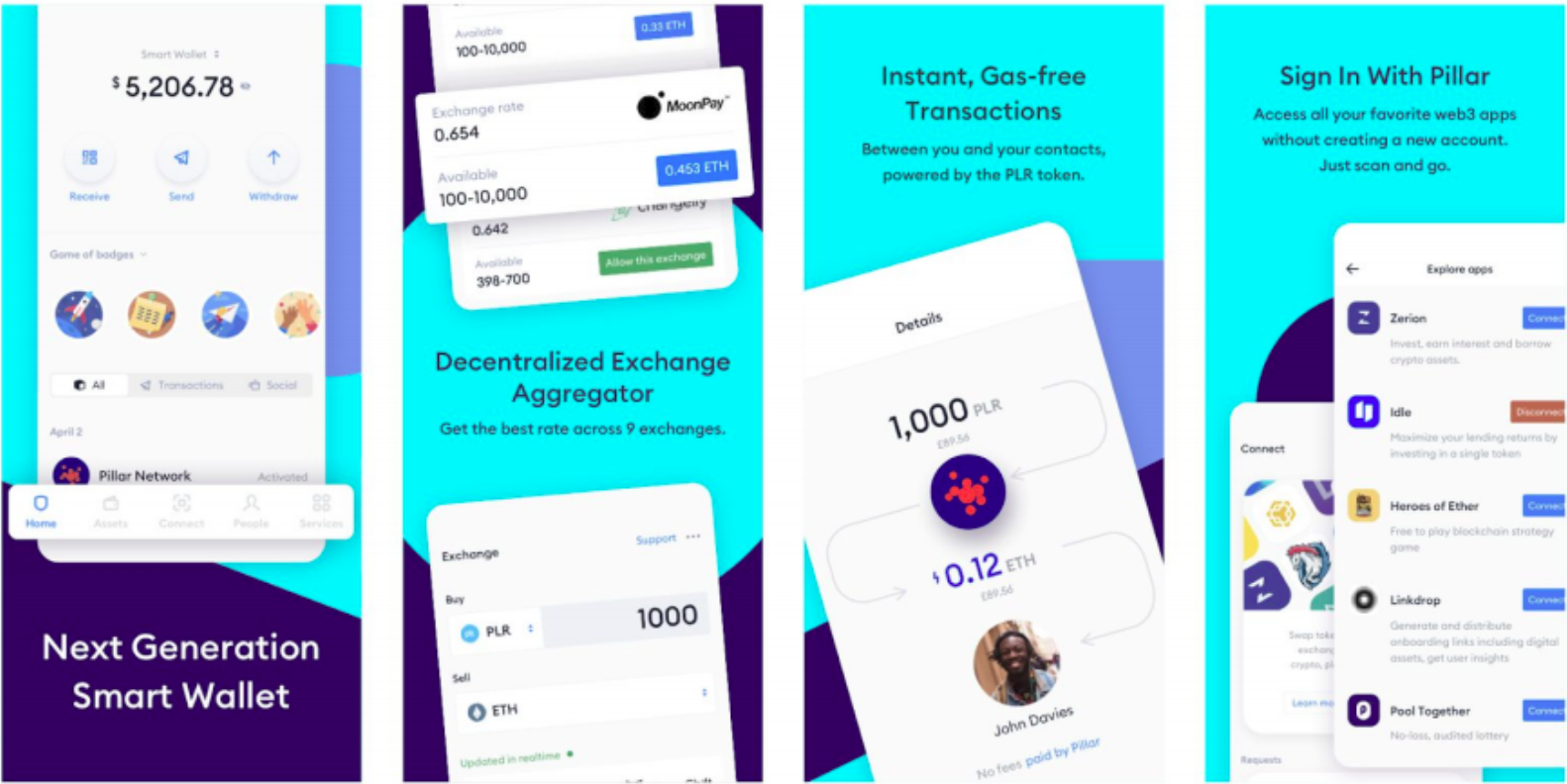 ---
The Pillar Smart Wallet made its public debut over the weekend, giving users access to the world's first meta-token and private payment network for a free, private, and instant crypto experience.
London-based Pillar Project launched the Pillar Smart Wallet last Thursday, alongside the wallet's in-built private payment channel to transform the way users interact with decentralized platforms and services.
To promote the release, Pillar launched a referral campaign which attracted 2,549 new users, with 500k PLR given away in 72 hours. In total, 8,631 new users joined Pillar over the weekend.
"Smart-contract accounts allow us to offer our users far better functionality and security, and this is what our latest upgrade is all about. Pillar users will now be able to confidently explore the wider blockchain ecosystem directly through the Pillar app," says Michael Messele, chief executive officer of Pillar Project.
What makes Pillar's platform unique is its inbuilt private payment channel: The Pillar Payment Network. Through the PPN, users will be able to experiment with the PLR "meta-token". PLR can be used to make instant, free and private transactions regardless of which cryptocurrencies a platform accepts.
Many Web3 platforms only accept one or a few types of digital currency, such as Bitcoin or Ethereum, so it's often impossible to interact with these platforms unless those currencies are directly owned beforehand.
"The PLR meta-token is our answer for an effortless cryptocurrency experience. We want to make sure that the power of decentralized technology reaches beyond this niche industry and is accessible and intuitive to people of all ages and cultures," says Drew Harding, Product Owner of Pillar Project.
It does this by automatically converting PLR into any other, native cryptocurrency upon payment or transfer. This is similar to a credit card, which can be used to pay for items regardless of what currency is accepted.
All of these transactions will live in Pillar's private payment network, making them free (no fees), instant (no confirmation wait) and private (off-chain).
"I think the PPN and PLR are one of the few crypto payment solutions that actually make sense. Before, if you were trying to make a transaction you'd often hit a roadblock where you realize you don't have enough of the coins that the merchant accepts. This meant that you'd need to 'exchange' the coins you do have for another coin altogether, before being able to purchase the coins you actually wanted in the first place. Pillar's meta-token solution, with its built-in swap functionality, completely eliminates this frustrating roadblock with crypto transactions," said Lee Labovitz, Pillar Smart Wallet beta-tester and long-term crypto user.
Thanks to the meta-token properties of PLR, the 2,549 users who opened accounts last weekend via the referral program were able to start their journey without having to buy or transfer cryptocurrency first, thus removing much of the initial complexity with setting up a new wallet. New users will automatically be issued Smart Wallets and will have their smart-contract deployment fees covered by Pillar. Existing users can choose to upgrade their accounts from a key based wallet.
---
About Pillar Project
Pillar Project is an open-source foundation that is designing and developing an intuitive platform to contextually manage your identity and transact with the services of the emerging web3 digital economy.
The Pillar Smart Wallet is a mobile cryptocurrency wallet built for any generation or level of technical proficiency. The wallet provides users with complete control over their private keys, while simplifying secure cryptocurrency transactions and storage through its private payment network.
This content is sponsored and should be regarded as promotional material. Opinions and statements expressed herein are those of the author and do not reflect the opinions of The Daily Hodl. The Daily Hodl is not a subsidiary of or owned by any ICOs, blockchain startups or companies that advertise on our platform. Investors should do their due diligence before making any high-risk investments in any ICOs, blockchain startups or cryptocurrencies. Please be advised that your investments are at your own risk, and any losses you may incur are your responsibility.
Follow Us on Twitter Facebook Telegram
Check out the Latest Industry Announcements