Bitcoin, the overall crypto market, and equities in the US are reeling from sharp pullbacks in the past week.
The stock market tumble coincides with news that Japanese multinational conglomerate SoftBank has been placing gigantic and risky option bets on tech stocks, which some analysts argue artificially paved the way to the massive Nasdaq Composite and S&P 500 rallies in August.
Mati Greenspan, the founder of Quantum Economics, says the SoftBank news breaks down a lot of myths that were being created about the stock market last month – and he wonders about the impact it had on crypto.
"So all the narratives about the Federal Reserve, QE, new retail money, stock splits, tech equities being immune to the virus, and pure momentum have fallen by the wayside, and now it's clear that a record-breaking month of August was largely due to a single player.
With the amount of $4 billion, which was levered up to a notional amount of about $50 billion, it seems to have been enough to carry the wayward index to unbelievable and unrealistic new highs… So, did the Japanese equity whale affect bitcoin and the subordinate altcoin and DeFi markets?"

Greenspan, a former senior market analyst at eToro, examines the potential correlation between Bitcoin and the Nasdaq to see if the news of SoftBank's bets contributed to Bitcoin's current slide.
He points to the traditional correlation between the S&P 500 and BTC, which have been tightly connected in past cycles and throughout 2020.
As for whether Softbank had a direct effect on the price of Bitcoin, Greenspan says BTC began its downward trend slightly ahead of the Nasdaq, which could indicate the crypto markets were beginning a downtrend on their own.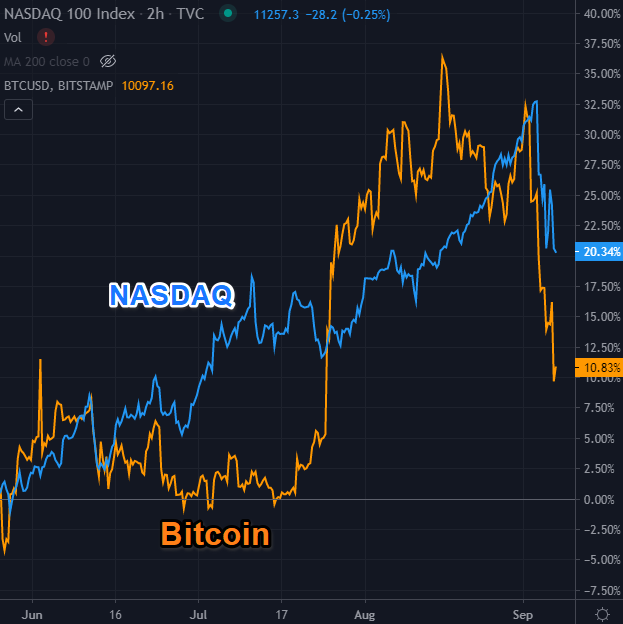 Greenspan also analyzes Bitcoin's current trajectory. After several dips below $10,000, he says the lack of volume is concerning.
The analyst believes BTC could potentially carve a bottom at $9,000.
Featured Image: Shutterstock/Samantha Haebich