HodlX Guest Post
Submit Your Post
It's fair to say that 2020 has belonged to DeFi tokens. The performance of yearn.finance and widespread excitement for assets like Uniswap and Compound had captivated investors, with many currencies eclipsing the traditional top 10 of altcoins. But will the arrival of the DeFi boom kill off some of the cryptocurrency world's mainstays?
The rapid rise of decentralized finance (DeFi) has been heavily reflected in the soaring prices of yield-related tokens, such as yearn.finance, LEND and others rocketing to unprecedented highs in 2020. The huge rise in YFI alone has rocked the world of crypto.
yearn.finance (YFI)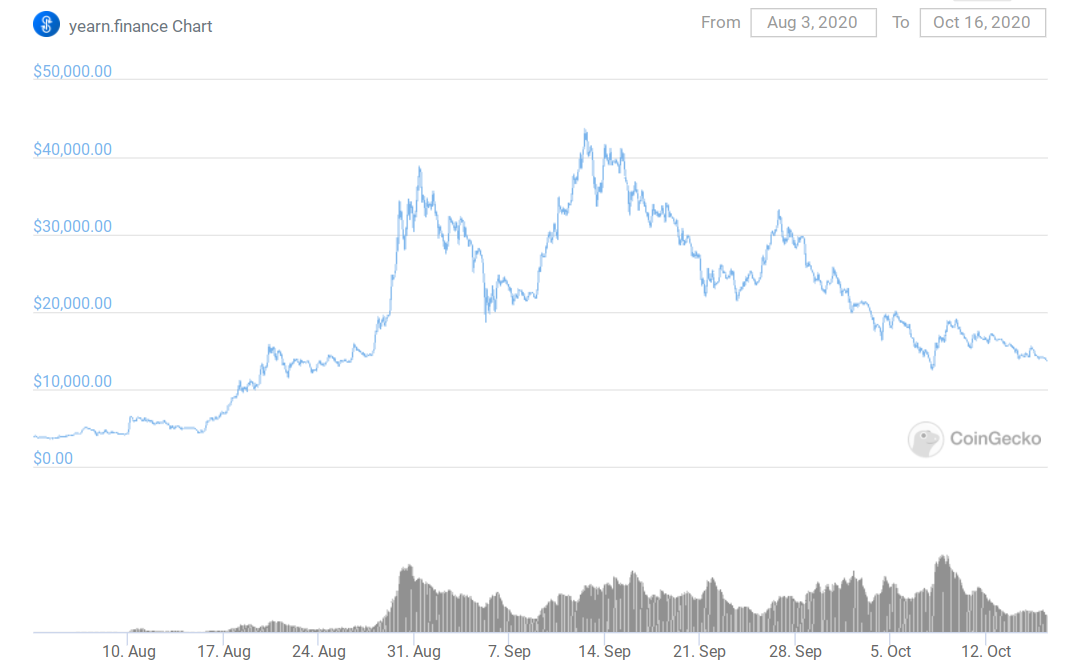 Peaking at around $40K, yearn.finance eclipsed Bitcoin's famous rally of late 2017, and far outperformed the world's most popular cryptocurrency and altcoins by a considerable margin over the summer of 2020.
Figures show that some of the more popular DeFi tokens even outperformed governance and infrastructure projects like Chainlink and UMA – despite UMA becoming one of the largest decentralized finance protocols in September.
Much of the excitement surrounding the emergence of DeFi relates to its practical application towards blockchain-based smart contracts and smart insurance, where financial technology can create watertight binding agreements between parties without the need for mediators.
However, with investor attention firmly turned to DeFi projects and smart contract platforms like Ethereum and Cardano, it's become clear that a number of altcoins – particularly those representing sectors such as cross-platform payments and swift transactions – have been left behind.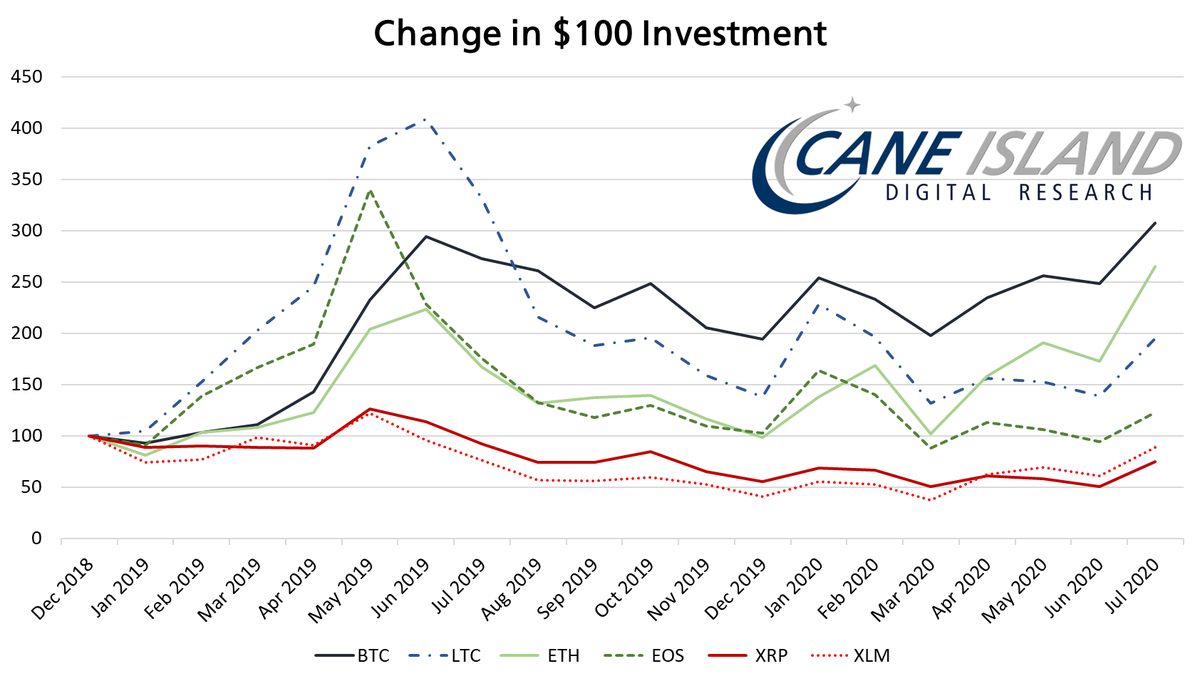 Source: Cane Island Digital Research via Twitter
The likes of Litecoin, EOS, Ripple and Stellar Lumens have struggled to keep up with the rise of Bitcoin and Ethereum – which has been central to this summer's DeFi boom.

Today, as investors remain preoccupied with scouting out new DeFi projects, much of the cryptocurrency market has slumped, leaving numerous altcoins in the mire. So, will our obsession with decentralized finance kill off the altcoins we've become so familiar with in recent times? Or will the tables turn for the likes of Litecoin and Ripple? Let's take a look at what the future holds for the crypto market.
Testing times
The end of summer 2020 has been a profoundly difficult time for all altcoins. Polkadot has been among the worst performers during the September and October slowdowns, decreasing by around 10% at the start of October alone.
The correction of DOT has come as many altcoins, as well as Bitcoin and Ethereum, are slowly declining. While the likes of Bitcoin are unlikely to fall to technically significant levels, Polkadot may be facing a severe correction if it drops below a significant support level. The support level has remained somewhat stable in recent weeks, meaning that a drop could be a worrying sign for investors holding out hope for a bull run any time soon.
Analyst Nicholas Merten believes it's not yet time to push any panic buttons in the world of crypto, and noted that the strength of Bitcoin should be enough to steer many altcoins to safety.
"Quite frankly, guys, from what we're seeing here with the actual inflows of capital from companies like MicroStrategy, in this case, Grayscale, there is a lot more institutional demand or corporate demand for Bitcoin in this case that's actually going to probably keep it up as an asset, and that's not going to allow the market cap to go down," said Merten. "So long as there is not a massive outflow of Bitcoin, there will likely not be massive outflows of the total crypto market."
At the time of this writing, the exchange rate between Bitcoin and Litecoin is 1:217.7 – a relatively consistent figure despite the modest values of Litecoin. According to Merten's insight, a Bitcoin rally may be a huge contributing factor to the upturn in fortunes for Litecoin and the market as a whole.
Waiting for the DeFi bubble to burst
Back in July, DeFi seemed like an unstoppable force. Related tokens were pumped up to generate widespread gains for investors before prompting a range of clone and meme projects that attempted to emulate the hype.
As some tokens in the sector have already taken huge hits to their value like SUSHI, other tokens like Hotdog shed 99% of its value in the space of five minutes.
It's worth acknowledging that decentralized finance offers plenty of practicality in the efficiency of smart contract solutions that its projects champion, but many of the DeFi tokens entering the market offer very little in terms of usability – causing them to be more reminiscent of the ICO space in 2017 and 2018.
Given the huge levels of inauthenticity in the DeFi sector, many of its associated assets may go the same way as the ICO tokens before it, especially as the Ethereum blockchain continues to burst at the seams. Should this occur, the cryptocurrency market wouldn't directly suffer, but rather the investment and profits would be returned back to other sectors of the market – benefiting the likes of altcoins and Bitcoin as a whole – which have been suffering in the wake of the DeFi boom.
As 2020 draws to a close, the world of crypto has remained as volatile as ever. With DeFi shaking the marketplace up, a potential bubble burst could spell the end of the bearish winter months and revive many of the altcoins that may be perceived to be on the ropes at present.
---
Dmytro Spilka
Dmytro Spilka is a tech and crypto writer based in London, United Kingdom. Founder of Solvid and Pridicto, an AI-based traffic forecast software. His work has been published in IBM, TechRadar, Bitcoin.com, FXStreet, CoinCodex, CryptoGlobe and CryptoSlate.

Check Latest Headlines on HodlX
Follow Us on Twitter Facebook Telegram
Check out the Latest Industry Announcements
Disclaimer: Opinions expressed at The Daily Hodl are not investment advice. Investors should do their due diligence before making any high-risk investments in Bitcoin, cryptocurrency or digital assets. Please be advised that your transfers and trades are at your own risk, and any loses you may incur are your responsibility. The Daily Hodl does not recommend the buying or selling of any cryptocurrencies or digital assets, nor is The Daily Hodl an investment advisor. Please note that The Daily Hodl participates in affiliate marketing.
Featured image: Shutterstock/GrandeDuc