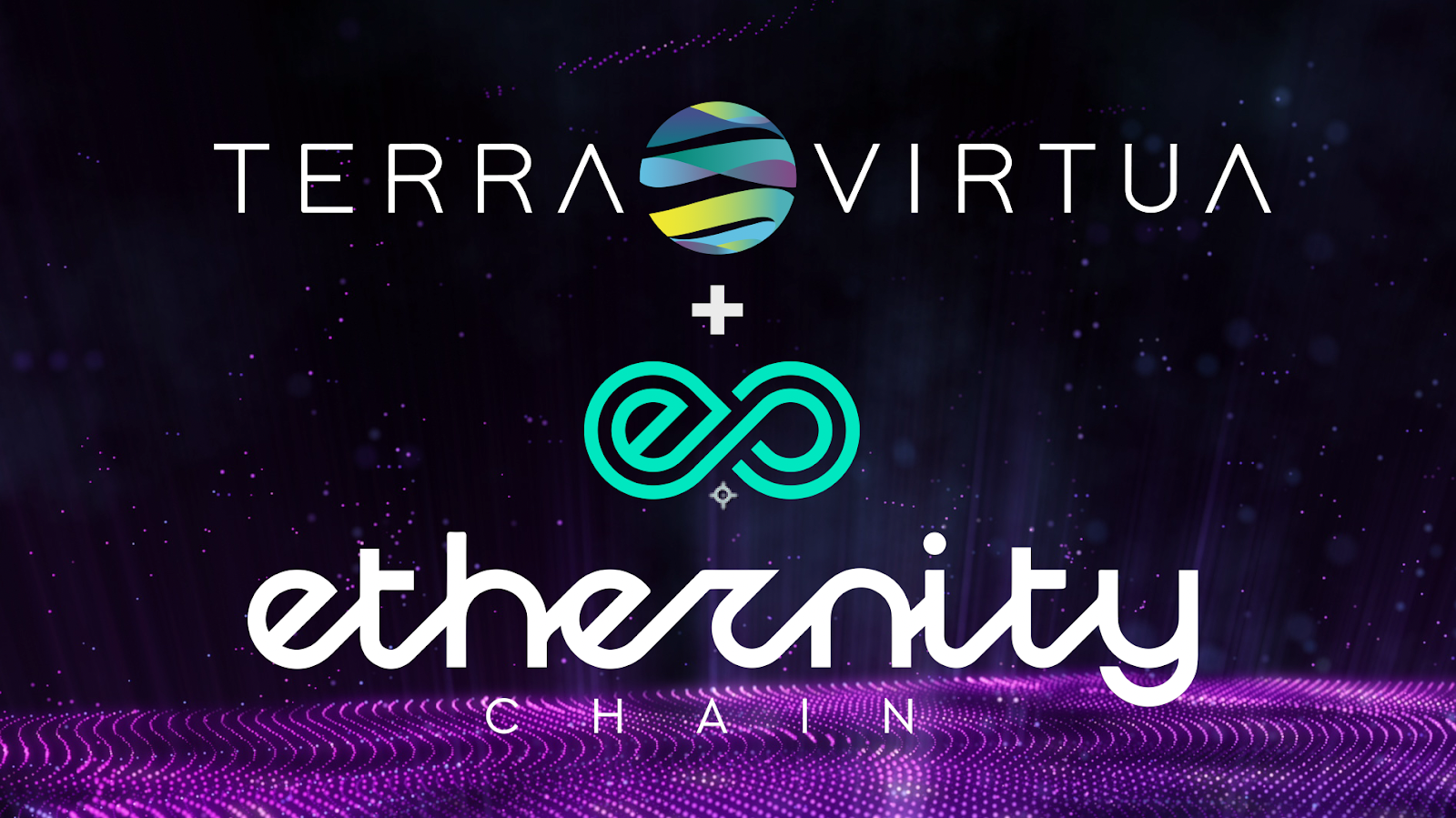 March 16, 2021 – Los Angeles, California
Terra Virtua is excited to announce a new strategic partnership with Ethernity, a new NFT platform that launched on March 8th.
The partnership will see the two companies working together to deliver the benefits of NFTs and digital collectibles to the mainstream. Ethernity Chain has joined forces with the Winklevoss twins, sports tycoon Michael Rubin and others to promote collectible works by digital artists. Terra Virtua entertainment-focused platform provides a new dimension to NFTs, allowing them to be displayed on PC, web, mobile, augmented reality and soon VR as well. This creates a compelling proposition.
Gary Bracey, CEO and Co-founder, said,
"We have been hugely impressed by the impact that Ethernity has made in the crypto space in the run up to their launch. The platform being built by Nick and his team and the relationships they have in place are very exciting. We feel that their offering complements our immersive platform to really help push the space forward."
Nick Rose, CEO and Founder at Ethernity, said,
"Ethernity is excited to announce this new strategic partnership. We have been working hard to deliver an amazing NFT experience through connecting to mainstream culture. Terra Virtua's focus is on taking digital collectibles to a new, immersive dimension. It's a powerful combination. We are super excited for the future."
NFTs are still brand new conceptually, and so far the art is mainly still pieces and short GIF style collectibles. The new doors opened by Terra Virtua might take this new technology to new arenas that haven't been introduced to the market yet.
The Ethernity Chain Community can look forward to the vast opportunities offered by this new partnership. Combining Ethernity's portfolio of artists with Terra Virtua's advanced capabilities in blockchain, AR and VR has the potential to change the way digital art is produced, marketed and consumed.
About Terra Virtua
Terra Virtua is an entertainment-focused collectibles platform. Using blockchain technology, it provides utility by allowing collectors of digital assets to display and interact with their virtual goods in PC, web, mobile and augmented reality. Leveraging the latest in mobile and gaming technologies, their mission is to engage and connect fan-based user communities.
Web | Twitter | Discord | Instagram | Twitch
About Ethernity
In the Ethernity Chain ecosystem, all NFTs are purchasable and tradable on-chain. Ethernity Chain will leverage the technology of DeFi and merge it with NFTs to create an exclusive pipeline to rare and collectible content from prominent figures and well-established digital artists.
Web | Twitter | Discord | Medium | Telegram
Contacts
Marketing
info@marketacross.com
This content is sponsored and should be regarded as promotional material. Opinions and statements expressed herein are those of the author and do not reflect the opinions of The Daily Hodl. The Daily Hodl is not a subsidiary of or owned by any ICOs, blockchain startups or companies that advertise on our platform. Investors should do their due diligence before making any high-risk investments in any ICOs, blockchain startups or cryptocurrencies. Please be advised that your investments are at your own risk, and any losses you may incur are your responsibility.
Follow Us on Twitter Facebook Telegram
Check out the Latest Industry Announcements