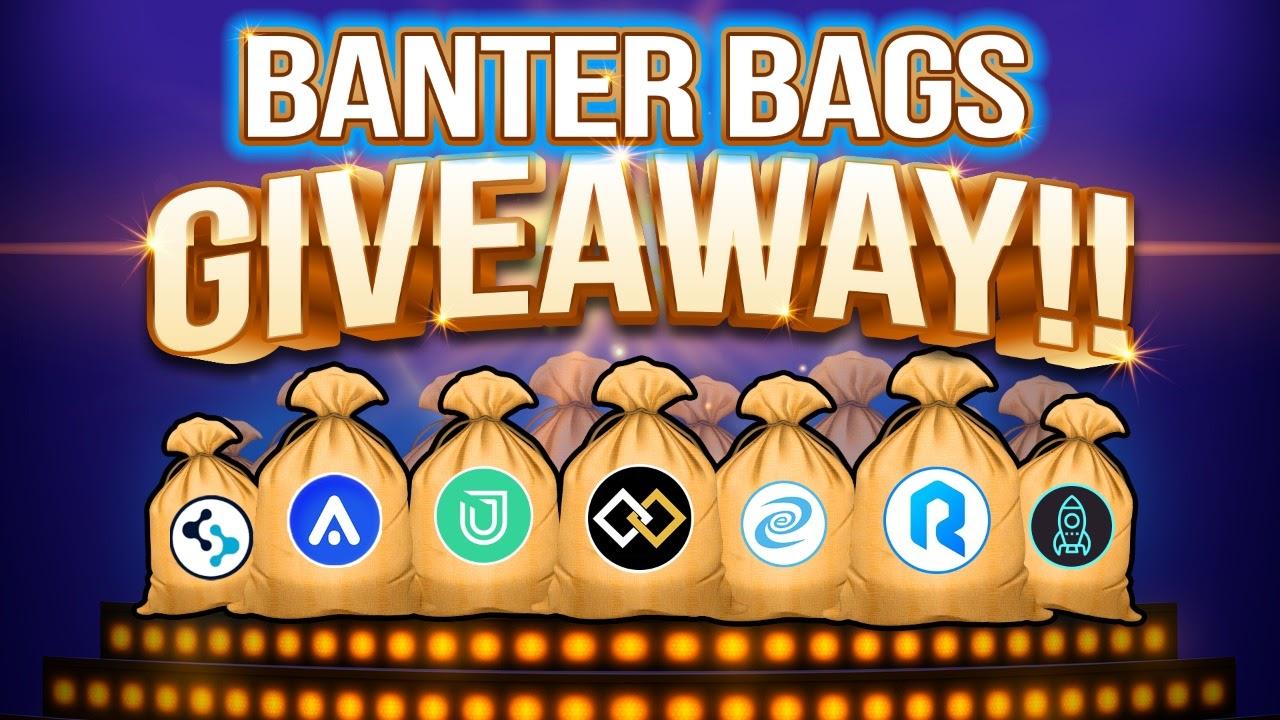 May 8, 2021 – Cape Town, South Africa
---
Banter Bags is a unique project in the cryptocurrency world that aims to give back to its community. What initially started as a $10,000 community giveaway is now worth over $500,000. Ten eligible community members will be chosen randomly to receive their share of the spoils once the Crypto Banter YouTube channel surpasses 250,000 subscribers.
The Banter Bags Giveaway is an event created by Ran Neuner, host of CNBC Crypto Trader and founder of Crypto Banter on YouTube. The initial objective was to reward active participation in the community and generate more engagement with the daily streams but as the investments started to grow it became a mechanism to really change some community members' lives.
Speaking of pre-market allocations, the Crypto Banter team initially put $10,000 in a public Ethereum address. That money was then invested into allocations, with more investments occurring daily to diversify the portfolio further. Several key investments have noted spectacular returns, including Shopx, Aioz, Refineable and Occam. All of these pre-market allocations have gone up in value by a factor of 100 or more.
As the total value of the Banter Bags now exceeds $500,000, a golden opportunity is created for the community. Once the YouTube channel surpasses 250,000 subscribers, 10 community members will earn a Banter Bag with the corresponding spoils. The only requirement to be eligible is to subscribe to Crypto Banter on YouTube and follow the Twitter account.
Community members can amplify their chances by following @cryptomanran and @sheldon_sniper on Twitter, by liking/commenting on tweets, and engaging with the two daily streams.
The Crypto Banter team adds,
"It started off as a fun idea of giving $10,000 to our community, and as we started to invest, we realized that the community loved the idea of investments in pre-market allocations that were previously off-limits for the average investor.
With this in mind, we went all in using our influence to reward our community. It was supposed to be a cool $10,000 giveaway to reward the community, and it has landed up becoming an opportunity to change lives. The channel has exploded since we launched this initiative. We're up by over 100% on every metric. We gained over 100k subscribers and got over five million views in the last 28 days. More than that, our community has engaged more. They love the idea that we are giving back to them and that we may at any point change another life."
Five winners have been randomly selected so far, all of whom have an amazing story to share. One of the winners, who goes by the name of Irfan, lost his job and was struggling financially. With a pregnant wife expected to give birth in two months, being announced the winner of a Banter Bag triggered a life-changing event for Irfan. Anyone can go through a similar experience once the remaining bags are given away to community members.
We also announced that one of the bags will be given to a charity, and we are currently looking for a viable option.
About Crypto Banter
Crypto Banter was founded by CNBC Crypto Trader host Ran Neuner and is a live streaming crypto station. We bring you live streaming coverage of the global crypto markets and give you a chance to call in, break the news, and banter with our guests and hosts. Crypto Banter was created to bring the banter from Crypto Twitter and Telegram to a moderated, curated AV streaming medium. Think of it as a mix of CNBC, Joe Rogan, and talk radio for crypto.
Contact
This content is sponsored and should be regarded as promotional material. Opinions and statements expressed herein are those of the author and do not reflect the opinions of The Daily Hodl. The Daily Hodl is not a subsidiary of or owned by any ICOs, blockchain startups or companies that advertise on our platform. Investors should do their due diligence before making any high-risk investments in any ICOs, blockchain startups or cryptocurrencies. Please be advised that your investments are at your own risk, and any losses you may incur are your responsibility.
Follow Us on Twitter Facebook Telegram
Check out the Latest Industry Announcements