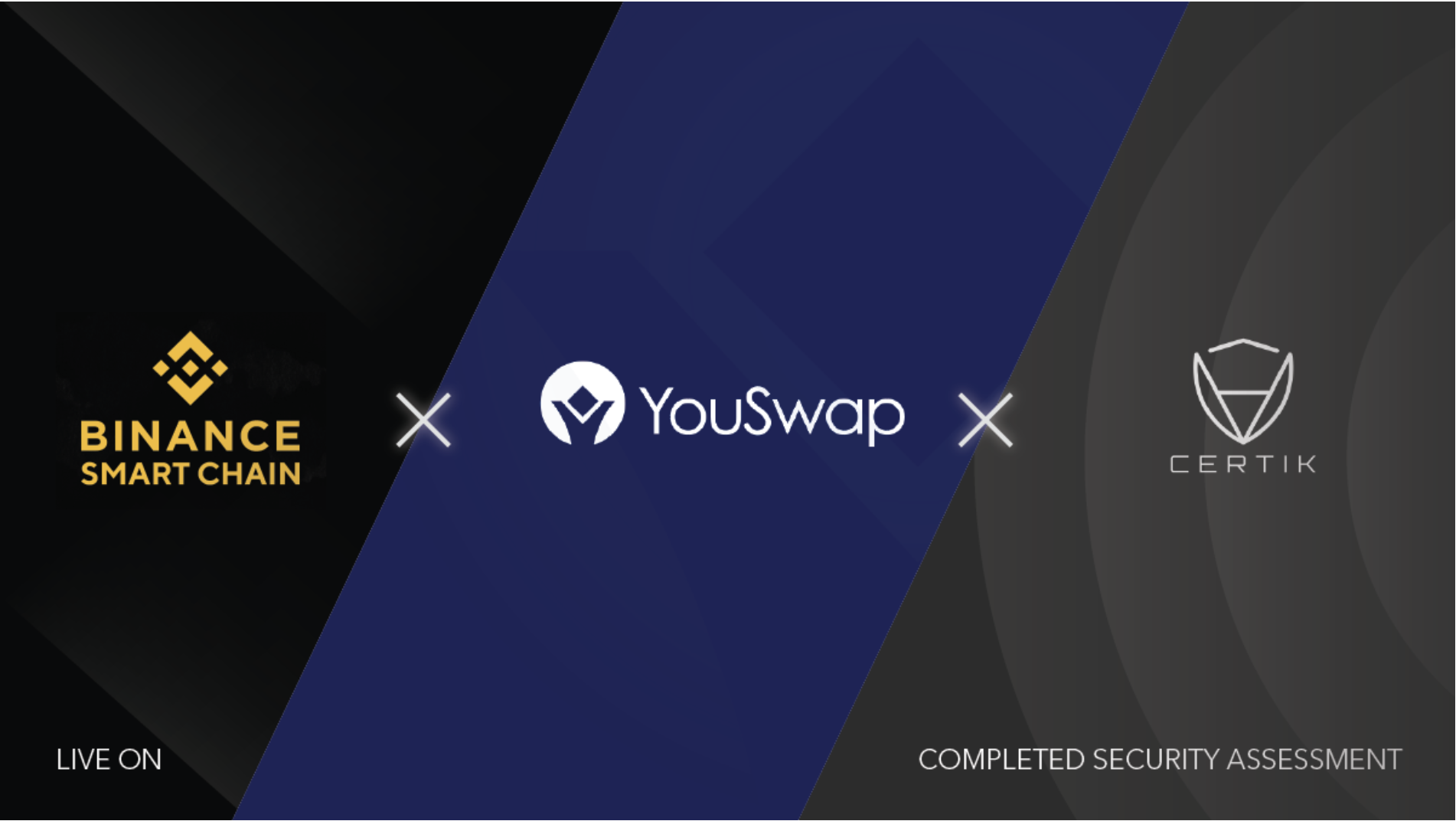 ---
May 6, 2021 – Singapore
We are pleased to announce that

YouSwap

is now live on Binance Smart Chain, and our smart contracts have been successfully audited by CertiK.
YouSwap launches on Binance Smart Chain
YouSwap is a decentralized exchange that optimizes the automated market maker (AMM) model, allowing users to stake and farm popular trading pairs such as ETH/BTC, ETH/BUSD, BTC/BUSD, BUSD/USDT, BNB/USDT.
YouSwap has initiated the ETH-BSC and HECO-BSC cross-chain bridges since April 28, 2021. The addition of BSC to YouSwap's platform is another step toward our multi-chain aggregation where users can realize cross-chain swap of assets among ETH mainnet, HECO and BSC through cross-chain bridge.
Successful CertiK Security Assessment
Following the launch on BSC, smart contract codes of YouSwap's Ethereum chain and HECO chain for multi-chain decentralized exchange (DEX) have passed CertiK's security audit. Our smart contracts must be secure and reliable since once deployed in operation they cannot be changed or edited. For decentralized exchanges, any vulnerabilities in the deployed code would be considered a critical event. We are happy that our focus on security resulted in an audit with 0 critical findings.
The conclusion of the CertiK security assessment signifies that the smart contracts YouSwap deploys conform to international security standards expected by our global users. As a DEX, this gives us the confidence to develop and pursue other products in our plans for 2021.
The full report can be downloaded from the YouSwap website or from Certik.org directly.
About YouSwap
YouSwap is a decentralized exchange that optimizes the AMM model, integrates resources for liquidity and swap pricing, fast exchange speed, and has an innovative tokenomics model. YouSwap's vision is to expand cross-chain functions and build a strong DeFi all-eco product portfolio through DEX. A decentralized exchange that truly belongs to you.
Follow us on the official channels
This content is sponsored and should be regarded as promotional material. Opinions and statements expressed herein are those of the author and do not reflect the opinions of The Daily Hodl. The Daily Hodl is not a subsidiary of or owned by any ICOs, blockchain startups or companies that advertise on our platform. Investors should do their due diligence before making any high-risk investments in any ICOs, blockchain startups or cryptocurrencies. Please be advised that your investments are at your own risk, and any losses you may incur are your responsibility.
Follow Us on Twitter Facebook Telegram
Check out the Latest Industry Announcements