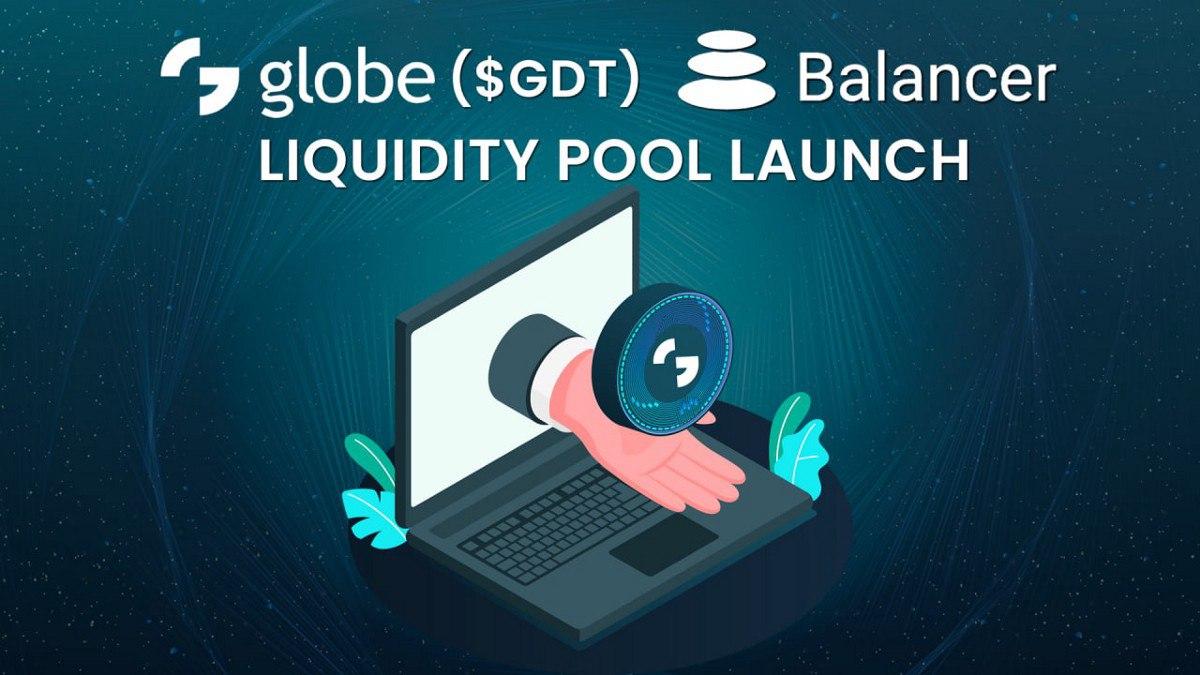 May 9, 2021 – London, England
---
Globe is excited to announce the upcoming Balancer Liquidity Bootstrapping Pool on May 10, 2021. Following the successful triple IDO and IEO, it is essential to bring Globe Token (GDT) to as many users as possible. As part of Globe's commitment and reputation for fairness, an LBP event on Balancer allows for fair price discovery and the opportunity to participate in the fair distribution of the GDT supply.
The Balancer Liquidity Bootstrapping Pool event is an excellent way to buy GDT at preferred prices. As an ERC20 utility token, GDT provides discounts on trading fees and also naturally decentralizes long-term ownership of the token away from Globe and to its community via buy and burn so that every trade uses some GDT as fuel. In a future version, users can pay their trading fees with the token.
As Balancer is a well-respected name in the cryptocurrency industry, it provides an excellent outlet to bring GDT to a broader audience. Balancer has a strong reputation for facilitating LBP events and strong token performance. As Globe wants to prioritize fairness and transparency, fair price discovery is essential for new and upcoming tokens.
The Balancer LBP event will take place after Globe has successfully completed its triple IDO on Ignition, Superfarm, and DODO. Additionally, the team has also completed an initial exchange offering (IEO) on Gate.io with nearly $30 million of interest in just four hours. All of these token sales contribute to the fair distribution of the GDT token and provide people with multiple options to acquire Globe's utility token.
GDT will make its way to exchanges on May 12, 2021. More information on exchange listings will be announced via Globe's official social media channels in the coming days.
About Globe
The Globe's fairest and fastest derivatives crypto exchange backed by Y Combinator alumni. Trade BTC, ETH, and DeFi tokens with more leverage via perpetual futures contracts.
Sign up now at globedx.com
Join our community channels
Contact
Kinsa Durst
kinsa@republic.co
This content is sponsored and should be regarded as promotional material. Opinions and statements expressed herein are those of the author and do not reflect the opinions of The Daily Hodl. The Daily Hodl is not a subsidiary of or owned by any ICOs, blockchain startups or companies that advertise on our platform. Investors should do their due diligence before making any high-risk investments in any ICOs, blockchain startups or cryptocurrencies. Please be advised that your investments are at your own risk, and any losses you may incur are your responsibility.
Follow Us on Twitter Facebook Telegram
Check out the Latest Industry Announcements