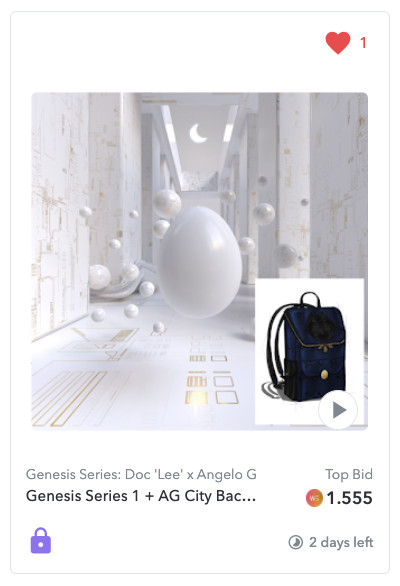 May 19, 2021 – Milan, Italy
---
Luxury fashion brand Angelo Galasso is releasing its first collection of non-fungible tokens (NFTs), which are designed to be sold alongside and reinforce the exclusivity of its handmade items by binding the digital and physical into a single bundle.
Through a collaboration with acclaimed digital artist Doc Lee from Altered.tv, who has previously worked with brands such as Jaguar, Disney, Cartier and others, Angelo Galasso is creating the first physical and digital NFT fashion collection.
The Genesis collection will be released on OpenSea, with a total of 24 NFT items. Each NFT represents a unique digital art piece designed by Doc Lee, which are sold in addition to high-quality items specifically designed by Angelo Galasso for the collection. These items will include the AG City Backpack, made from personalized grain reinforced canvas and printed with a geometric motif showing Angelo Galasso's iconic AG dragon logo. The key element of the backpack and other fashion items in the collection is a finely engraved egg button detail, which mirrors the NFT art associated with the items.
Other items include a finely designed crypto credit card wallet and a key or hardware wallet ring, both including the iconic egg button detail. There will be only five NFTs paired to the backpack, seven paired to the credit card wallet and 12 paired to the key ring.
The owner of the NFT is the sole registered owner of the associated physical item, creating additional value for the owner and a unique physical and digital twin.
The Genesis collection is being auctioned on OpenSea, with items expected to sell out quickly. Winners of the auction will obtain the NFT and associated digital art, and will be able to request the delivery of the physical item to any location around the world, free of charge. Alternatively, the items can be collected  in person at the Angelo Galasso store, Knightsbridge in London. Angelo Galasso will also refund the gas costs for the purchase of the NFT for in-person collections.
The luxury fashion brand Angelo Galasso said,
"We have always been regarded as pioneers in the fashion industry, and with this launch we are exploring how new technologies such as blockchain and NFTs can help the fashion industry reduce counterfeiting and give customers an even better brand experience."
Lee Robinson 'Doc Lee,' digital artist and creative director of Altered.tv, said,
"I was very excited to be approached by Angelo Galasso to work on this innovative project. The idea of creating an original piece of art in conjunction with an original item of luxury fashion is a unique and paradigm-shifting concept. The digital art piece links the digital and physical worlds. Elements of the animation are reflected in Angelo's designs and vice versa. This is a unique opportunity for anyone interested in NFTs, art and fashion."
A portion of the NFT sale proceeds will be donated to an environmental charity, helping offset some of the carbon footprint associated with the NFT as the blockchain industry works for an improved platform.
The collection has been produced in conjunction with the EdenBase innovation team, a generation 2.0 ecosystem specializing in enabling industries with frontier technologies.
About Angelo Galasso
Angelo Galasso was born in the south of Italy, with design and a strong flair for tailoring in his blood. His first business endeavor was a shirt company Interno 8 founded in 1990.
Angelo founded his eponymous brand in 2009 after having founded Billionaire Couture.
His tremendous flair and talent for design led him to create the iconic 'Polso Orologio' shirt, inspired by Gianni Agnelli, a product so innovative and groundbreaking in terms of design that it was exhibited at the Design Museum in London, and the Financial Times dubbed Angelo the 'Da Vinci of shirts.'
Contact
This content is sponsored and should be regarded as promotional material. Opinions and statements expressed herein are those of the author and do not reflect the opinions of The Daily Hodl. The Daily Hodl is not a subsidiary of or owned by any ICOs, blockchain startups or companies that advertise on our platform. Investors should do their due diligence before making any high-risk investments in any ICOs, blockchain startups or cryptocurrencies. Please be advised that your investments are at your own risk, and any losses you may incur are your responsibility.
Follow Us on Twitter Facebook Telegram
Check out the Latest Industry Announcements