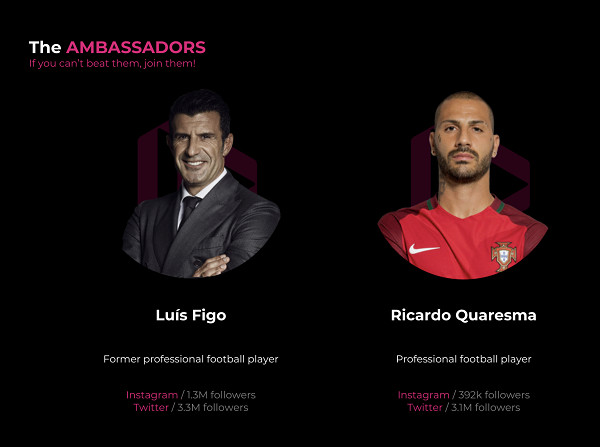 May 25, 2021 – Tallinn, Estonia
---
dotmoovs, a recently founded startup offering a crypto-enabled grassroots sports competition app, has received support from Luís Figo and Ricardo Quaresma, both renowned professional football players, as brand ambassadors.
The two players will help the startup market its app among their loyal fanbase, introducing sports enthusiasts to the world of cryptocurrencies and NFTs through a unique online competition app. The dotmoovs app will enable users to enter into instant competitions with other peers, for example, to show off their skill with football freestyle tricks. An AI-based engine will then determine the best participant and reward them with MOOV tokens or NFTs.
Given dotmoovs' initial focus on football, with football freestyle being the platform's first sport, the team sought to connect with former football players for feedback and support. Luís Figo became the first well-known player to back dotmoovs, having learned of the platform through mutual acquaintances.
Luís Figo is a Portuguese professional football player considered to be one of the best of his generation, having reached the peak of his career during the 2000s. He won FIFA's 2001 World Player of the Year and 2000 Ballon d'Or, and was the first 'galáctico,' a select list of expensive and world-famous football superstars that later included Zinedine Zidane, Ronaldo, David Beckham, Michael Owen, Robinho and Sergio Ramos.
After retiring from professional sports toward the end of the decade, Figo set up the Luís Figo Foundation, an organization that promotes and develops a set of projects that cover, in different ways, the areas of sports, education, health and social action.
Following Figo, dotmoovs also reached out and convinced Ricardo Quaresma, an active player known for his roles in football clubs such as Barcelona, Inter, Milan, FC Porto and Be?ikta?. Quaresma is known for his many tricks like the rabona and trivela, making him extremely popular among fans.
Ricardo Martins Costa, head of growth at dotmoovs, said,
"Since we are launching football freestyle as the platform's first sport, it was clear that we had to have at least one football legend with us. Figo was the original 'galactico,' the first truly world-famous football superstar of our generation, so we had to present him with the project. Just a couple of weeks later, we were flying to Madrid to meet with him and do some shooting sessions."
Luís Figo said,
"During the Covid-19 pandemic in 2020, football fans around the world have been forced to explore new ways of playing their favorite sport. Though, thankfully, the worst is now over, I believe that new ways of combining digital with physical sports will take their place together with the good old-fashioned game on the football field."
About dotmoovs
dotmoovs is the first crypto mobile worldwide competitive environment. The platform allows users to compete with others around the world just by bringing their skills, ambition and smartphone. dotmoov's AI-based video referee will assess their performance in real time. Powered by blockchain technology, sport competition will enable fair challenges and access to unique digital assets.
Website | Twitter | Telegram | Telegram Announcements
Contact
Ricardo Martins Costa, head of growth at dotmoovs
This content is sponsored and should be regarded as promotional material. Opinions and statements expressed herein are those of the author and do not reflect the opinions of The Daily Hodl. The Daily Hodl is not a subsidiary of or owned by any ICOs, blockchain startups or companies that advertise on our platform. Investors should do their due diligence before making any high-risk investments in any ICOs, blockchain startups or cryptocurrencies. Please be advised that your investments are at your own risk, and any losses you may incur are your responsibility.
Follow Us on Twitter Facebook Telegram
Check out the Latest Industry Announcements