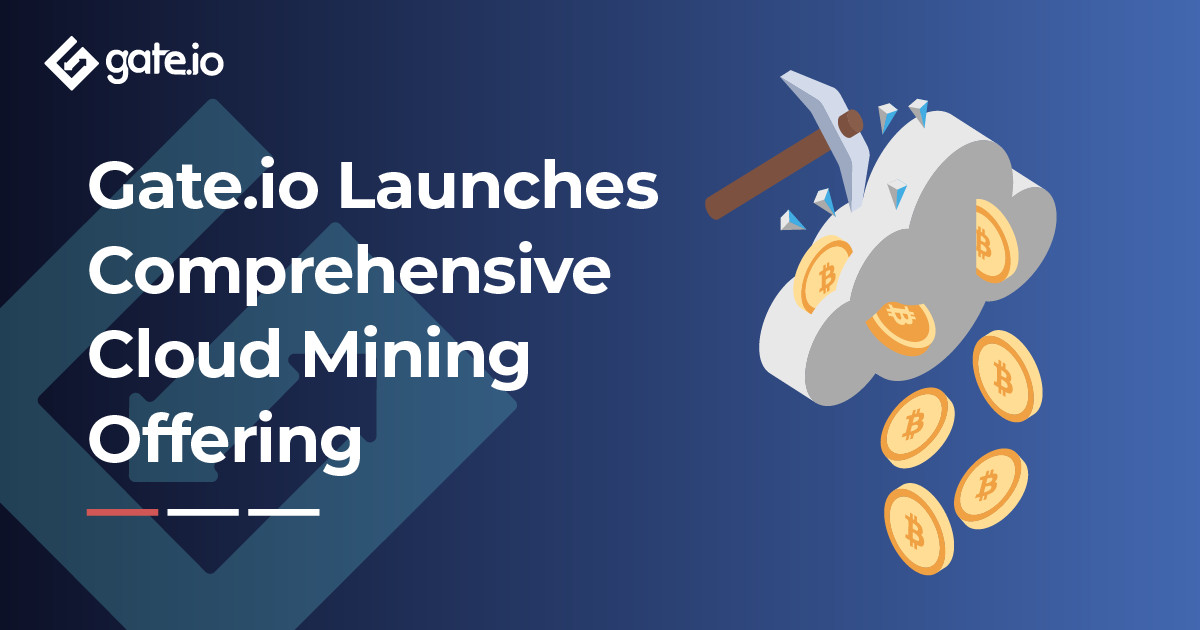 August 24, 2021 – Singapore, Singapore
---
Global digital asset exchange Gate.io has launched a comprehensive cloud mining offering, bringing the benefits of traditional cryptocurrency mining without the massive costs involved with setting up a mining operation.
Gate.io recently launched a comprehensive cloud mining offering with packages starting at just $47 for a starter mining contract. Users can opt to choose one of several different cloud mining offerings based on their budget.
Gate.io has done thorough research and chosen a trustworthy, industry-leading mining farm based out of Europe and North America to run its cloud mining services – ensuring a comprehensive service that complies with local regulations but is spread out to minimize risks. The cloud mining service currently only supports Bitcoin mining, with plans for Ethereum mining to be introduced in the near future.
Marie Tatibouet, CMO at Gate.io, said,
"Gate.io's first batch of cloud mining contracts were launched on Monday, August 23, at 22:00 (UTC +8), and sold out within the first four minutes of availability. Gate.io will continue to expand its cloud mining offerings, ensuring a wider variety of products and services with optimal annual returns."
Cloud mining in a nutshell
Many cryptocurrencies are generated through mining, with cryptocurrency mining becoming one of the most lucrative and cost-effective ways to earn cryptocurrencies other than buying them. Over the years, mining equipment has become very advanced and thus expensive, making it more and more difficult for the average user to mine cryptocurrency.
Enter cloud mining. Cloud mining is pretty simple. Regular users can purchase cloud mining contracts from mining firms, which will allow them a stake of the profits on the cryptocurrency mined, while providing the miner with capital to run their mining operations – a win-win scenario.
Benefits of cloud mining
Besides earning a decent annualized profit on mining contracts, cloud mining brings many great benefits over traditional crypto mining. The biggest benefit of cloud mining over traditional crypto mining is the lower threshold to entry – there's no need to buy expensive equipment, and users gain near instant access to mining.
Additional benefits include flexible daily payouts with guaranteed hash rates, and no worries about excess overheads like electricity, hardware maintenance and regulatory hurdles. Users can purchase a cloud mining contract from the comfort of their own home and start earning.
About Gate.io
Gate.io is a leading digital currency exchange with over six million users in 190 countries across the globe. The exchange offers spot, margin, futures and contract trading, in addition to DeFi products through HipoDeFi, custodial services through Wallet.io and investments through Gate Labs and its dedicated GateChain platform. The company also offers a wholly integrated suite of products such as its Startup IEO platform, NFT Magic Box marketplace, crypto loans and more.
Contact
Diksha Sharma, head of communications at Gate.io
This content is sponsored and should be regarded as promotional material. Opinions and statements expressed herein are those of the author and do not reflect the opinions of The Daily Hodl. The Daily Hodl is not a subsidiary of or owned by any ICOs, blockchain startups or companies that advertise on our platform. Investors should do their due diligence before making any high-risk investments in any ICOs, blockchain startups or cryptocurrencies. Please be advised that your investments are at your own risk, and any losses you may incur are your responsibility.
Follow Us on Twitter Facebook Telegram
Check out the Latest Industry Announcements