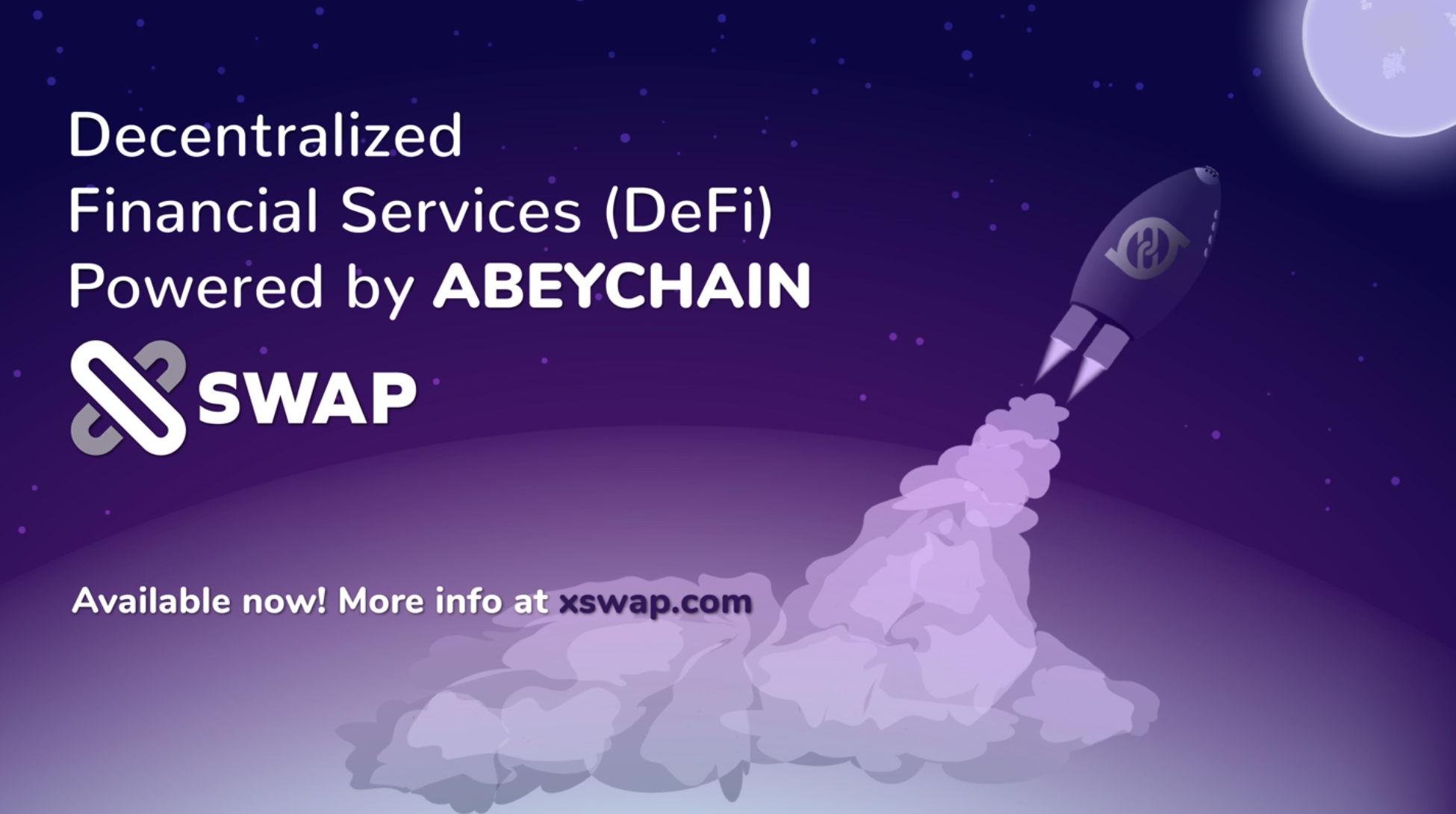 Decentralized finance is one of the biggest topics in the crypto space, with more than $40 billion locked in several DeFi protocols. DeFi has transformed the way we think about finance and enabled retail investors to access financial opportunities limited to institutions.
Concepts like yield farming, liquidity mining, and lending have been made possible on a permissionless decentralized protocol that does not require third-party intermediaries. ABEYCHAIN, a multi-layer blockchain protocol, is looking to expand on existing DeFi innovations with the launch of XSWAP.
XSWAP bringing new concepts to DeFi 
XSWAP is a next-generation decentralized exchange that goes beyond a trading platform and offers novel DeFi products. It leverages the high-speed and scalable ABEYCHAIN network to facilitate transactions for traders and yield farmers.
XSWAP solves the problems of liquidity by integrating an automated liquidity system that ensures constant liquidity for transactions. Liquidity providers are rewarded for providing liquidity on trading pairs.
Traders that make transactions are matched with trades at the current price by the automated liquidity system. This means that trades will be completed as long as there is enough liquidity in the respective trading pools for a trading pair.
The decentralized nature of DeFi tokens means that DEXs have to find an innovative way to determine the value of tokens listed on their platforms correctly. XSWAP solves this problem by using the automated market maker model. This model tracks the price of assets based on market demand and supply within the platform.
It considers the ratio of coins in a respective pool and adjusts the price of assets based on the market demand and supply for the token. In addition, users are in complete control of their coins when they trade on XSWAP as they are not required to deposit funds within the exchange.
All that is required is to connect a non-custodial wallet like MetaMask or the ABEY 2.0 wallet to begin trading on the platform. XSWAP utilizes the ABEY token as gas fee, and traders need to hold the token to perform transactions.
Developers can quickly develop ARC-20 tokens on the ABEYCHAIN blockchain and list them on XSWAP without extensive requirements. In addition, XSWAP supports multiple cross-chain assets like BTC, ETH, LTC, BNB, DOT, and AST.
XSWAP also introduces its native token XT that serves as the governance token. XT has a total supply of 1.2 billion tokens and will be used to incentivize liquidity providers and yield farmers.
XSWAP has begun the initial distribution of the token in the form of an airdrop that occurred on August 17, 2021. The airdrop was successful and completely distributed within four hours.
XT holders have the right to vote on proposals and changes to the XSWAP DEX. This includes changes to how minted tokens are distributed and new fee structures. XT tokens will be traded on XSWAP and listed on other exchanges in the future.
More developments in the future 
ABEYCHAIN has an extensive ecosystem that consists of the ABEY Storage Network, a stablecoin called aCash Token (ACT), and a native NFT platform. These features have led to greater adoption of the blockchain, which boasts of more than 100,000 users.
ABEY Foundation is always looking to improve the blockchain protocol, and more products are expected to be launched in the coming months. For more information, please visit abey.com and XSWAP.com.
This content is sponsored and should be regarded as promotional material. Opinions and statements expressed herein are those of the author and do not reflect the opinions of The Daily Hodl. The Daily Hodl is not a subsidiary of or owned by any ICOs, blockchain startups or companies that advertise on our platform. Investors should do their due diligence before making any high-risk investments in any ICOs, blockchain startups or cryptocurrencies. Please be advised that your investments are at your own risk, and any losses you may incur are your responsibility.
Follow Us on Twitter Facebook Telegram
Check out the Latest Industry Announcements