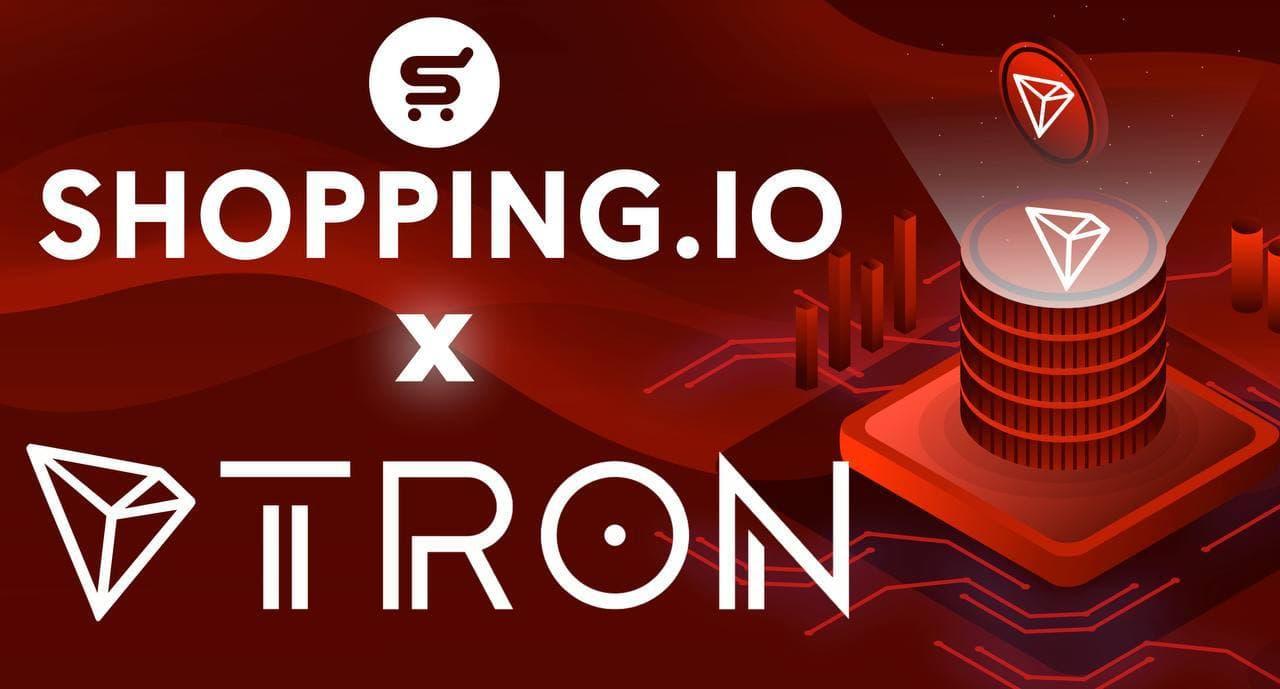 August 25, 2021 – Singapore, Singapore
---
Shopping.io is continuing its trend of collaborating with the biggest names in the industry, quickly solidifying its place as the one-stop e-commerce shop for crypto holders.
The company's newest collaboration is with TRON, one of the world's largest and most popular blockchain-based operating systems. TRON uses the features of the blockchain and peer-to-peer (P2P) network technology to eliminate the middleman and allow content creators to sell their work directly to consumers.
As of August 25, 2021, TRX ranked 25th among cryptocurrencies in market capitalization, according to CoinMarketCap and CoinGecko.
Starting today, TRX holders can spend their tokens on Shopping.io's e-commerce platform and make Amazon (US, UK, CA, DE, FR, IT and ES), eBay, Walmart and Etsy purchases using them.
Through Shopping.io, TRX holders will now be able to use their tokens to shop for everyday items, electronics and novelty pieces.
TRX token holders will also receive a 2% discount on all items when they use TRX to make purchases for two weeks starting on August 25, 2021.
This partnership continues our push to partner with all of the top cryptocurrencies, along with new, exciting projects that match our vision of a mainstream crypto future.
Justin Sun, founder of TRON, said,
"We are thrilled to be partnering with Shopping.io to allow our community to use TRX on major e-commerce websites like Amazon, eBay and Etsy. Shopping.io provides users with real-world applications for their portfolio."
Arbel Arif, CEO and owner of Shopping.io, said,
"We are so excited to give TRON holders the ability to shop with us. Getting to work with TRON was a huge goal this year, as we push to collaborate with every big name in crypto."
Shopping.io is the only international crypto onboarding platform that allows users to spend their cryptocurrencies on popular e-commerce websites. This partnership is another step forward in Shopping.io's growth and maturity in the industry.
About TRON 
TRON is dedicated to accelerating the decentralization of the internet through blockchain technology and decentralized applications. Founded in September 2017 by Justin Sun, the company has delivered a series of achievements, including mainnet launch in May 2018, network independence in June 2018 and TRON virtual machine launch in August 2018. July 2018 also marked the acquisition of BitTorrent, a pioneer in decentralized services boasting approximately 100 million monthly active users.
Website | Telegram | Medium | Twitter | Reddit
About Shopping.io
Shopping.io is the bridge between crypto and e-commerce as the first international crypto e-commerce onboarding and fulfillment service.
We are the only company in crypto that allows you to purchase from major e-commerce hubs on a global scale with the option to choose from hundreds of different tokens.
We also have two native coins, SPI and GSPI, which provide even bigger discounts on our site when you hold them.
We believe in the power of absolute freedom when it comes to e-commerce and changing the industry for the better – forever – one purchase at a time.
Contact
This content is sponsored and should be regarded as promotional material. Opinions and statements expressed herein are those of the author and do not reflect the opinions of The Daily Hodl. The Daily Hodl is not a subsidiary of or owned by any ICOs, blockchain startups or companies that advertise on our platform. Investors should do their due diligence before making any high-risk investments in any ICOs, blockchain startups or cryptocurrencies. Please be advised that your investments are at your own risk, and any losses you may incur are your responsibility.
Follow Us on Twitter Facebook Telegram
Check out the Latest Industry Announcements