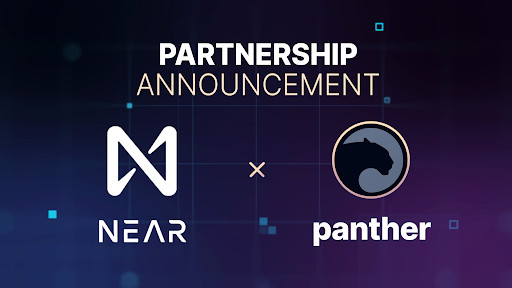 September 30, 2021 – Midtown, Gibraltar
---
Panther envisions a world where DeFi and web 3.0 users can enjoy a decentralized world without surveillance. Where privacy features are available in DApps and protocols by default. Where all EVM-compatible blockchains are connected through a privacy layer but at the same time allow users to share data with counterparties as they see fit, balancing privacy and trust. With that vision in mind, Panther is thrilled to announce a partnership with NEAR that puts Panther closer to that goal.
NEAR and Panther agree that privacy is an essential human right. Panther has received a grant from NEAR to explore the development of open-source privacy infrastructure (Rust libraries, APIs and tooling) needed for a native Panther deployment on NEAR. This includes the deployment of Panther's privacy solutions on NEAR's EVM, Aurora.
Due to the current architecture and high volume of Ethereum transactions that pushed gas fees to all-time highs, NEAR's Aurora is becoming an intelligent choice for developers who are looking for 1,000 times lower gas fees, 50 times higher TPS and two seconds finality, with a future proof sharding architecture and a novel carbon-neutral value proposition.
Aurora solves the current issues plaguing Ethereum while preserving the development ecosystem value Ethereum has. These factors were critical for Panther to prioritize the development of its scalable privacy infrastructure on NEAR's blockchain.
Panther's ultimate goal is to accelerate the development of privacy-first DeFi and web 3.0 applications. By building its infrastructure natively into EVM compatible peer chains and empowering developers with a robust set of APIs, SDKs and deep integrations, Panther wants to allow value to flow privately across blockchains, wherever DeFi and web 3.0 goes.
Panther's most notable components are an interchain DEX, multi-asset shielded pools that break on-chain links while rewarding privacy miners for contributing to the anonymity set, zAssets, which are privacy-enhanced digital assets of their non-private counterparts (ie., zETH created from ETH being deposited in Panther vaults) and last but not least, selective disclosures, which give users the ability to disclose only what they want and with selected counterparties only.
This allows institutions and fintechs to delve into DeFi without having to abandon compliance and user privacy on the way in.
Oliver Gale, co-founder and CEO of Panther, spoke about the partnership,
"Panther recognizes that usability and intelligent design are key components of mainstream blockchain adoption. It is our mission to restore privacy, sovereignty of transactions and data ownership for all users of DeFi and web 3.0, and it is [in] that spirit that we are pleased to partner with the NEAR foundation to establish shielded pools and other components of Panther's privacy-preserving infrastructure on the NEAR blockchain, taking one more step towards an interoperable, private and compliance-compatible blockchain future."
Follow NEAR and Panther on social media to be the first to hear about these announcements.
About NEAR
A scalable blockchain designed to provide the performance and user experience necessary to bridge the gap to mainstream adoption of decentralized applications.
Unlike other next-generation blockchains, the NEAR network has been built from the ground up to be the easiest in the world for both developers and their end-users while still providing the scalability necessary to serve those users.
About Panther
Panther is an end-to-end privacy protocol connecting blockchains to restore privacy in web 3.0 and DeFi, while providing financial institutions a clear path to compliantly participate in digital asset markets.
Panther provides DeFi users with fully collateralized privacy-enhancing digital assets, leveraging crypto-economic incentives and zkSNARKs technology.
Users can mint zero-knowledge zAssets by depositing digital assets from any blockchain into Panther vaults. zAssets flow across blockchains via a privacy-first interchain DEX and a private metastrate.
Panther envisions that zAssets will become an ever-expanding asset class for users who want their transactions and strategies the way they should always have been – private.
Want to learn more about Panther?
Website | Telegram | Twitter | Medium | LinkedIn
Contact
This content is sponsored and should be regarded as promotional material. Opinions and statements expressed herein are those of the author and do not reflect the opinions of The Daily Hodl. The Daily Hodl is not a subsidiary of or owned by any ICOs, blockchain startups or companies that advertise on our platform. Investors should do their due diligence before making any high-risk investments in any ICOs, blockchain startups or cryptocurrencies. Please be advised that your investments are at your own risk, and any losses you may incur are your responsibility.
Follow Us on Twitter Facebook Telegram
Check out the Latest Industry Announcements