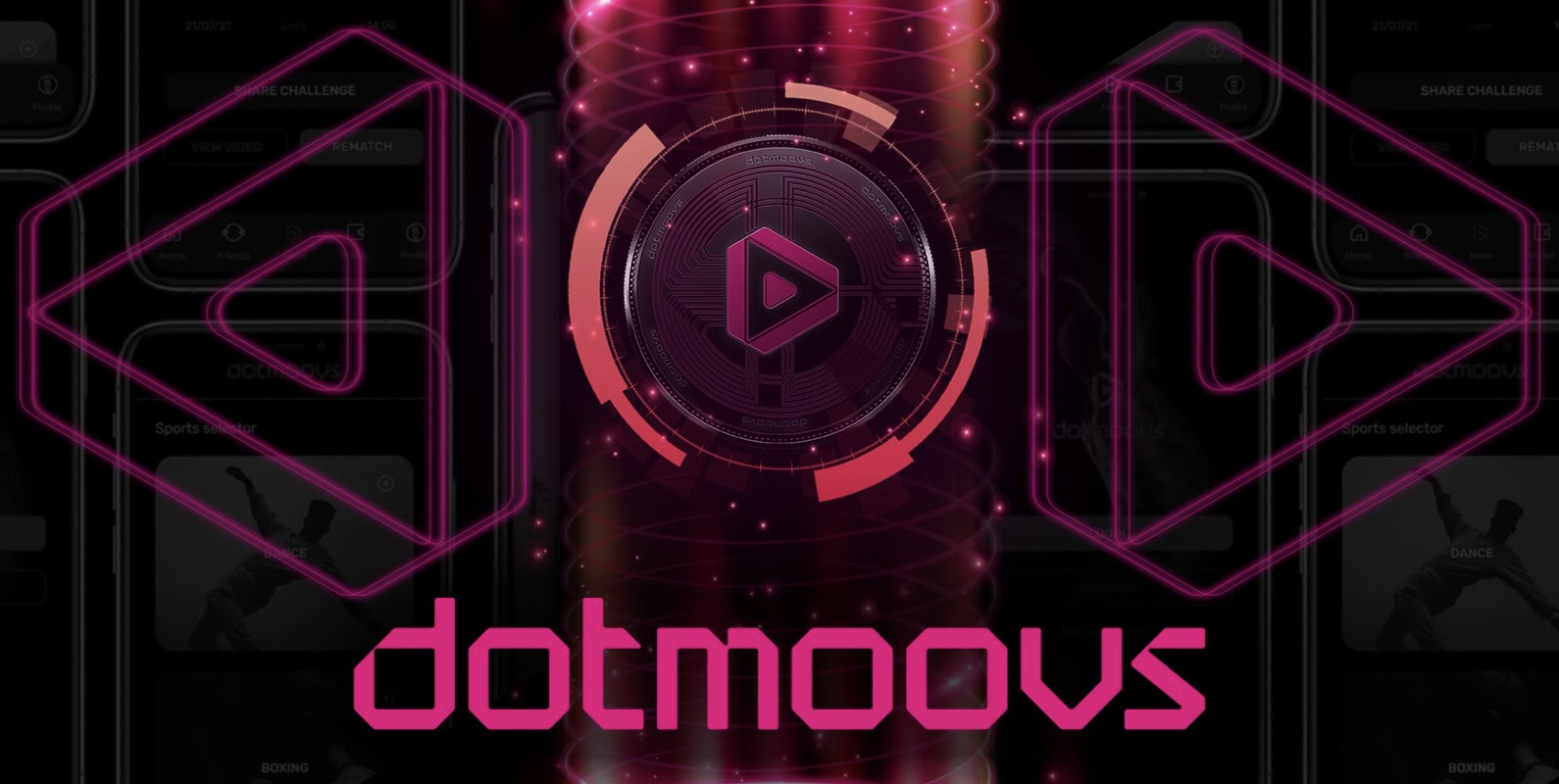 ---
If you haven't been paying attention to the world of sports and blockchain, you might have missed dotmoovs. The company is quickly conquering their own space on the sports gamification world, having raised several eyebrows when they were backed by several well-known crypto VCs together with international football stars Luis Figo and Ricardo Quaresma.

among other things
dotmoovs is a truly unique play-to-earn blockchain-based platform that gamifies sports. Its mobile competition environment allows users to compete with others around the world to earn MOOV token rewards by showing off their skills and challenging others in various sports.
It provides artificial intelligence (AI)-driven video referees and fraud detection algorithms to monitor practice sessions and oversee challenges between users. This ensures fairness in the outcome of challenges and gives confidence to participants by preventing cheating. Moreover, all of this can be achieved simply by anyone with a smartphone-enabled camera.
Its model – similar in many ways to Axie Infinity, where you can only access certain challenges once you've earned or collected special NFTs, badges and rewards – promises to create a whole new level of sports engagement.
Their goal to 'democratize access to sports challenges' is accomplished by allowing anyone in the world to compete against others without any currency constraints or geographical limitations nor lack of fair skill assessment.
Together with the sports challenges, where people can showcase their skills and earn rewards – whether in dotmoovs native token ($MOOV) or in non-fungible tokens (NFTs) – the platform allows users to invest in themselves against other athletes in the platform.
Spicing things up a bit he launch of the beta version and many other unique features
Just recently they launched their beta version of the app (accessible by invitation only) and a collection of utility NFTs that will boost everyone's gains in the game.
In fact, the collection – named 'The Balls' – is an incredible example of how they are mixing together what have been two very different worlds so far – sports and blockchain.
dotmoovs is also bringing a new concept to the table – their catchy 'sports mining' – combining play-to-earn, where players earn when playing by staking, a way of earning while the tokens are parked (like a bank deposit where you earn some interest rate when you're not moving your money around).
You'll be able to earn while playing when you park your $MOOVs in the app, and for every transaction on the marketplace.
With an experienced team and several milestones accomplished, the company's token $MOOV has just been listed on BitGlobal (formerly Bithumb Global) exchange.
This, together with several other initiatives that have been increasing their level of public exposure, seems to indicate that the major app release is getting closer by the day.
One of the things that dotmoovs has been known for is being ahead of schedule, releasing most of the features before the timeline indicated on their roadmap. They are currently opening new spots for beta testers quite frequently, and a possible soft launch could be on the horizon.
The company has been relatively under the radar, until recently when they seemed to increase their level of public exposure and $MOOV even became the number one trend on CoinGecko for a few days in early September.
Introducing to sports enthusiasts what Axie Infinity introduced to gamers a unique play-to-earn model
The popular game Axie Infinity has recently become a world sensation mostly due to its play-to-earn model, logging $485 million in revenue since July. And what Axie Infinity did for gamers, dotmoovs is doing for sports lovers by closing the gap between them and blockchain and crypto enthusiasts.
Play-to-earn seems to be gaining traction in the gaming industry. A model that seems better aligned with the players' incentives to play – empowering and giving them bigger ownership and control.
dotmoovs wants to take play-to-earn to another level, lifting it from the eSports world to sports reality.
This model focuses on giving the player profit – where the most skilled ones are given ways to earn as a reward for being highly engaged with the game (read 'sport') they love.
At dotmoovs, they are providing $MOOV and NFTs to the best athletes. This way, they are able to trade and monetize their assets in a transparent in-game economy.
According to their roadmap, the app release is to happen at the end of the year – and from the looks of it, it should happen sooner rather than later. What seems for sure is that a soft launch is about to happen with the opening of one or more large batches of users. Let's see what the future of dotmoovs holds for the world of sports.
This content is sponsored and should be regarded as promotional material. Opinions and statements expressed herein are those of the author and do not reflect the opinions of The Daily Hodl. The Daily Hodl is not a subsidiary of or owned by any ICOs, blockchain startups or companies that advertise on our platform. Investors should do their due diligence before making any high-risk investments in any ICOs, blockchain startups or cryptocurrencies. Please be advised that your investments are at your own risk, and any losses you may incur are your responsibility.
Follow Us on Twitter Facebook Telegram
Check out the Latest Industry Announcements