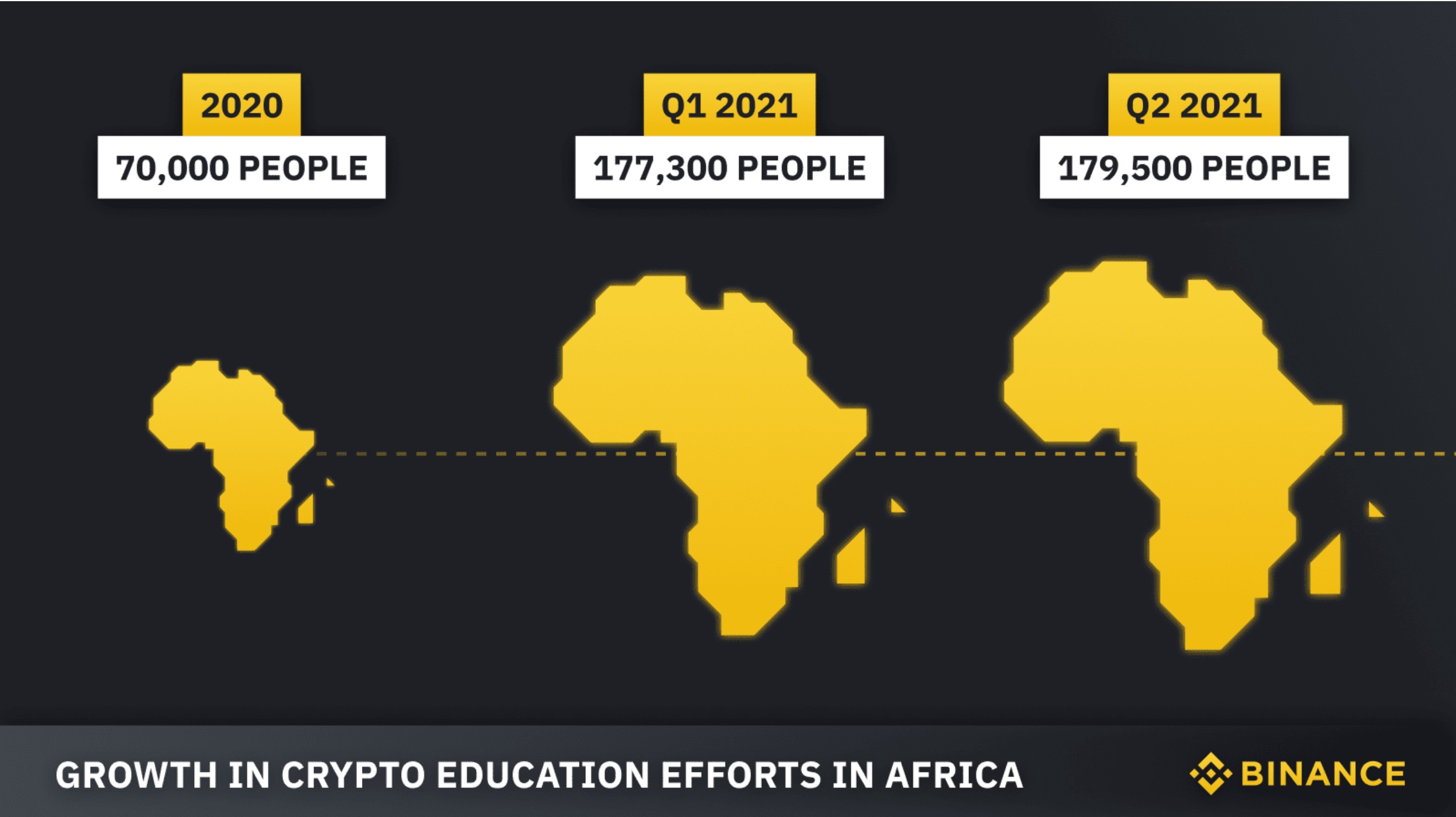 As a leader in blockchain education, Binance has provided free crypto classes to over 400,000 Africans, on topics ranging from user protection to building a career in blockchain.
In this article, you'll learn more about our efforts to increase crypto literacy in Africa, the different educational channels we provide and the milestones we've achieved in 2020-2021.
At Binance, we're dedicated to educating crypto users worldwide as we continue our mission to increase the freedom of money, drive blockchain adoption and enable greater accessibility.
Since we entered the crypto sphere, we've always strived to be at the forefront of blockchain education, equipping crypto newbies with Binance Academy, a one-stop guide to all things crypto, and providing ongoing free crypto education efforts in Africa, where crypto interest and adoption continue to increase.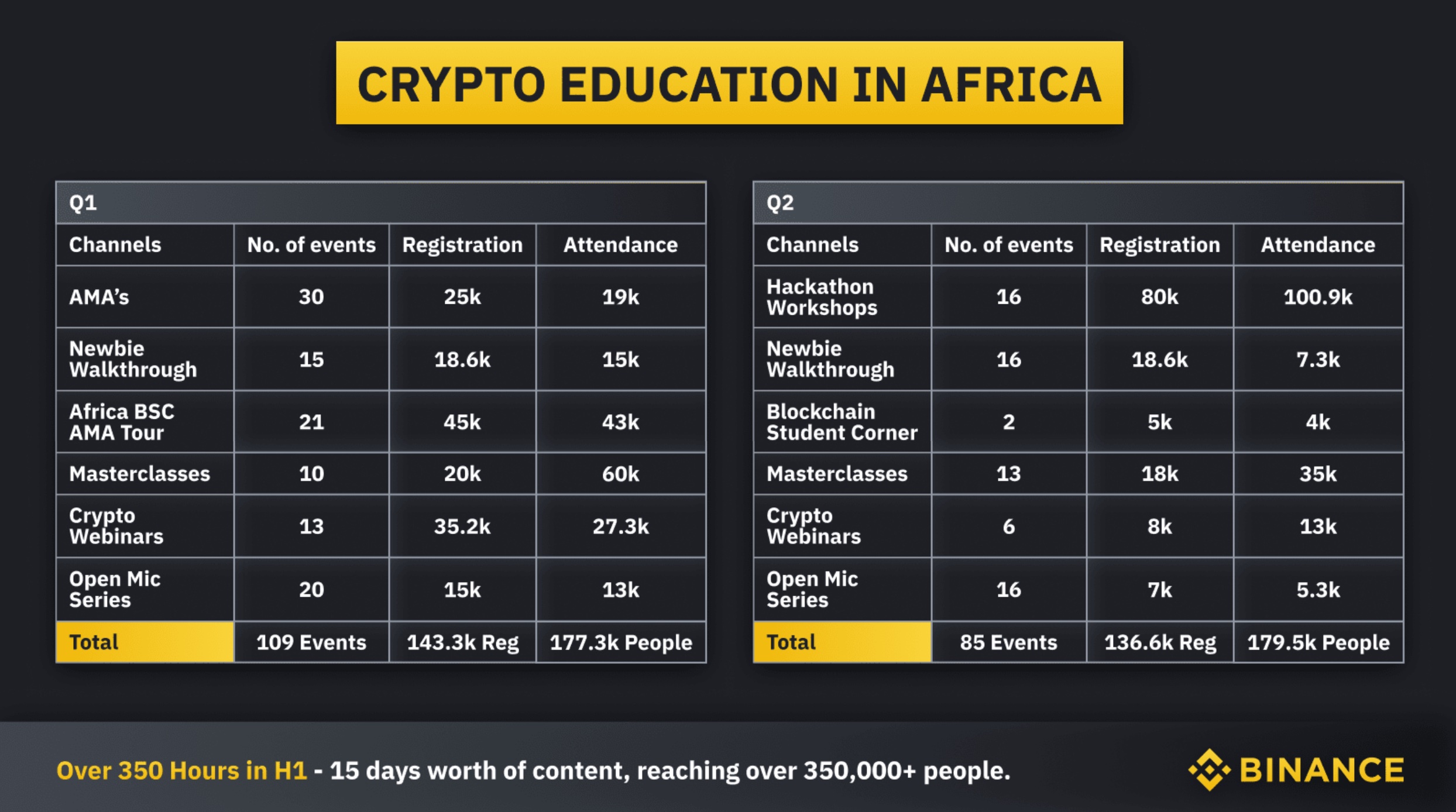 Providing free access to educational resources
Our Binance Masterclass has provided free crypto education to over 400,000 Africans since its inception in January 2020.
Because crypto newbies often fall prey to crypto scams, these free webinars primarily helped users understand the fundamentals of cryptocurrencies, identify scams and ultimately, safeguard their crypto journey.
We also provided classes for topics ranging from crypto trading to careers in blockchain, helping those who lost their jobs and income during the onset of the Covid-19 pandemic.
By the end of 2020, Binance Masterclass had helped educate over 70,000 Africans in just one year since its debut.
We've since doubled down on our efforts, providing educational resources to over 177,000 Africans in Q1 2021 and over 179,500 in Q2 2021 – creating the educational infrastructure that Africans need to be financially free and informed.
Emmanuel Babalola, director of Binance Africa, said,
"Blockchain education is at the heart of our focus in the global market. As a blockchain infrastructure provider, we are committed to ensuring that more and more people have access to the right information about the workings of the ecosystem. Africa is a very important market for Binance because we see the profound opportunity blockchain brings to the entire continent."
Eight-week masterclass in blockchain development
In addition to training new and veteran crypto users, Binance is dedicated to equipping blockchain developers with the necessary skills to build exceptional solutions and eventually emerge as valuable talents within the industry.
In Q1 2021, Binance hosted an eight-week masterclass where we trained over 1,000 blockchain developers in Africa, allocated a $1 million fund for African developers and hosted a live demo showcasing newly built blockchain-based products in action – including staking and farming projects, algorithm-based stablecoins, automated market makers, insurance projects and much more.
Opeyemi Olabode, one of our Binance Masterclass graduates, describes his experience with Binance's masterclass,
"The eight-week masterclass exceeded my expectations. I got to learn so much technically, as well as the business side. Also, being given the opportunity to lead a team helped to boost my leadership abilities, considering students with diverse backgrounds, cultures and timezones. My team won third place, and with the promise of support and resources from the facilitators, I see this as a big opportunity. Lastly, I got the opportunity to share what I knew with other students, and I have met very talented developers like myself who are surely going to make Africa proud."
If you're interested in learning more, here are some additional resources Binance Africa has used to provide crypto education and accelerate financial inclusion.
Follow Binance on Twitter or Facebook for more information.
This content is sponsored and should be regarded as promotional material. Opinions and statements expressed herein are those of the author and do not reflect the opinions of The Daily Hodl. The Daily Hodl is not a subsidiary of or owned by any ICOs, blockchain startups or companies that advertise on our platform. Investors should do their due diligence before making any high-risk investments in any ICOs, blockchain startups or cryptocurrencies. Please be advised that your investments are at your own risk, and any losses you may incur are your responsibility.
Follow Us on Twitter Facebook Telegram
Check out the Latest Industry Announcements