Crypto intelligence platform Arcane Research is predicting that Bitcoin's Lightning Network will go through an exponential growth en route to processing trillions of transactions per year.
In a comprehensive study, Arcane Research says that the Lightning Network will set a foothold in three key industries as the protocol offers a number of advantages over current payment systems.
"Not only will the Lightning Network make payments cheaper and more private but make both consumers and businesses less dependent on third parties. The figure below gives us a rough overview of potential industries that the Lightning Network can penetrate. We don't know where the adoption will happen first, but the potential is enormous."

The Lightning Network is a layer-2 solution built on top of blockchains such as Bitcoin to process micropayments at near-instantaneous speed.
Looking at the gaming industry, Arcane conservatively estimates that around 1.1 billion of the 3 billion users pay for gaming services. The research adds that there may be considerable overlaps between users of the three services, leading to the assumption that the 1.1 billion paying gamers are also spending on audio and video streaming services.
Based on these figures, Arcane Research predicts that hundreds of millions of people will migrate to the Lightning Network in the coming years to pay for games and to access audio and video streaming services.
"The resulting number of users on the Lightning Network will therefore be between 25% and 100% of the 1.1 billion users. We keep it simple and land somewhere in the middle, indicating about 700 million users paying for gaming, video and audio through the Lightning Network by 2030. To the best of our knowledge, no streaming services are close to integrating Lightning in 2021. Hence, an adoption level of 0-1% is used until 2024, with a growth of up to 10% by 2028. From 2028 to 2030, we've assumed the adoption level to go from 10% to 25%."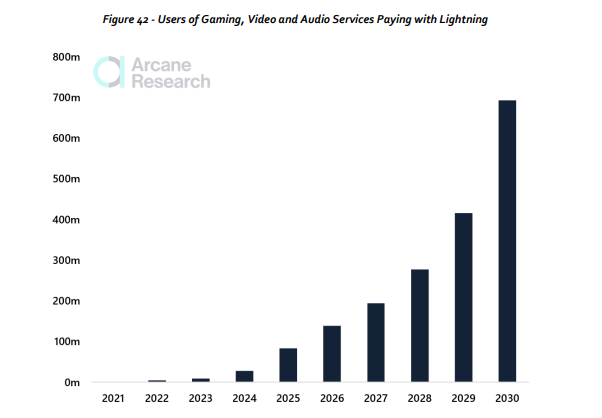 With 700 million people processing payments through the Lightning Network, Arcane Research projects that the payments protocol will handle about one trillion transactions per day.
"We now use the conservative estimate of one hour used per day on these services and that, on average, 25% of this time is spent on services with Lightning payments. With streaming of Lightning payments through these services, we assume one microtransaction per second. Our estimate then equals no less than 364 trillion Lightning transactions per year."
You can read the full report here.
Don't Miss a Beat – Subscribe to get email alerts delivered directly to your inbox
Check Price Action
Follow us on Twitter, Facebook and Telegram
Surf The Daily Hodl Mix
Featured Image: Shutterstock/Liu zishan