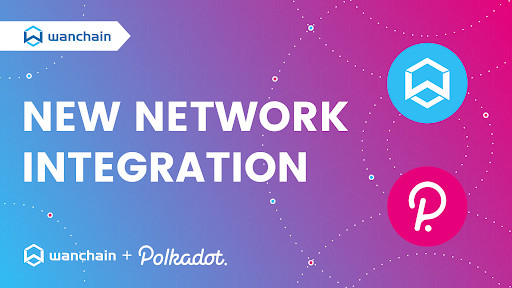 October 12, 2021 – London, United Kingdom
---
Developers on Ethereum, Wanchain, Avalanche, Moonriver and more can integrate DOT into their applications using Wanchain's decentralized blockchain interoperability solution.
Wanchain, the world's premier decentralized blockchain interoperability solution, is pleased to announce the integration of Wanchain's decentralized, non-custodial cross-chain infrastructure with Polkadot. Polkadot is a sharded heterogeneous multichain architecture created by Ethereum co-founder Gavin Wood and is one of the most popular blockchain projects in the world. Polkadot's native token is $DOT.
This integration connects Polkadot to the larger cross-chain DeFi world. Direct bridges connecting Polkadot to Ethereum, Wanchain, Moonriver and Avalanche are already deployed, meaning that developers on all these blockchain networks can now build decentralized blockchain applications using $DOT. In other words, the top 10 cryptocurrency by market cap – $DOT – can now be traded cross-chain and used with EVM-compatible smart contracts.
Li Ni, Vice President of business development and operations at Wanchain, said,
"We firmly believe that blockchain technology will only gain mainstream adoption once assets, data, commands and users are no longer isolated on a single chain or constrained by a single standard. Last month, Wanchain deployed cross-chain bridges connecting Moonriver and Avalanche to the larger cross-chain DeFi industry. Now, Wanchain is connecting Polkadot to the rest of the blockchain world."
The next phase of blockchain innovation will be marked by the cross-chain interoperability of assets, data and smart contract calls. The addition of Polkadot reinforces Wanchain's position as the world's most advanced cross-chain solution and marks an important step towards building an interoperable multichain future.
About Wanchain
True DeFi is interoperable – Wanchain, the 'wide-area network' (WAN) chain, is the world's premier decentralized blockchain interoperability solution. Our mission is to drive blockchain adoption through interoperability by building fully decentralized bridges that connect the world's many siloed blockchain networks. This cross-chain infrastructure empowers developers to build truly decentralized cross-chain applications to power the future of DeFi.
Contact
Temujin Louie, director of marketing at Wanchain
This content is sponsored and should be regarded as promotional material. Opinions and statements expressed herein are those of the author and do not reflect the opinions of The Daily Hodl. The Daily Hodl is not a subsidiary of or owned by any ICOs, blockchain startups or companies that advertise on our platform. Investors should do their due diligence before making any high-risk investments in any ICOs, blockchain startups or cryptocurrencies. Please be advised that your investments are at your own risk, and any losses you may incur are your responsibility.
Follow Us on Twitter Facebook Telegram
Check out the Latest Industry Announcements