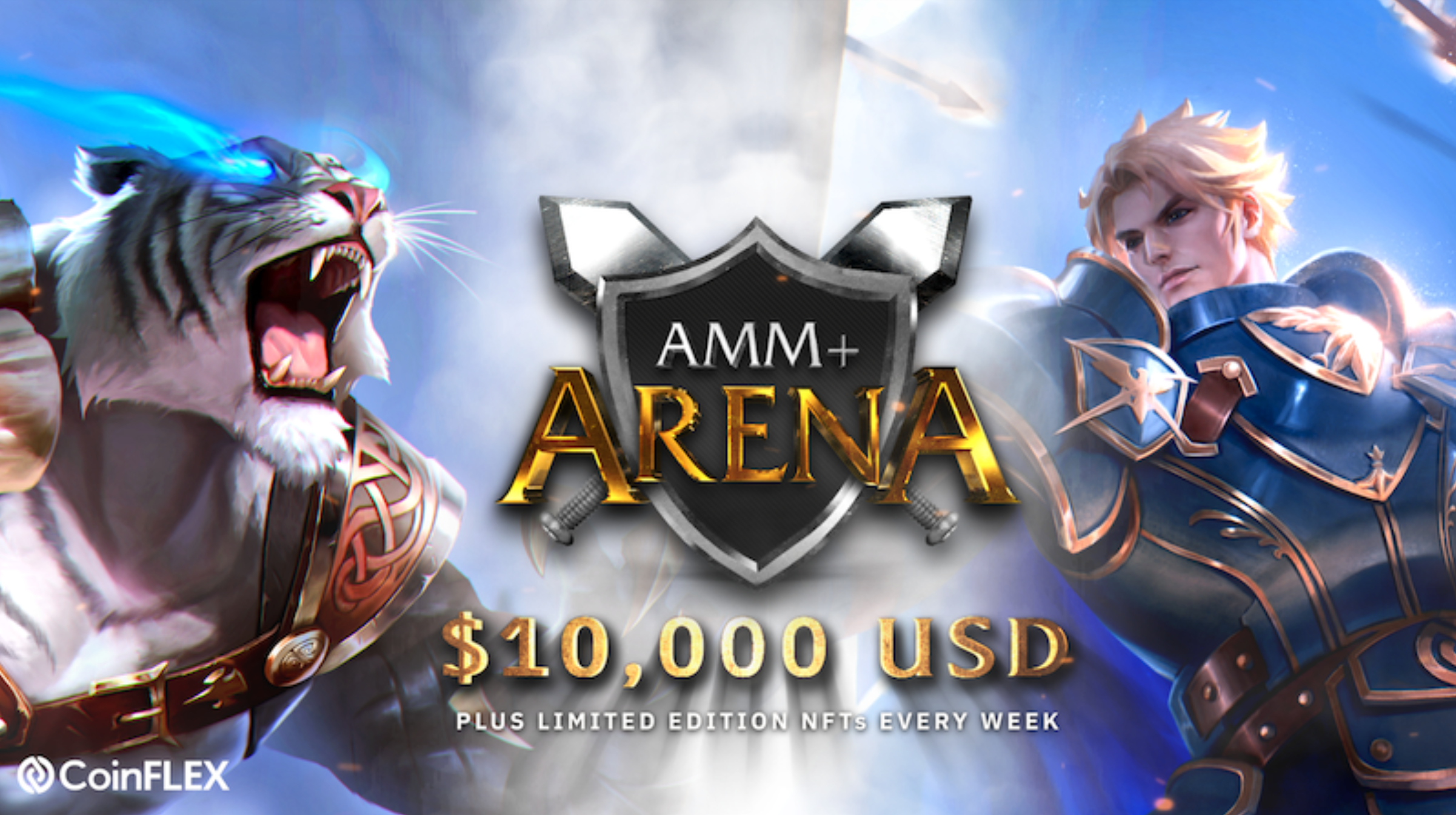 ---
AMMs have seen incredible growth in the past 18 months. Its popularity resulted thanks to the enormous profits yield farmers are receiving by offering their liquidity to liquidity pools and earning trading fees.
One exchange has recently launched its own AMM that sets itself apart from other exchanges for multiple reasons. For starters, while all AMMs are on DEXs, CoinFLEX is the first centralized exchange – or CEX –to launch their AMM, known as AMM+.
A unique feature about AMM+ is that it is connected to the perpetual futures market, which provides users the option to use up to 10 times leverage.
AMM+ users have been reporting APRs with unleveraged positions in the hundreds of percentages, and leveraged positions that are reaching quadruple-digit APRs.
CoinFLEX is launching an AMM+ competition called 'AMM+ Arena' that will reward the top 10 weekly earners.
How does CoinFLEX's AMM+ Arena work?
There are three parts to the AMM+ Arena competition.
First is the competition leaderboard. Users will be competing for the highest seven-day average APR in AMM+.
The prize is also divided into tiers. The prize of the first tier is $3,000 once total trading volume hits $100 million. The second-tier prize is $5,000 when the total trading volume reaches $500 million. Users enter tier three once $1 billion of trading volume is reached – with a reward of $10,000.
The weekly top 10 earners will receive rewards based on the total trading volume of the previous week and is distributed among the top 10 users by APR rank.
The prize will be divided among competitors accordingly.
1st
2nd
3rd
4th
5th
6th
7th
8th
9th
10th
Users will automatically enter the competition as soon as they create an AMM+ position with a minimum of $1,000.
The leadership board lets you know where you place among competitors and displays the position of the top 10 competitors.
Weekly missions
Another aspect of the AMM+ Arena is the weekly 'missions' that allow users to claim rewards based on how much volume they trade. Similar to the competition, CoinFLEX will automatically enroll users in the weekly missions as soon as they set up an AMM+ position with a minimum of $1,000. AMM+ Arena tracks user progress with a progress bar, which is divided by three tiers by volume.
Users can claim their rewards on the AMM+ Arena page.
AMM+ Arena NFTs
The third feature of AMM+ Arena is the addition of NFTs. The first 100 users to join AMM+ Arena – and the champion of each week – will be able to claim an NFT.
Champions can choose their own NFT from the AMM+ Arena legends. Each legend of AMM+ Arena has five unique editions, meaning they can be claimed five times in total.
To claim an NFT, eligible users will need to fill out a form providing their email and Ethereum addresses to be able to receive their NFT. CoinFLEX will then transfer the NFT to said address, which can be viewed on OpenSea along with all the other NFTs.
If you are interested in CoinFLEX's new automated market maker, you can join their AMM+ Arena competition by visiting their AMM+ page.
About CoinFLEX
Founded in 2019, CoinFLEX is the home of crypto yield and is committed to providing institutional and retail investors an easily accessible platform to earn and trade crypto.
CoinFLEX creates innovative solutions to bring investors and crypto markets together through intuitive yield products such as flexUSD, the world's first interest-earning stablecoin, and AMM+, the most capital-efficient automated market maker in the world. CoinFLEX is backed by crypto heavyweights, including Roger Ver, Mike Komaransky, Polychain Capital and Dragonfly Capital.
Telegram | Twitter | LinkedIn | Facebook | YouTube | Reddit
This content is sponsored and should be regarded as promotional material. Opinions and statements expressed herein are those of the author and do not reflect the opinions of The Daily Hodl. The Daily Hodl is not a subsidiary of or owned by any ICOs, blockchain startups or companies that advertise on our platform. Investors should do their due diligence before making any high-risk investments in any ICOs, blockchain startups or cryptocurrencies. Please be advised that your investments are at your own risk, and any losses you may incur are your responsibility.
Follow Us on Twitter Facebook Telegram
Check out the Latest Industry Announcements