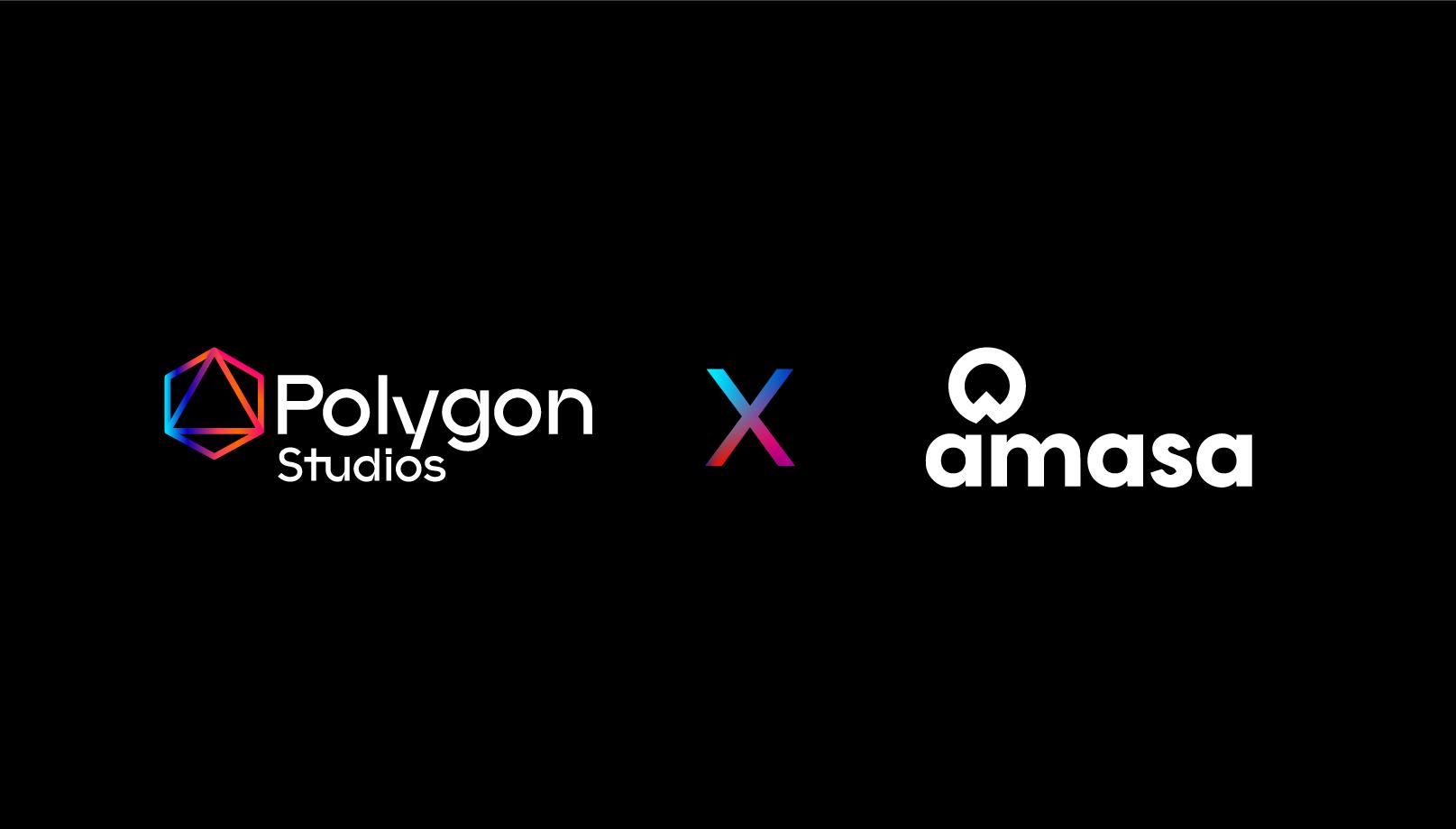 November 12, 2021 – Sydney, Australia
---
The partnership will help drive greater awareness and engagement with play-to-earn gaming and NFTs.
Amasa, a world-first micro income stream investment platform, has partnered with Polygon Studios to accelerate the adoption of play-to-earn gaming and facilitate the transition of game development and studio building from web 2.0 to web 3.0.
Polygon Studios is a branch of Polygon created to focus on the web 3.0 gaming and NFT space, with the goal of driving the adoption of web 3.0 DApps and technologies.
Building on a clear alignment of visions, Amasa plans to integrate with tools and wallet developments created by Polygon Studios and connect with new projects built or backed by the project.
The increasing development of innovative web 3.0 gaming and NFT projects in the blockchain space creates fertile ground for Amasa and Polygon Studios to help bring web 3.0 to a whole new generation of people.
Will Birks, founder and core contributor of Amasa, said,
"We're thrilled to be working with Polygon Studios on technical solutions toward our common goals of growing web 3.0 gaming and metaverse ecosystems to the ultimate benefit of users globally."
Polygon Studios is excited to take advantage of Amasa's ability to pull together multiple DeFi primitives and building blocks to create something that is accessible to everyday users.
Amasa's investment in a streamlined user experience that massively simplifies exposure to DeFi products will open up a tremendous amount of untapped potential and determine the next wave of DApp winners in the blockchain space.
Amasa is focused on driving greater awareness and engagement with play-to-earn gaming and NFTs, helping users fully realize the revenue and yield earning potential of these spaces for the first time.
This partnership further strengthens the great relationship Amasa already has with Polygon – with Polygon co-founder Sandeep Nailwal serving as an angel investor in Amasa. It also adds further depth to Amasa's partnership with strategic investor Animoca Brands, a mutual partner of both Amasa and Polygon Studios.
About Polygon Studios
Polygon Studios is the gaming and NFT arm of Polygon focused on growing the global blockchain gaming and NFT industry and bridging the gap between web 2.0 and web 3.0 gaming through investment, marketing and developer support.
The Polygon Studios ecosystem comprises highly loved games and NFT projects including OpenSea, Upshot, Aavegotchi, Zed Run, Skyweaver by Horizon Games, Decentraland, Megacryptopolis, Neon District, Cometh and Decentral Games.
Twitter | Facebook | Instagram | Telegram
About Amasa
Amasa's mission is to empower people everywhere to capture and capitalize on the wealth-building potential of micro income streams and DeFi. We are working to inspire mass adoption of web 3.0 platforms that reward participants for their gaming, time, energy, attention, content, data and interactions.
We're doing that by building the world's first micro income stream investment app. The Amasa app will make micro income streams easy to capture, combine and access as a stabilized income, and then amplify through user-selected DeFi investment options.
Combine. Stabilize. Amplify. All in the background of everyday life.
Website | Telegram | Announcements | Twitter | Medium
Contact
This content is sponsored and should be regarded as promotional material. Opinions and statements expressed herein are those of the author and do not reflect the opinions of The Daily Hodl. The Daily Hodl is not a subsidiary of or owned by any ICOs, blockchain startups or companies that advertise on our platform. Investors should do their due diligence before making any high-risk investments in any ICOs, blockchain startups or cryptocurrencies. Please be advised that your investments are at your own risk, and any losses you may incur are your responsibility.
Follow Us on Twitter Facebook Telegram
Check out the Latest Industry Announcements