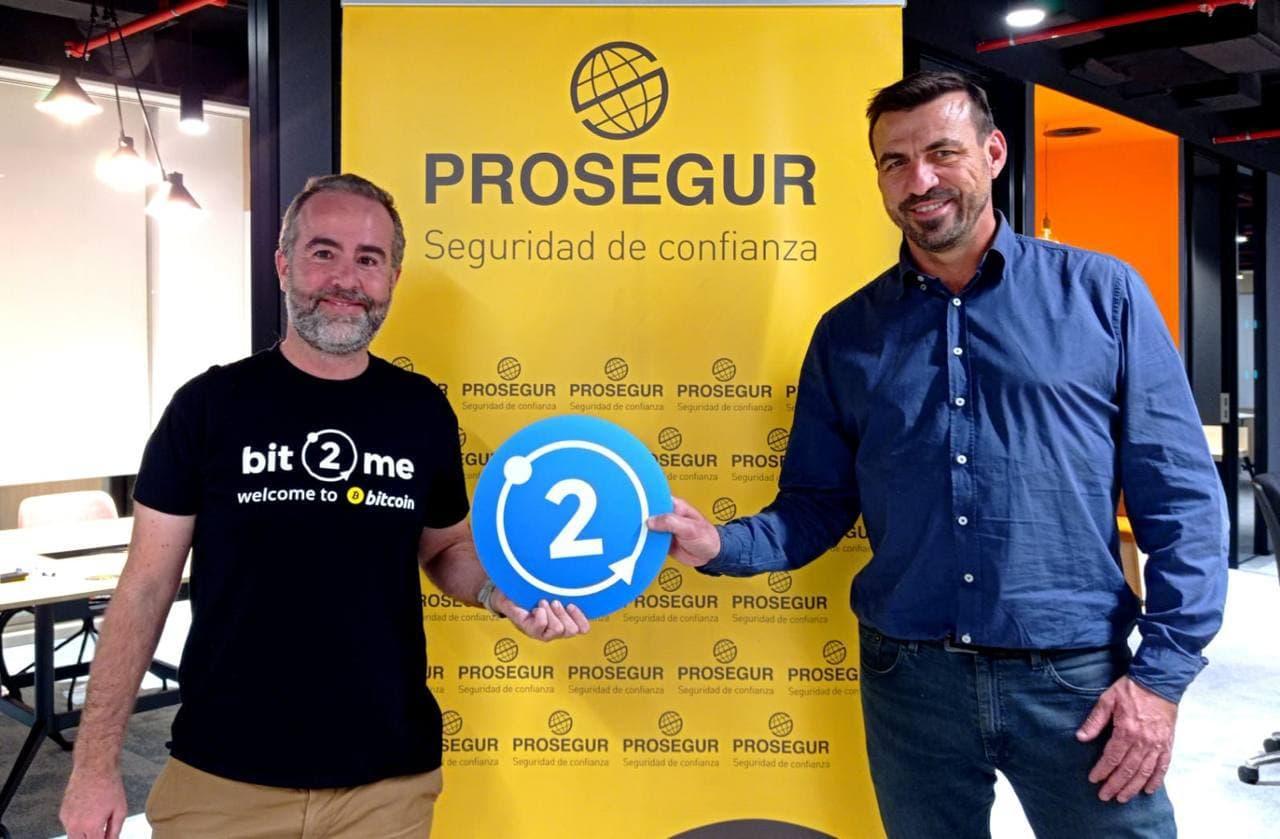 November 23, 2021 – Madrid, Spain
---
The Spanish platform will keep part of their funds in the Prosegur Crypto custody solution where they will thus benefit from a new security dimension in the custody of their crypto assets.
Prosegur Crypto is a unique model in the world. Its crypto asset custody solution integrates the most cutting-edge cryptographic technology with the most advanced physical security protocols that exist.
Prosegur Crypto will use Bit2Me as one of its cryptocurrency liquidity providers for its clients.
Bit2Me, a Spanish company that offers technological financial services based on cryptocurrencies, will keep part of its funds in Prosegur Crypto, Prosegur Cash's cryptocurrency custody service.
Bit2Me is configured as one of the first Spanish companies to use a maximum level of protection – both physically and digitally – for its cryptocurrencies. With this collaboration, Bit2Me once again demonstrates its innovative genetics by storing part of the cryptocurrency income of its business in the security company's next-generation custody services.
It should be noted that the digital asset custody service developed by Prosegur Crypto is completely pioneering and innovative in the world since there is no similar crypto asset storage and management proposal on the market today. This custody solution – known as Crypto Bunker – integrates the most cutting-edge cryptographic technology with the most advanced physical security protocols that exist. It is an environment based on a 360-degree inaccessibility approach, which has two cold systems, six integrated security layers and more than 100 protection measures.
Thanks to this agreement, Bit2me clients will benefit from the confidence offered by having a level of custody of these characteristics.
Leif Ferreira, co-founder and CEO of Bit2Me, said,
"At Bit2Me, we constantly innovate – proof of this has been the launch of the largest ICO in the history of Spain – in order to continue being the preferred platform in the market offering safe and easy-to-use solutions.
We also want to bring the greatest trust to our clients by being at the forefront of security in the custody of our crypto assets. For all this, we have chosen Prosegur Crypto as the most advanced solution among all the current custody solutions that exist in the market."
Raimundo Castilla, CEO of Prosegur Crypto, said,
"We are very satisfied that a company like Bit2Me – a leader and innovator in the cryptocurrency sector – has trusted in our custody solution. The Crypto Bunker is without a doubt one of the most innovative and secure solutions that exist in the world.
The physical-digital combination solves real problems for many operators in the crypto ecosystem. The managers of these funds are increasingly aware of the need to have the most advanced capabilities for the protection of their assets, and Prosegur Crypto responds to this need without having to address the high investments they require."
About Bit2Me
Bit2Me is a leader in the cryptocurrency sector in Spain. Its service suite incorporates more than 20 solutions to buy, sell and manage virtual currencies and euros from the same place in a simple and secure way. It has private clients, professionals and companies in more than 100 countries and has managed operations worth more than 2,000 million euros since it was born in 2015.
In January of this year, FORBES magazine selected Bit2Me as one of the companies in Spain that will drive change in 2021. Since its creation in 2015, the company has received many awards in the financial sector, such as 'world winners,' in the international competition sponsored by Visa, 'best Spanish startup 2015,' by CaixaBank and 'best business model,' awarded by Deloitte. It has also been invited by the European Commission to present and debate on blockchain technology and Bitcoin on multiple occasions.
One of its first initiatives after its birth was the creation of Bit2Me Academy, which trains more than 1.7 million students each year. It is the largest cryptocurrency training portal in Spanish today – with more than 400 free articles, certified courses and videos for those interested in knowing the birth, operation and evolution of cryptocurrencies and the blockchain world.
About Prosegur Crypto
Prosegur Crypto is Prosegur Cash's digital asset custody service, a world leader in the security, transfer, management and custody services industry for 45 years.
Prosegur Crypto is the most secure and advanced crypto asset custody solution for the institutional market. The Crypto Bunker integrates the most avant-garde cryptographic and cybersecurity technology with the most advanced physical security protocols that exist. It is its own cold and ultra-safe environment based on a 360-degree inaccessibility approach – an unreachable space for the storage and management of crypto assets that incorporates two cold systems with six integrated security layers and more than 100 protection measures.
Prosegur Crypto clients can manage their assets through a management platform that allows agile and secure asset management, is customizable according to the use and security needs of each client and has functionalities with advanced OTC trading services and other derivatives of DeFi (staking).
Contact
This content is sponsored and should be regarded as promotional material. Opinions and statements expressed herein are those of the author and do not reflect the opinions of The Daily Hodl. The Daily Hodl is not a subsidiary of or owned by any ICOs, blockchain startups or companies that advertise on our platform. Investors should do their due diligence before making any high-risk investments in any ICOs, blockchain startups or cryptocurrencies. Please be advised that your investments are at your own risk, and any losses you may incur are your responsibility.
Follow Us on Twitter Facebook Telegram
Check out the Latest Industry Announcements