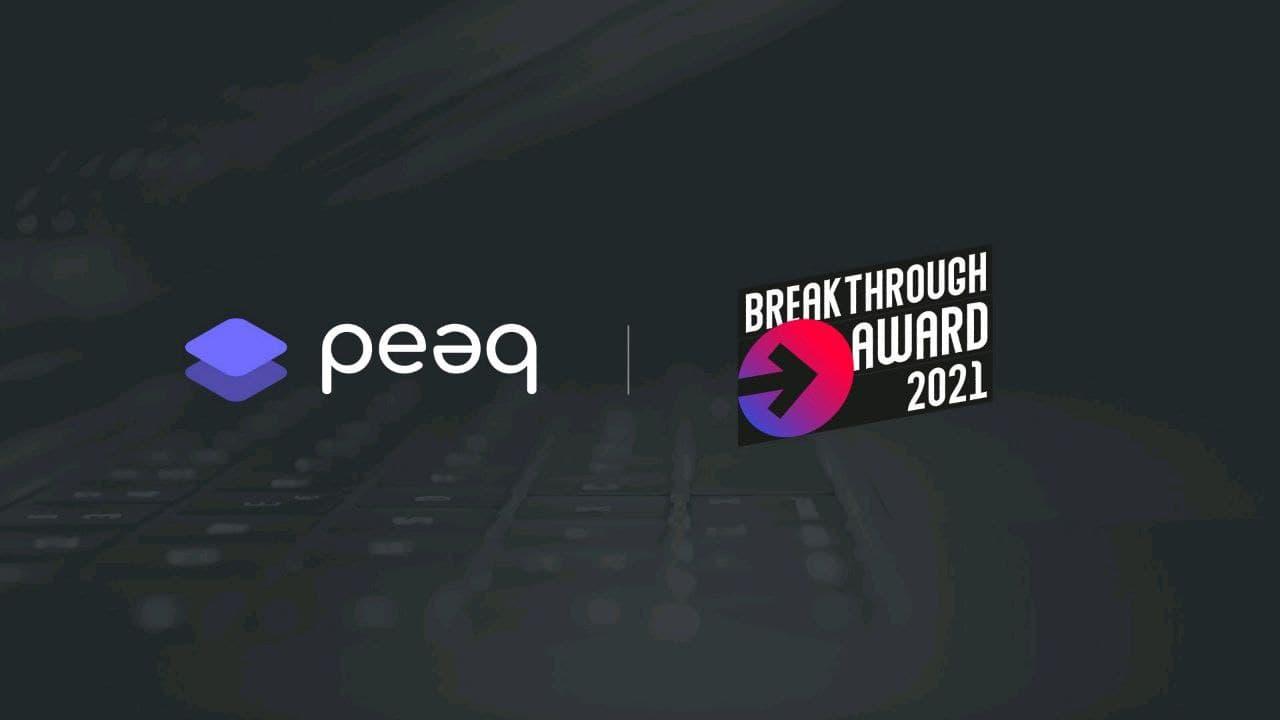 November 24, 2021 – Berlin, Germany
---
The DApp will be the first of many DApps on the peaq network when the network and token launch early next year. It will allow any electric vehicle to charge at any charging station on a peer-to-peer basis using self-sovereign identities (SSIs).
It will be possible for people to offer and earn from their private charging station on the peaq network without having to use corporate intermediaries.
The 300,000 euro in media budget prize money will be used to attract and inform the first users of the DApp.
peaq had already scored points in the public voting segment of the 2021 'breakthrough awards,' making it to the ?nal three companies in the e-mobility category after scoring 41-percent of the votes. The public's impression was con?rmed yesterday evening by the expert jury, which awarded peaq enterprise with ?rst place and 300,000 euro in media budget with Weka Media Publishing.
Hundreds of companies from all over Germany competed against each other in the trend-setting competition. For two months, the public was able to vote on who they believed would make the big breakthrough of 2022 – whose products, ideas, goals and innovation potential were most convincing. And peaq convinced both the public and the jury.
The charging DApp developed by peaq enterprise works by assigning charging stations and electric vehicles their own self-sovereign identities (SSIs) on the peaq network – so that they can authenticate, interact and pay one another on a peer-to-peer basis without the need for any corporate intermediaries.
This not only simpli?es the charging and payment process for all users but also creates the ideal environment for cross-manufacturer, constructive cooperation between OEMs and charging station providers – a neutral, decentralized platform operated and governed by the stakeholders – including competing providers.
The charging DApp will empower the community to begin building an alternative machine economy. A machine economy that is not owned, controlled and exploited by corporations but one that is co-owned, co-governed and co-pro?ted by all machine economy stakeholders. This is peaq's vision for the public network they will launch in early 2022, a web 3.0-native network-economy peaq refers to as the 'economy of things.'
Leonard Dorlöchter, CPO and co-founder of peaq, who accepted the breakthrough award on behalf of the team, said,
"The breakthrough award takes both sides into account – user voting and expert opinion alike. We are very pleased to have won it. It shows that we are on the right track. With peaq, we want to help realize our original vision for how we can use machines for global positive change by leveraging web 3.0. In the case of this DApp, we are solving the enormous problem of range anxiety – consumers' fear of running out of charge on the road, which is due to the fragmentation of the web 2.0-based charging station infrastructure. I am convinced that the charging DApp will lead to greater acceptance of electric cars. It's a bottom-up movement. Electric vehicle and charging station owners will own, govern and pro?t from this directly."
The peaq network is peaq's decentralized network and token. peaq enterprise has been developing DApps with some of the world's largest vehicle and device manufacturers for over three years. peaq enterprise is leading the charge on decentralized charging and has also built solutions with Fortune 100 companies such as NTT to bring more machines to the network.
peaq enterprise was initiated in 2017 and incubated by Advanced Blockchain AG. The company has also put together a strong network of partners, associations, advisors and sales pipelines, which peaq network will bene?t from.
About peaq network
peaq is transforming the web 2.0-based 'internet of things' into the web 3.0-based 'economy of things,' unleashing the full potential of machines, vehicles, robots and devices. The peaq network is the basis for a machine-centric economy. It enables machines to independently sustain and improve themselves by providing goods and services to people and machines via decentralized applications (DApps).
peaq leverages machine NFTs and machine DeFi to align all stakeholder incentives and create an economy where everyone benefits from machines providing the best possible services to people and other machines. peaq consists of peaq network and peaq enterprise.
Contact
Max Thake, CMO of peaq
This content is sponsored and should be regarded as promotional material. Opinions and statements expressed herein are those of the author and do not reflect the opinions of The Daily Hodl. The Daily Hodl is not a subsidiary of or owned by any ICOs, blockchain startups or companies that advertise on our platform. Investors should do their due diligence before making any high-risk investments in any ICOs, blockchain startups or cryptocurrencies. Please be advised that your investments are at your own risk, and any losses you may incur are your responsibility.
Follow Us on Twitter Facebook Telegram
Check out the Latest Industry Announcements