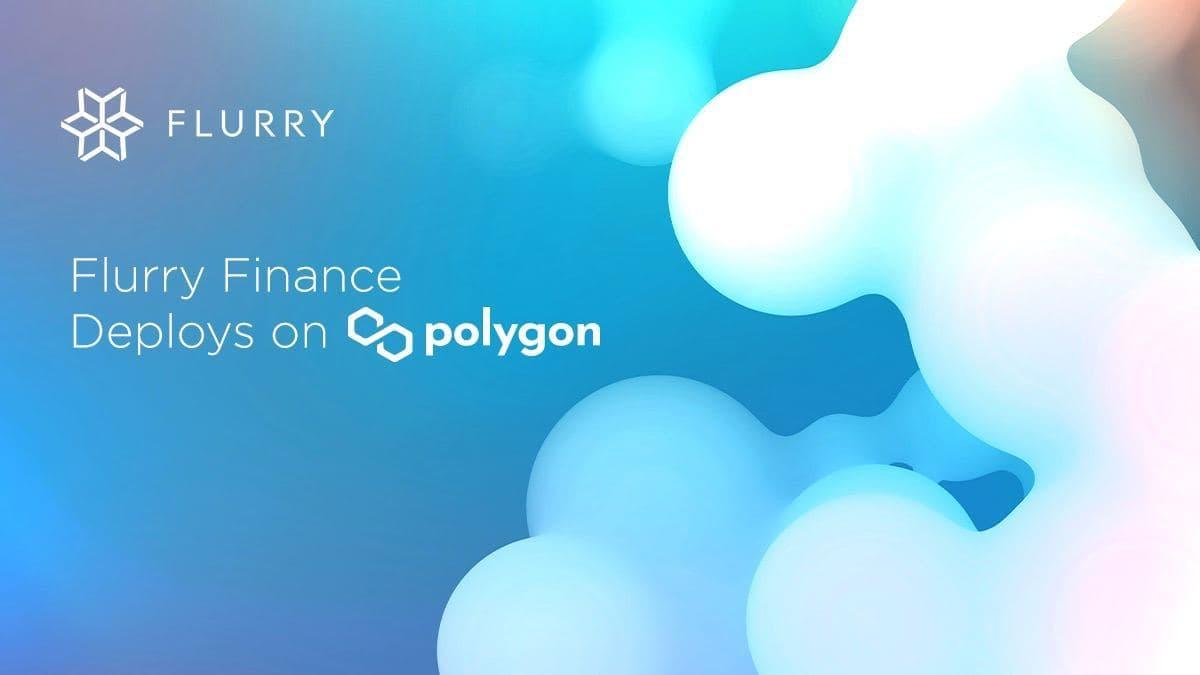 November, 26 2021 – Hong Kong, Hong Kong
---
Flurry Finance, a DeFi protocol that offers efficient cross-chain yield farming to the DeFi community, is all set to deploy its utility token RHO and its governance token FLURRY on the Polygon network on December 1, 2021.
Since announcing its partnership with Polygon in August to optimize yield farming, Flurry Finance has achieved a number of key milestones including:
Mainnet launched on the Ethereum (ETH) and Binance Smart Chain (BSC) networks
Product launched on BSC network
Garnered $3 million in total value locked (TVL) within a month of product launch
Flurry Finance's much-anticipated expansion to Polygon Network Chain comes to fruition with the FLURRY governance token and three RHO tokens – rhoUSDT, rhoUSDC, and rhoBUSD – becoming available to all Polygon users on December 1, 2021.
"It is an honor for us to bring a simple, easy-to-use and automated yield farming interface to the Polygon community. The advantages that Polygon Network brings will take us a step closer to achieving one of our first mottos – DeFi for all. We have been anticipating this deployment since we announced the partnership this August," said Mike Ting, CEO of Flurry Finance.
Flurry is also launching a new staking reward campaign called the Snowball to further incentivize users.
Leading blockchain security and smart contract auditing firm CertiK has successfully audited Flurry's smart contracts before their deployment on Polygon. The integration will allow RHO token holders to enjoy Polygon's fast and secure transactions with low gas fees, enabling a seamless experience within the larger Polygon DeFi ecosystem.
The expansion to Polygon network will bring more yield farming strategies to be deployed, as Flurry Finance expands its footprint in the DeFi space. The coming deployment on Polygon Network would incorporate strategies onto Aave and SushiSwap, which have the largest liquidity pools on the network chain.
The promise of decentralized finance is one of freedom and self-determination. Flurry Finance is committed to bringing DeFi to the hands of everyone on the planet, with a simple interface, optimized yield strategies, and lower gas fees.
A Quick Recap 
Flurry Finance has launched its governance token FLURRY on both the Ethereum network and Binance Smart Chain, whereas RHO token is currently available only on Binance Smart Chain.
The IDO of FLURRY was successfully launched on the Cardano-based launchpad CardStarter on September 6, 2021. Its trading pairs are now available on Uniswap, Pancakeswap, Gate.io and MEXC.
The governance token of Flurry Finance has grown rapidly in acceptability with the success of the initial liquidity campaigns of the project. The FLURRY ecosystem keeps growing with new partnerships and a newly announced reward campaign.
About Flurry Finance
Flurry is a DeFi protocol offering yield aggregation with rhoTokens, which is pegged 1:1 to its underlying stablecoin. To generate the optimal fee-adjusted yield for users, it automates the tedious task of locking/unlocking and switching in and out of DeFi products on different chains.
Current yield aggregators are limited to Ethereum-based products or work on a single chain, whereas FLURRY aims to work cross-chain to look for the best yield after cost on different chains.
Twitter
Telegram
News Channel
Discord
Website
Contacts
Alison Cheng
marketing@flurry.finance
This content is sponsored and should be regarded as promotional material. Opinions and statements expressed herein are those of the author and do not reflect the opinions of The Daily Hodl. The Daily Hodl is not a subsidiary of or owned by any ICOs, blockchain startups or companies that advertise on our platform. Investors should do their due diligence before making any high-risk investments in any ICOs, blockchain startups or cryptocurrencies. Please be advised that your investments are at your own risk, and any losses you may incur are your responsibility.
Follow Us on Twitter Facebook Telegram
Check out the Latest Industry Announcements