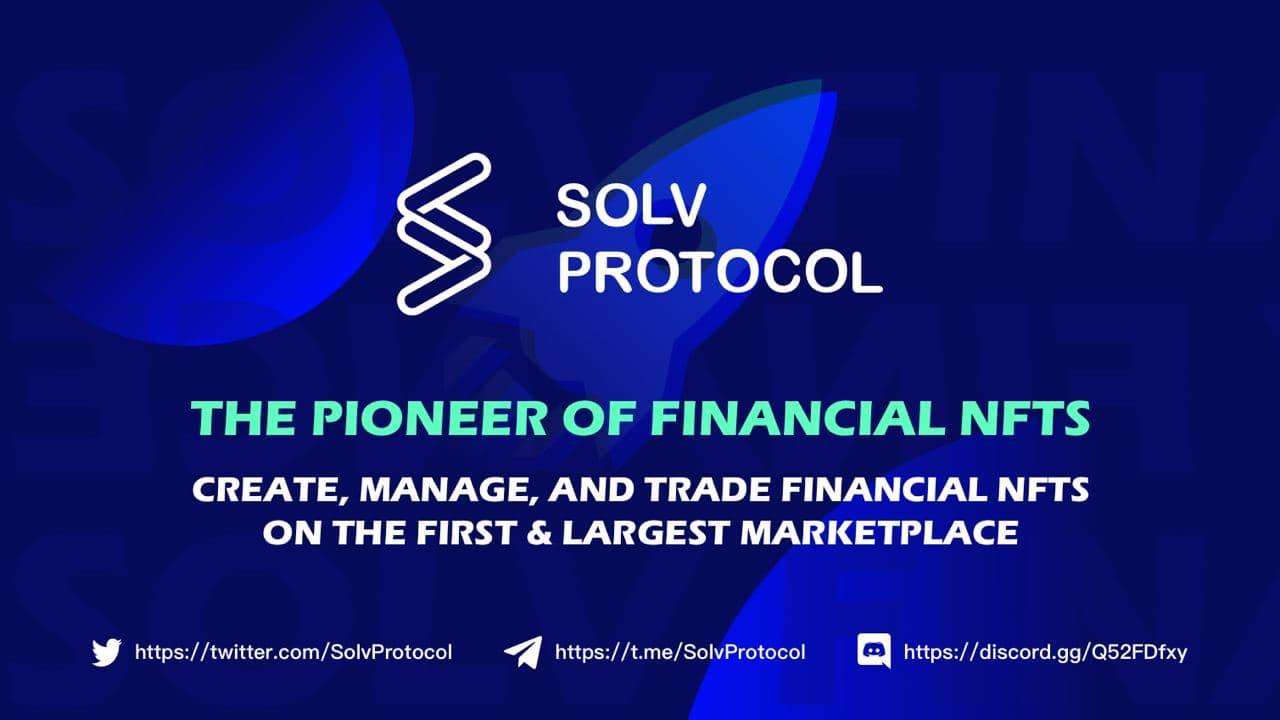 November 30, 2021 – The Republic of Singapore, Singapore
---
Solv Protocol is pleased to announce the completion of the Series A round led by preeminent venture investors Blockchain Capital, Sfermion and gumi Cryptos Capital.
Solv Protocol recently announced $4 million raised in Series A round from leading venture investors including Blockchain Capital, Sfermion, and gumi Cryptos Capital. These funds will give the project a head start in pioneering 'voucher finance' for DeFi. Solv is a DeFi protocol enabling users to mint and trade NFTs representing financial ownership (also known as 'vouchers').
Solv Protocol has also raised from foundations including DeFi Alliance, TheLao, CMT Digital, CMSholdings, Apollo Capital, Shima Capital and SNZ Holding, with Spartan Group and Axia8 Ventures being co-investors.
Shortly after being founded, the project received $1 million funding from Spartan Group, IOSG Ventures, Hashed and others.
Mike Meng, co-founder of Solv, said,
"Over the year since its inception, Solv has built a strong network of investors and partners across the world, whose support is essential to the future of vouchers. That's why we'll continue working to make DeFi 2.0 an 'era of vouchers.'"
Spencer Bogart, general partner of Blockchain Capital, said,
"The vast majority of financial contracts that exist today are highly bespoke, which makes ERC-20 tokens an unsuitable standard to bring these contracts on-chain. By leveraging expressiveness of NFT metadata, the Solv teams work to build a reliable DeFi infrastructure and to unlock the new territory of 'voucher finance.'"
Dan Patterson, general partner of Sfermion, said,
"Sfermion is extremely proud to partner with the Solv team as they build out the tools and primitives necessary to support the future of financial NFTs. With their new ERC-3525 standard, NFTs can now become semi-fungible, unlocking a plethora of financial use cases previously unexplored."
Rui 'Ray' Zhang, general partner of gumi Cryptos Capital, said,
"NFTs are the perfect medium to express structured financial products on-chain. The SOLV team has created the first standards allowing for the construction of these products – like bonds, convertible notes and usable vesting tokens – to be built safely and efficiently."
Solv will use this round's funds to launch new vouchers, expand globally and recruit more developers and designers. One of the project's missions is to build a voucher ecosystem for the users of DeFi and to bring maturity to the infrastructure of DeFi.
About Solv

Founded in 2020, Solv Protocol is a decentralized marketplace for minting and trading NFTs that represent financial ownership, also known as 'vouchers.' Solv aims to resolve one of the most pressing problems in the emerging field of DeFi – the absence of an efficient and flexible tool to express complicated financial contracts. And by bringing vouchers to the table, Solv offsets that gap.
Solv's team consists of a blockchain evangelist and key opinion leader, a seasoned architect in fintech and blockchain and a veteran DeFi and token researcher.
Contact
Ethean Yu, operations manager of Solv
This content is sponsored and should be regarded as promotional material. Opinions and statements expressed herein are those of the author and do not reflect the opinions of The Daily Hodl. The Daily Hodl is not a subsidiary of or owned by any ICOs, blockchain startups or companies that advertise on our platform. Investors should do their due diligence before making any high-risk investments in any ICOs, blockchain startups or cryptocurrencies. Please be advised that your investments are at your own risk, and any losses you may incur are your responsibility.
Follow Us on Twitter Facebook Telegram
Check out the Latest Industry Announcements