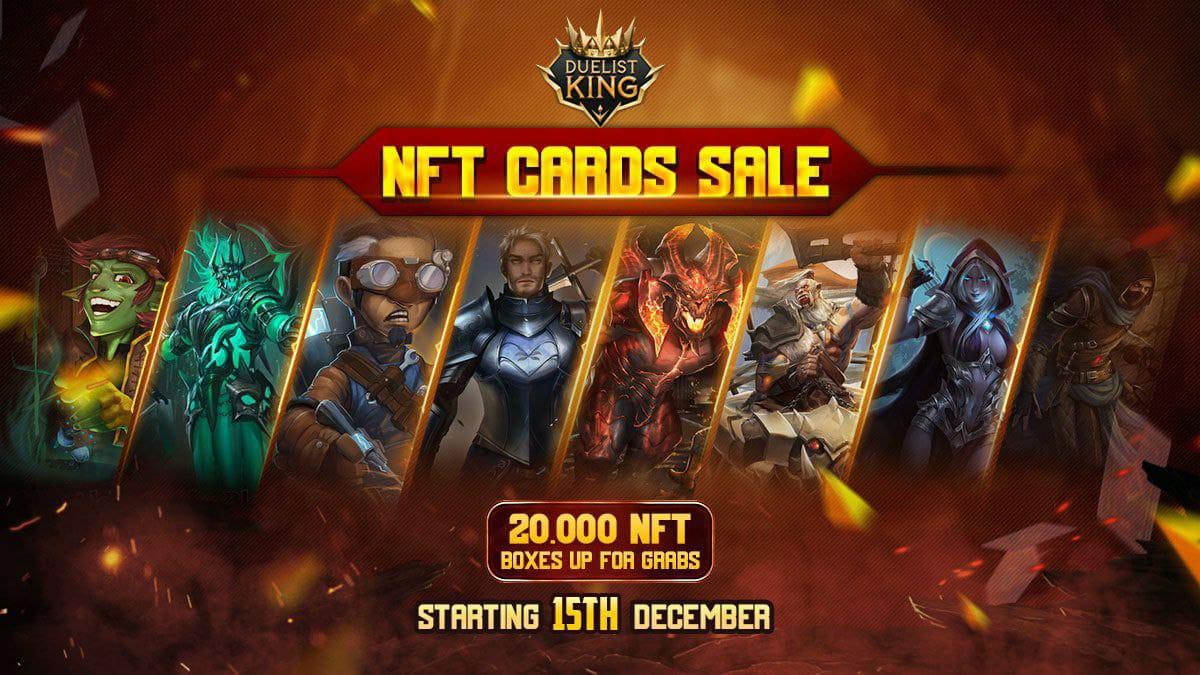 December 1, 2021 – Beachmont, Saint Vincent and the Grenadines
---
Duelist King is pleased to announce its second batch of NFT cards to be sold on December 15, 2021. The first batch of cards in mystery boxes sold out within 45 minutes, confirming massive demand for this product.
Duelist King noted tremendous success during its first sale of 50,000 NFT boxes. The sale took place on September 15, 2021, and was sold out within 45 minutes due to strong demand for these non-fungible tokens. Every box was valued at $5 and gave users an equal chance of obtaining rare cards. Duelist King NFTs have six rarity levels, from 'common' to 'legendary.'
The mystery boxes are the distribution method for the NFT cards of this ecosystem. Every NFT box contains five cards of random rarity. The team guarantees this fair distribution through its in-house developed system, allowing distribution outcomes to be publicly verified on the blockchain.
The second batch of NFT boxes will be purchasable on December 15, 2021. However, this run spans 20,000 boxes, compared to 50,000 boxes in the first run. The team will offer the card sales through various rounds, each with its own design. There will be 25 phases of card distribution, each featuring 20 unique designs.
That multi-round approach allows players to collect a decent starting deck and explore everything Duelist King offers. However, not all designs from previous rounds will make a return in later rounds.
To start playing Duelist King, a minimum of 22 cards is required. Cards can be obtained through the mystery boxes or from the marketplace via secondary sales. Supported marketplaces include Refinable, OpenSea and in the future, the Binance NFT platform.
Playing Duelist King offers various rewards, including new cards or artifacts issued through the win-to-earn mechanism. Players can also explore online tournaments to win stablecoins and DKT. Participation in the second batch mystery box sale can be done by spending DKT, the Duelist King token.
Sign up for the cards sale here.
Furthermore, Duelist King is proud to announce Fantom as its latest infrastructure partner and Fantom Foundation as one of its strategic investors. As Fantom is the go-to scaling platform for brands, it has a booming NFT ecosystem.
Nicole Nguyen, CMO of Duelist King, said,
"By adding a new variety to our existing characters, as well as our integration of Fantom, enabling faster and more secure transactions, we believe this has paved the way for even more community members to get their hands on our new batch of cards – [and] appeal to our existing members who are looking forward to power[ing] up their decks for the soon-to-be-launched game."
Low gas fees and faster transaction throughput are essential in this competitive space. Additionally, Fantom and Duelist King share the same core values of promoting fairness, efficient transactions and security.
About Duelist King
As the first NFT game powered by Dual Launch via OccamRazer IDO and PancakeSwap IFO, Duelist King is built on BSC and Cardano and supported by Fantom, Polygon and Cronos (powered by Crypto.com) to provide a cross-chain supporting platform for NFTs and later Duelist King tokens.
Duelist King is the first-generational NFT card built around the win-to-earn narrative and powered by an in-house decentralized autonomous organization (DAO), oracle and random number generator.
Reddit | Telegram | Twitter | Discord | Facebook
Contact
This content is sponsored and should be regarded as promotional material. Opinions and statements expressed herein are those of the author and do not reflect the opinions of The Daily Hodl. The Daily Hodl is not a subsidiary of or owned by any ICOs, blockchain startups or companies that advertise on our platform. Investors should do their due diligence before making any high-risk investments in any ICOs, blockchain startups or cryptocurrencies. Please be advised that your investments are at your own risk, and any losses you may incur are your responsibility.
Follow Us on Twitter Facebook Telegram
Check out the Latest Industry Announcements