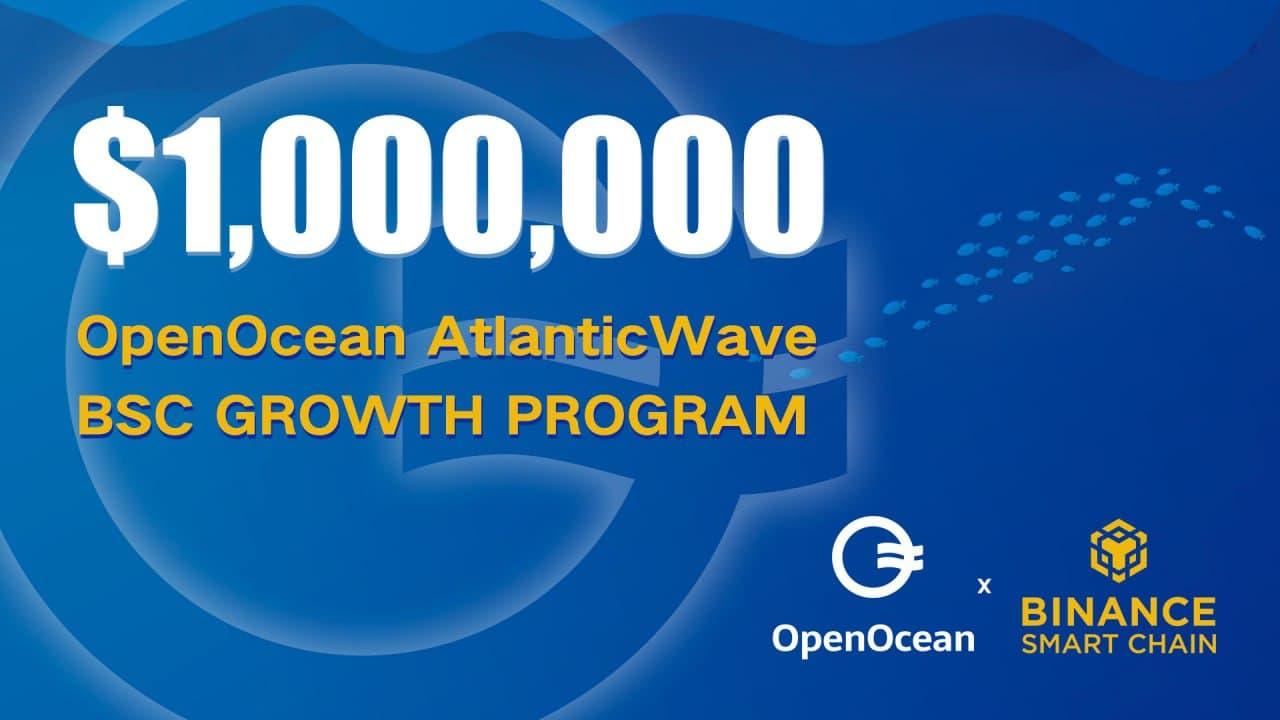 December 1, 2021 – Road Town, British Virgin Islands
---
OpenOcean

the world's first DeFi and CeFi full aggregator was born in 2019 with the mission to help its users trade with maximum returns that cannot be found anywhere else. Now, we are primed to enter the next stage of expansion.
OpenOcean's recent Atlantic version upgrade provides users with an even more efficient trading experience that helps maximize returns while outperforming other DEX aggregators. While testing swaps on BSC, it has shown that OpenOcean Atlantic is better in 60% of the cases, according to the testing results.
Overall, OpenOcean Atlantic delivers better returns in most cases compared to other leading DEX aggregators on BSC. Plus, OpenOcean's large user base – paired with the high potential of the BSC ecosystem – persuaded us to launch a BSC-focused growth incentive.
The OpenOcean Foundation is proud to announce the launch of the OpenOcean AtlanticWave, an incentive program committing $1 million to the growth of the BSC ecosystem, consisting of various campaigns, including liquidity mining and partnership events. Call out to current and new BSC partners. Apply for your project to join AtlanticWave here.
Program details
Duration
ix months
Start date
December 1, 2021
End date
May 31, 2022
Pledge
$1,000,000
The program will run over six months, starting from December, and consist of several BSC trading-related campaigns across different categories, including DeFi, gaming, DAOs, NFTs and metaverses. So, there is no need to worry if you miss a campaign or are not lucky in one you participate in – there will be plenty more opportunities over the campaign duration. Campaigns will be announced around one week before their start date. Follow OpenOcean on social media to keep up to date with the latest.
About OpenOcean
OpenOcean is the world's first DeFi and CeFi full aggregator. OpenOcean's intelligent routing algorithm finds the best price and low slippage for traders across centralized and decentralized exchanges with no additional fees.
As a one-stop trading entrance, we have aggregated major DEXs across public chains, including Ethereum and layer 2, Binance Smart Chain, Avalanche, Polygon, Solana, HECO, TRON, Ontology and CEX (Binance). OpenOcean will continue to support cross-chain swaps via bridges and cross-chain protocols and aggregate more DeFi and CeFi products and launch intelligent management services.
Website | Twitter | Telegram | Telegram Announcements
Contact
This content is sponsored and should be regarded as promotional material. Opinions and statements expressed herein are those of the author and do not reflect the opinions of The Daily Hodl. The Daily Hodl is not a subsidiary of or owned by any ICOs, blockchain startups or companies that advertise on our platform. Investors should do their due diligence before making any high-risk investments in any ICOs, blockchain startups or cryptocurrencies. Please be advised that your investments are at your own risk, and any losses you may incur are your responsibility.
Follow Us on Twitter Facebook Telegram
Check out the Latest Industry Announcements