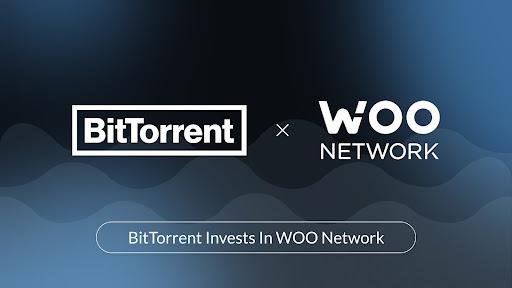 December 9, 2021 – Singapore, Singapore
---
BitTorrent, the leader in peer-to-peer protocols and products, has announced the completion of its initial investment into WOO Network as part of the Series A round, which was announced on November 9, 2021. The round was led by Three Arrows Capital, PSP Soteria Ventures, Gate Ventures, QCP Capital and Crypto.com Capital but featured many other strategic partners. BitTorrent is the latest name to join this list and offer strategic advice on growth and go-to-market strategies.
As part of this alliance, BitTorrent and WOO Network will be collaborating on various initiatives, such as liquidity in both CeFi and DeFi venues and on the newly launched BitTorrent Chain (BTTC). Launched on November 4, 2021, BTTC is the first heterogeneous cross-chain interoperability scaling protocol in the TRON ecosystem.
BTTC will support and be compatible with TRON, Ethereum and Binance Smart Chain (BSC) upon its release. Users will be able to transfer mainstream assets among TRON, Ethereum and BSC in a decentralized manner without any limit.
Steve Liu, CEO of BitTorrent, said,
"We are thrilled to welcome WOO Network as one of the initial ecosystem participants on the BitTorrent chain. We believe in supporting innovative ideas and through this investment look forward to supporting the WOO Network in providing accessible democratized network-agnostic liquidity."
As a platform-agnostic liquidity provider, a strategic alliance with BTTC is a natural fit for WOO Network, which already has experience working with several blockchains, including BSC and Ethereum.
In November, WOO Network launched WOOFi Swap, a decentralized exchange that uses granular market data to simulate the liquidity from their centralized order book on-chain. WOO Network and BitTorrent will explore opportunities to deploy similar products on BTTC, leveraging the throughput, speed and low transaction fees to offer traders a better experience.
Ran Yi, chief of ecosystem development at WOO Network, said,
"Few companies in this space have the reach, experience and resources that BitTorrent has. This is one of the key reasons we are confident in BitTorrent Chain to build a robust network and why we are eager to take part in developing along with them. This partnership has the potential to open up a whole new audience of traders and users to the WOO Network suite of products."
WOO network will use the investment to accelerate its global market expansion through talent acquisition and opening a new R&D regional office in Warsaw, Poland. The capital will also be allocated toward the development of new product lines such as futures, social trading and a suite of innovative DeFi trading and yield generating products.
About TRON and BitTorrent
Founded in 2004, BitTorrent is one of the largest decentralized peer-to-peer networks in the world, with almost 100 million active users driving 22% of upstream and 3% of downstream traffic globally.
TRON is dedicated to accelerating the decentralization of the internet via blockchain technology and decentralized applications (DApps). Founded in September 2017 by Justin Sun, the company has continued to deliver impressive achievements since mainnet launch in May 2018. July 2018 also marked the acquisition of BitTorrent, a pioneer in decentralized services boasting nearly 100 million monthly active users.
The TRON ecosystem has gained incredible traction in recent years, with over 52 million users on the blockchain and upwards of 2.3 billion transactions. In addition, TRON boasts the largest circulating supply of stablecoins across the globe, overtaking USDT on Ethereum in April 2021.
About WOO Network
WOO Network is a deep liquidity network connecting traders, exchanges, institutions and DeFi platforms with democratized access to the best-in-class liquidity and trading execution at lower or zero cost. Its flagship product, WOO X, is a professional trading platform featuring customizable modules and lower to zero fees complete with deep liquidity. WOO Network was incubated by Kronos Research, a quantitative trading firm generating between $5-10 billion in daily volume.
Contact
Anjali George, BitTorrent
Ben York, Woo Network
This content is sponsored and should be regarded as promotional material. Opinions and statements expressed herein are those of the author and do not reflect the opinions of The Daily Hodl. The Daily Hodl is not a subsidiary of or owned by any ICOs, blockchain startups or companies that advertise on our platform. Investors should do their due diligence before making any high-risk investments in any ICOs, blockchain startups or cryptocurrencies. Please be advised that your investments are at your own risk, and any losses you may incur are your responsibility.
Follow Us on Twitter Facebook Telegram
Check out the Latest Industry Announcements