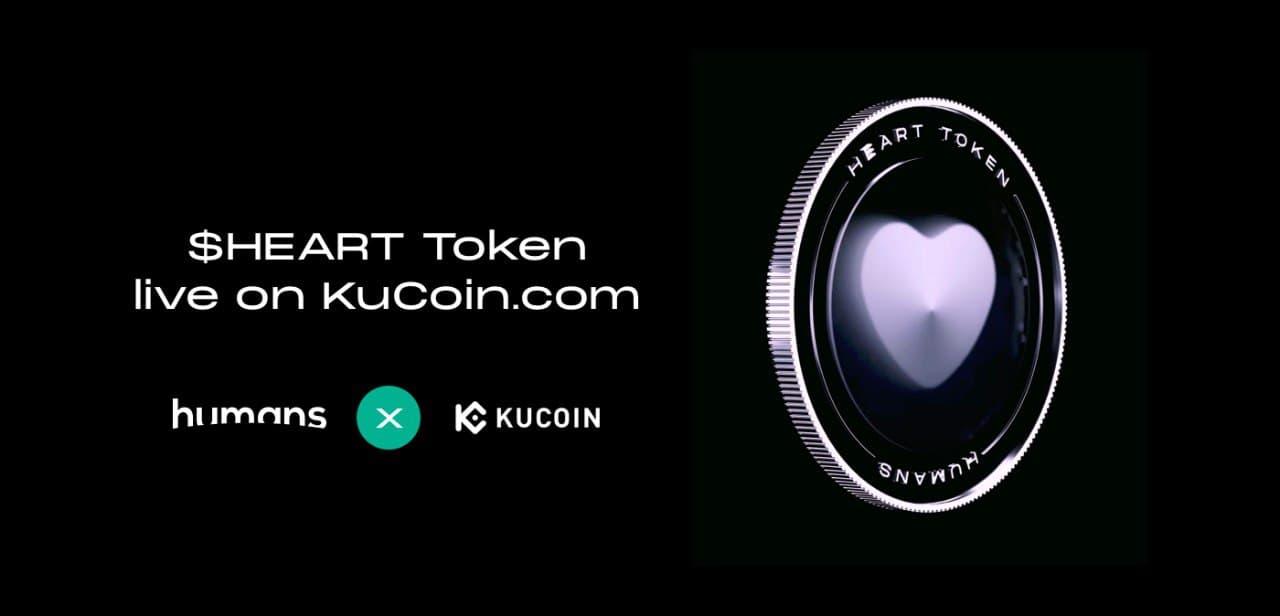 December 14, 2021 – Vaduz, Lichtenstein
---
Humans.ai, deep tech company developing an all-in-one platform for AI-based creation and governance at scale, is excited to announce that its native HEART token is now listed on one of world's top cryptocurrency exchanges, KuCoin, as of Monday, December 13, 2021, achieving over $30 million volume on the first day of trading.
KuCoin is a major exchange in the crypto market, established in 2017 with more than 500 currencies included in its 750 trading pairs. KuCoin is used by more than 10 million registered users globally and is one of the largest social trading platforms.
Sabin Dima, CEO of Humans.ai, said,
"The listing of the HEART token on KuCoin is an important part of Humans.ai's roadmap, as it represents part of the efforts being made by the team behind the project to spread awareness about the Humans.ai ecosystem for AI-based creation and governance at scale."
Humans.ai has recently closed its public token sale on Polkastarter in record time, raising $1,170,000 via the cross-chain token offering platform. The company launched the IDO (initial decentralized offering) in partnership with Polkastarter to help engage the community in the further development of the decentralized Humans.ai platform.
The Humans.ai HEART token sale went live on December 9, 2021, and was immediately oversubscribed, closing in less than 30 minutes. The $1,170,000 raise has been the biggest pool on the Polkastarter platform so far.
The Humans.ai team is building the next-generation blockchain platform that brings together an ecosystem of stakeholders around the use of AI to create at scale. It combines a library of AI tools into a creative studio suite where users will be able to pick and choose as they bring their ideas to life.
With Humans.ai, users are empowered to create and own their digital likenesses, which may be used either by themselves or by others in the creation of any number of digital assets. The company's synthetic media, AI apps and other digital assets utilize blockchain technology to generate non-fungible tokens (NFTs) as a way of creating transparency, provenance, accountability and long-term governance.
Humans.ai has previously raised $9 million from over 60 world-class investors in their private sale round, ranging from business leaders, tech executives and blockchain experts, to community leaders and top management from tier 1 companies.
Lead investors in the Humans.ai startup have included Romanian entrepreneur R?zvan Munteanu, one of the most active investors in the blockchain space, and Elrond Research, the investment extension of Romanian blockchain company Elrond.
About Humans.ai
Humans.ai is the first framework for ethical AI and blockchain. It is creating an all-in-one platform for AI-based creation and governance at scale, beginning with an initial focus on synthetic media. Through its creative studio and token-based ownership and accountability system, Humans.ai is designed to ensure contributions are fairly rewarded and that every AI is kept honest over the long term.
The native token of the Humans.ai ecosystem, the HEART token, empowers users to participate in the governance of the platform and facilitates key flows of value within it. All fees charged within the Humans.ai platform will be paid in HEART.
Website | Telegram | Medium | Twitter
About KuCoin
KuCoin is a global cryptocurrency exchange for numerous digital assets and cryptocurrencies. Launched in September 2017, KuCoin has grown to become one of the most popular crypto exchanges and already has 10 million registered users across 207 countries and regions around the world.
Contact
This content is sponsored and should be regarded as promotional material. Opinions and statements expressed herein are those of the author and do not reflect the opinions of The Daily Hodl. The Daily Hodl is not a subsidiary of or owned by any ICOs, blockchain startups or companies that advertise on our platform. Investors should do their due diligence before making any high-risk investments in any ICOs, blockchain startups or cryptocurrencies. Please be advised that your investments are at your own risk, and any losses you may incur are your responsibility.
Follow Us on Twitter Facebook Telegram
Check out the Latest Industry Announcements