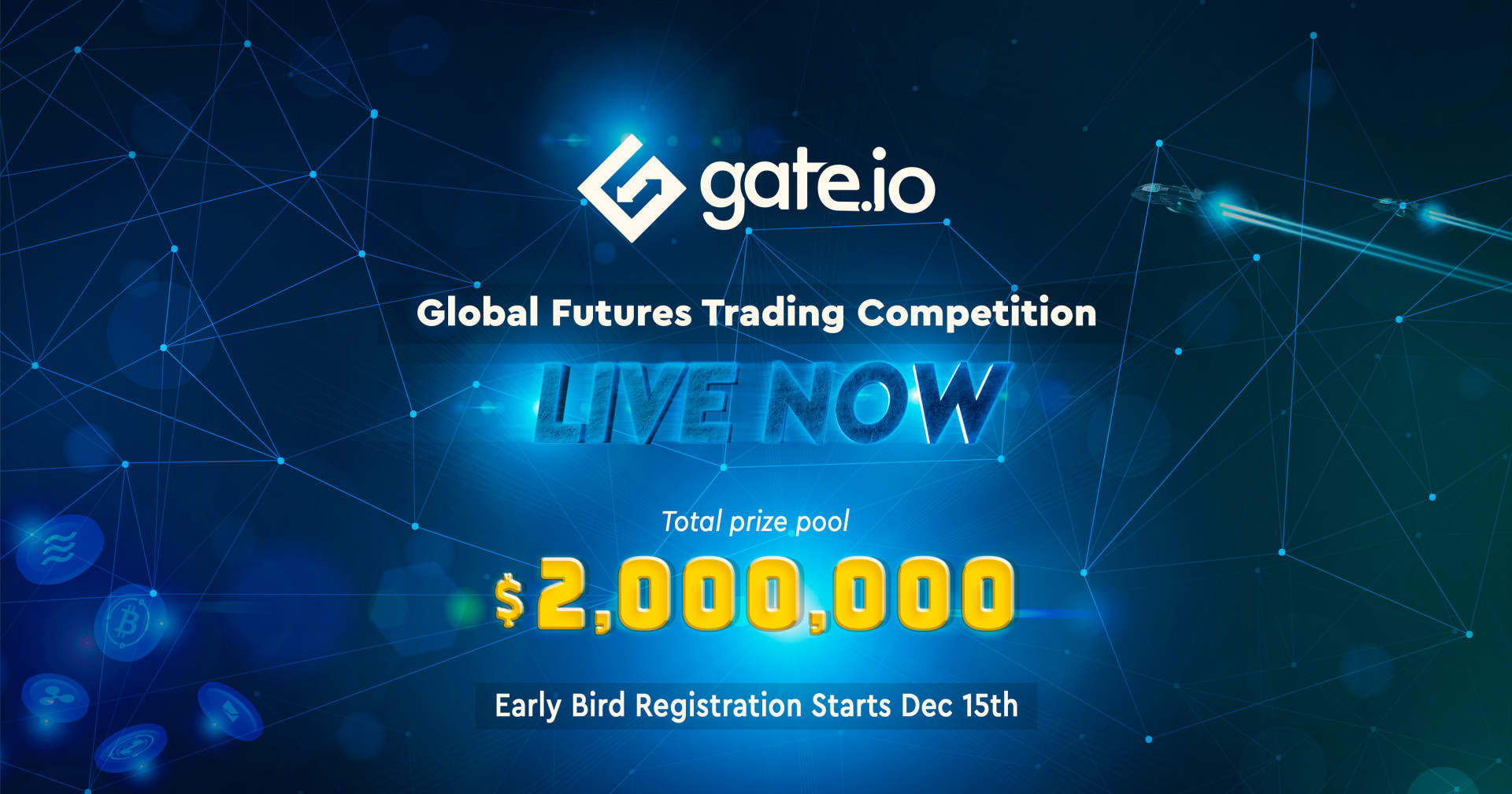 December 17, 2021 – Singapore, Singapore
---
As one of the biggest trading competitions worldwide, the Global Futures Trading Competition (GFTC) hopes to bring together crypto enthusiasts from all over the world. Early bird registration starts on December 15, 2021. Register here.
Gate.io's first Global Futures Trading Competition will be officially open for early bird registration on December 15, 2021. With a prize pool of $2 million, the GFTC will be the world's first and largest futures trading competition. The top-ranked troop in the 'troop showdown' can win up to $1.6 million from the prize pool.
As the platform's first futures trading competition, Gate.io has invested heavily in this event and hopes to bring together enthusiasts from all over the world for this exciting futures trading competition. Furthermore, the number of rewards available means that you can win a prize by simply participating in the competition.
Marie Tatibouet, chief marketing officer at Gate.io, said,
"The first crypto extravaganza of 2022 is just around the corner, and we have carefully planned GFTC in every single aspect. In the past, people have marveled at Gate.io's extensive range of products and services – such as the over 1,200 coins and tokens available to trade, GateChain and NFT magic box. Gate.io's contract products have grown tremendously over the last year, reaching the top five worldwide."
How do I enter the competition?
Gate.io aims to show every user the experience of futures trading firsthand. Simply sign up for Gate.io and open a contract account with greater than or equal to 200 USDT in assets to participate in the $2 million prize pool.
Wide variety of contract pairs available
Gate.io is known as one of the most popular exchanges in the industry, with almost 1,200 cryptocurrencies available for trading on the platform, including more than 200 contract pairs and over 180 pairs with USDT. Regardless of what tokens you are interested in, Gate.io is more than likely to have listed it.
The largest prize pool among the exchanges (with extra goodies)
The prize pool of GFTC's 'troop showdown' is up to $1.6 million, and the prize pool of 'solo showdown' is up to $400,000. In addition to the prize pool, other rewards also include contract bonuses, limited edition OpenPunks non-fungible tokens (NFTs) and more.
GFTC details
The registration period of this competition is from December 22, 2021, to January 17, 2022. The competition runs from January 7 to January 21, 2022.
Early bird registration prize
ew users who register will receive 10 USDT, while current users who register will receive five USDT. The 'troop captain' who invites new users to join the troop will also receive 10 USDT each.
Troop showdown
f the total prize pool, with a maximum share of $1.6 million.
Solo showdown
of the total prize pool, with a maximum share of $400,000.
Limited edition NFTs
articipate in the competition to earn a chance at winning a limited edition NFT worth $37,000.
Vote and share
orrectly predict the champion in the 'troop showdown' and earn another $10,000.
About GFTC
Gate.io's first futures trading competition provides an expandable prize pool of up to $2 million. The competition consists of 'troop showdown,' 'solo showdown,' early bird rewards, NFTs, voting rewards and more. Global traders can register through the official competition website.
Click here to register.
About Gate.io
Gate.io is a leading digital currency exchange with over nine million users in 190 countries across the globe. The exchange offers over 1,200 coins and tokens to trade using spot, margin, futures and contract trading in addition to decentralized finance products through HipoDeFi, services through Wallet.io and investments through Gate Labs and GateChain platform.
The company also offers an integrated list of products, such as its startup IEO platform, NFT magic box marketplace, crypto loans and more.
Contact
Diksha Sharma, head of PR and communications at Gate.io
This content is sponsored and should be regarded as promotional material. Opinions and statements expressed herein are those of the author and do not reflect the opinions of The Daily Hodl. The Daily Hodl is not a subsidiary of or owned by any ICOs, blockchain startups or companies that advertise on our platform. Investors should do their due diligence before making any high-risk investments in any ICOs, blockchain startups or cryptocurrencies. Please be advised that your investments are at your own risk, and any losses you may incur are your responsibility.
Follow Us on Twitter Facebook Telegram
Check out the Latest Industry Announcements