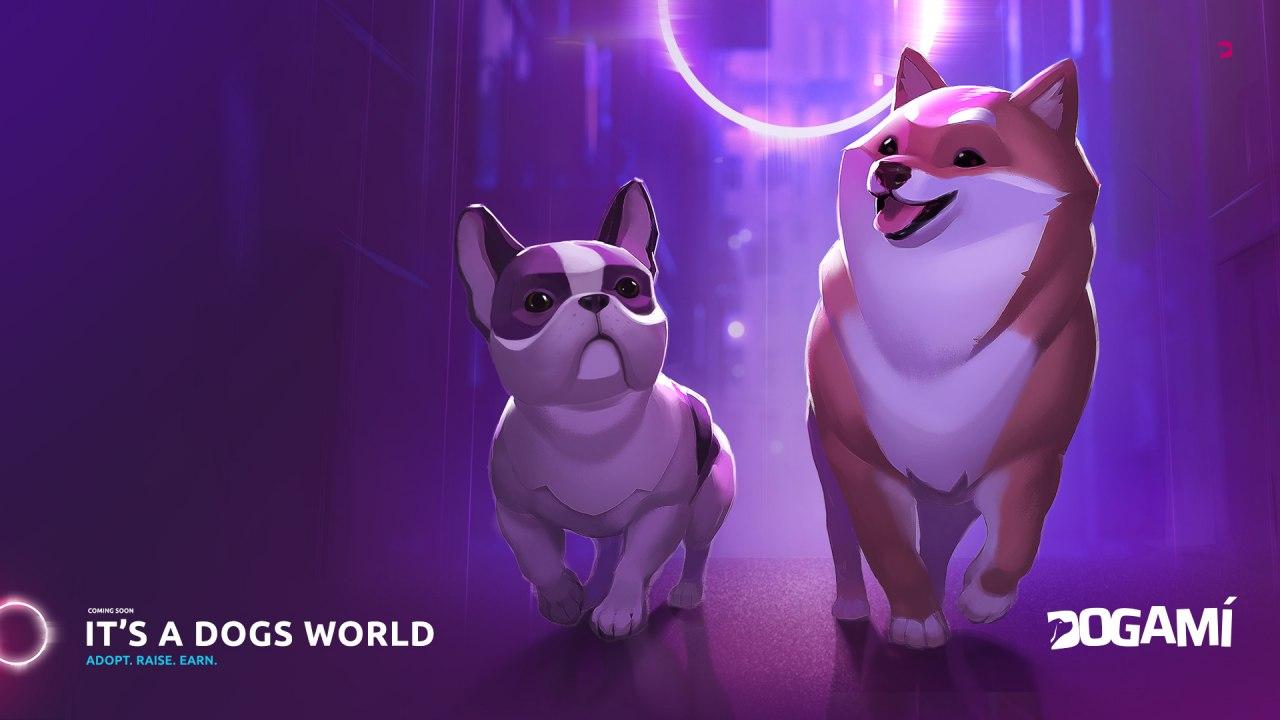 December 21, 2021 – Paris, France
---
DOGAMÍ, the first mass market play-to-earn NFT game powered by Tezos, secures $6 million in funding from Ubisoft, Animoca Brands and The Sandbox co-founders. The funding will help establish the future of pet ownership 3.0 and the role of blockchain technology in these proceedings.
DOGAMÍ continues to turn heads in the world of gaming and pet ownership. The recent round of funding is a firm nod of approval from various cross-industry blockchain leaders. The pre-seed fundraising noted support from Ubisoft, Animoca Brands, The Sandbox's co-founders, XAnge, Blockchain Founder Fund, Ghaf Capital and Draper Goren Holm.
Such outspoken support from these industry leaders validates DOGAMÍ's approach to play-to-earn gaming.
Nicolas Pouard, VP of Ubisoft Strategic Innovation Lab, said,
"At Ubisoft, we believe that blockchain holds a key to the future of the videogame industry, bringing new possibilities for players and developers alike. We think DOGAMÍ shares this vision and contributes to the opening of blockchain gaming to mainstream players."
DOGAMÍ combines AAA NFT gaming with investing and pet ownership 3.0. The game resides on the Tezos blockchain, renowned for being more energy-efficient than other public blockchain ecosystems.
DOGAMí paves the way for establishing a 'petaverse' where players can adopt and raise their unique 3D dog companion and earn DOGA tokens in the process. More importantly, DOGAMÍ has become the top play-to-earn game project in the Tezos ecosystem.
Players entering the petaverse will train and play with over 300 DOGAMÍ breeds. Every breed has unique traits and will provide a slightly different user experience. Interaction between players and virtual pets occurs through the augmented reality-enabled mobile application.
Additionally, there is lore surrounding the petaverse to explore. That lore is created by Bryan J.L. Glass, an alumnus of Marvel, Image and DC Comics who worked on Thor, The Mice Templar and Adventures of Superman.
Players engaging with the petaverse will earn DOGA tokens when completing various tasks. The currency is used to buy consumables, build a digital wardrobe, purchase tickets to virtual events, collect badges and breed DOGAMÍ. Additionally, DOGA will be traded through centralized and decentralized exchanges on the secondary market.
Maximilian Stoeckl, CEO and co-founder of DOGAMÍ, said,
"At DOGAMÍ, we aspire to develop a play-to-earn game that pushes the envelope in terms of design, user experience and mass appeal. We believe strongly in the opportunities and the empowerment that web 3.0 has to offer. The early support of world-class investors, as well as advanced negotiations with strong commercial partners, [is] highly reassuring and encourages us in our beliefs."
About DOGAMÍ
DOGAMÍ is the first mass-market NFT play-to-earn AR mobile game – where you adopt and raise your 3D dog and earn DOGA in the petaverse. Co-founded in mid-2021 by Max Stoeckl (CEO, previously BCG), Bilal El Alamy (CTO, blockchain serial entrepreneur), Adrien Magdelaine (COO, previously Wamiz, pet industry serial entrepreneur) and Kristofer D. Penseyres (CBO, previously Sony Pictures, branding and partnership expert). Supported by a European team of over 30 people, including art director Gregory Magadoux (previously Ubisoft). Discover more here.
Contact
This content is sponsored and should be regarded as promotional material. Opinions and statements expressed herein are those of the author and do not reflect the opinions of The Daily Hodl. The Daily Hodl is not a subsidiary of or owned by any ICOs, blockchain startups or companies that advertise on our platform. Investors should do their due diligence before making any high-risk investments in any ICOs, blockchain startups or cryptocurrencies. Please be advised that your investments are at your own risk, and any losses you may incur are your responsibility.
Follow Us on Twitter Facebook Telegram
Check out the Latest Industry Announcements