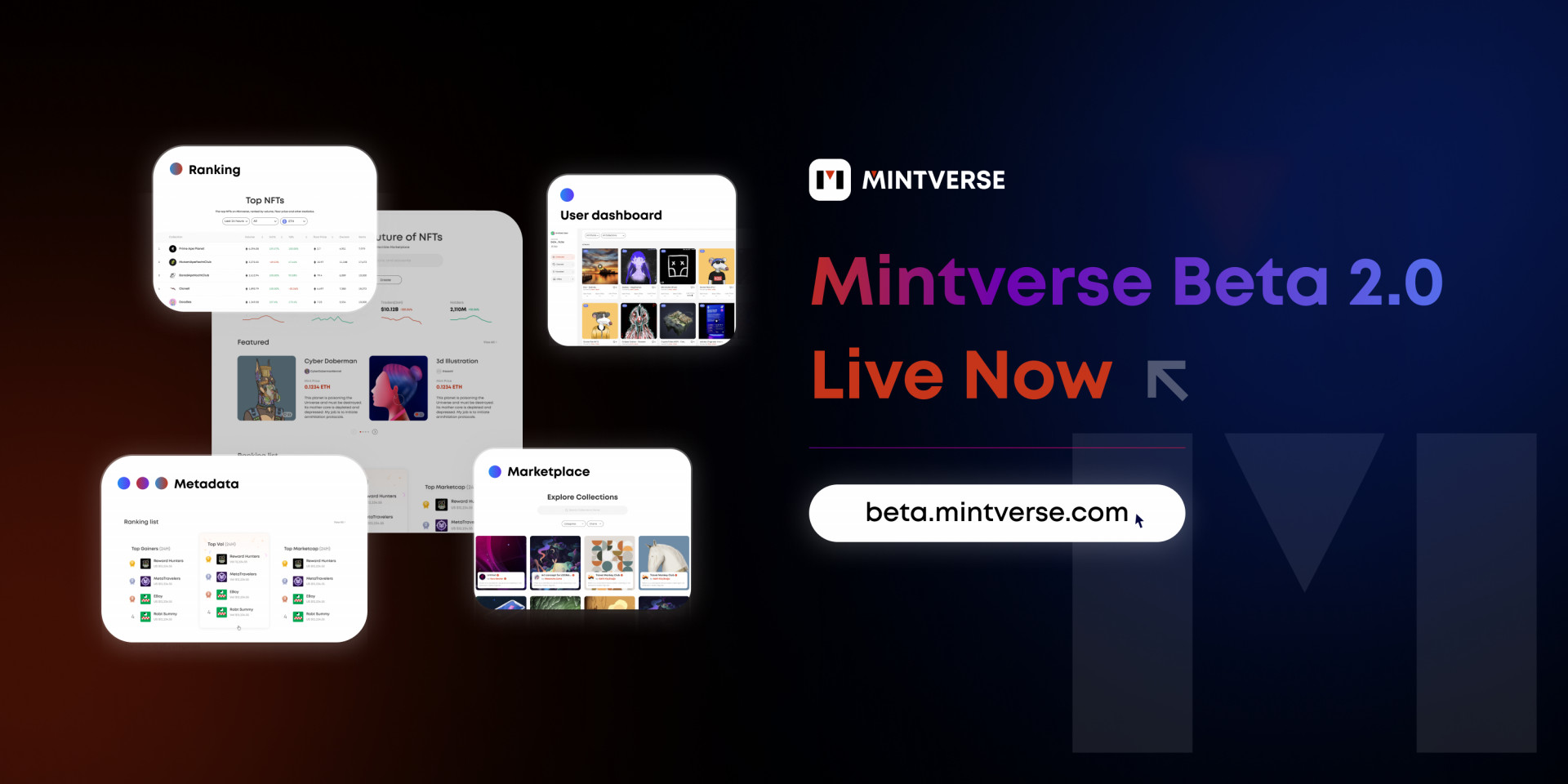 January 7, 2022 – Dubai, United Arab Emirates
---
Mintverse is excited to announce a revamped version of its NFT collection tracking solution. Several crucial improvements and additions have been made to the protocol, paving the way for onboarding millions of people to the world of non-fungible tokens.
Mintverse is keen on exploring the future of NFTs by providing users with a comprehensive NFT aggregator and marketplace. Global interest in non-fungible tokens has risen significantly in recent months – yet there is still a steep learning curve. Moreover, the novice user experience is not too great, paving the way for platforms like Mintverse to build new solutions and make the space more accessible.
Under the hood, Mintverse is a decentralized NFT platform and aggregator for various NFT project types. Moreover, the focus on collectibles and gaming NFTs showcases the potential of finance and gaming opportunities in the broader blockchain and cryptocurrency industry.
The new version of Mintverse introduces some prominent changes. A big change has been made to the user dashboard. Users can connect their wallets to keep track of all NFT collections and explore new collections through the same interface.
To date, Mintverse has analyzed over 75 million assets on Binance Smart Chain and over 35 million on Ethereum, confirming the appeal of Mintverse's products and services. The team aims to provide the most comprehensive metadata of NFTs across both of these blockchains, surpassing OpenSea and other marketplaces.
Backed by major investors and partners such as A&T Capital, Mirana Ventures, FBG and Fenbushi Capital, Mintverse aims to tackle current existing problems such as high gas fees, lack of monetary incentives for creators and insufficient utility for current NFT assets by implementing a variety of product offerings including but not limited to an NFT marketplace, gaming incubation, SOCIFI, governance DAO and more.
Rene Cao, founder of Mintverse, said,
"Mintverse will serve the BSC ecosystem by providing the largest and most aggregated NFT database. Moving forward, BSC-based NFT projects – specifically gaming projects – will not need to develop their own marketplace as Mintverse will automatically aggregate all NFT assets immediately, creating a version of OpenSea for BSC NFTs. Besides this, Mintverse has already analyzed more assets on [Ethereum] in comparison to OpenSea, the largest NFT marketplace in the market. In order to create a real decentralized platform, we will be rewarding users on Mintverse with a 100% commission rebate, embodying web 3.0, which we consider to be the future."
Other changes as part of Mintverse 2.0 include
Information on upcoming NFT drops
he team will scan all projects, spanning established artists, indie creators, native platform users and gaming projects.
Full data coverage and filter
Filter available NFT collections by category, collection, creator and asset of other properties on Mintverse. Additionally, users will receive the most recent statistics on any NFT collection to make a well-informed decision.
Ranking
Find the top NFTs trending on Mintverse, ranked by volume, floor price, market cap or other filters.
GamesPad
o support initial gaming projects' NFT offerings.
About Mintverse
Mintverse is an NFT aggregator and marketplace consisting of a peer-to-peer marketplace, swap, "GamesPad and square, where users can create, discover and collect NFTs and in-game products while also being able to crowdfund NFT projects. Mintverse has a vision of mass NFT adoption while further developing existing use cases and exploring future use cases of the NFT data structure.
Website | Discord | Telegram | Medium | Twitter
Contact
This content is sponsored and should be regarded as promotional material. Opinions and statements expressed herein are those of the author and do not reflect the opinions of The Daily Hodl. The Daily Hodl is not a subsidiary of or owned by any ICOs, blockchain startups or companies that advertise on our platform. Investors should do their due diligence before making any high-risk investments in any ICOs, blockchain startups or cryptocurrencies. Please be advised that your investments are at your own risk, and any losses you may incur are your responsibility.
Follow Us on Twitter Facebook Telegram
Check out the Latest Industry Announcements