Memecoins have become the fashionable digital tokens to hold because of their massive value gain over a short time – and Floki Inu is no different. The virtual token sprouted up toward the end of 2021, joining the likes of Dogecoin and Shiba Inu as the meme coin to watch in 2022. Floki combines humor and the goal of providing real-world solutions, which explains why the value and price of the coin proliferated quickly, hitting a one billion market cap within a year after creation.
About Floki Inu
For starters, Floki Inu draws its name after Elon Musk's Shiba Inu dog. The founders describe the memecoin as a movement on its whitepaper and not just an altcoin. Its vision is to create partnerships and autonomous decentralized ecosystems.
Currently, the meme-inspired virtual coin is quite affordable, trading at $0.00008. It peaked at $0.0004 before sliding into a dip like most digital currencies. It has a vast supply of 10 trillion coins.
The cryptocurrency's whitepaper outlines three pillars that support Floki Inu growth.
Floki University
to teach people about blockchain and NFT
An NFT metaverse game
An NFT marketplace
These utilities will use Floki Inu coin for transactions. Besides the meme status and utility which encompasses finance and games, it also boasts a strong pillar of charitability.
Q1 and Q2 forecast
Floki Inu opened the year, trading at $0.0001. Cryptopredictions' Floki inu forecasts predict that prices will average $0.000149 during the month and reach a maximum price of $0.000193 in February. In March, the predicted price of Floki is expected to range between $0.000135 and $0.000199.
The site further forecast that Floki could open the second quarter trading at a minimum price of $0.00014. The maximum price is expected to eventually cross the $0.0002 mark in April. The gradual value increase is expected to continue in May, with the digital coins averaging $0.000171 before finally closing July at a maximum price of $0.00022.
Q3 and Q4 predictions
In the third quarter, Floki Inu's forecasted price is expected to range between $0.000156 and $0.000247. The platform predicts Floki Inu to average $0.000184 in July, $0.000191 in August and $0.000198 in the last month of the quarter.
In the final quarter of 2022, Floki's expected average price could range between $0.000174 and $0.000272. After that, the average monthly price average will hit $0.0002, trading at $0.000204 in October, $0.000211 in November and $0.000218 in December.
Fundamental analysis
Floki Inu has so much in common with Shiba Inu and Dogecoin. Remember, both Shiba Inu and Dogecoin proliferated without so many real use cases. Instead, it was more about speculations that investors would buy the digital doggie-based meme coins at a high price.
Unlike many 'useless' dog-themed meme coins, Floki has integrated some practical, innovative use cases. For instance, it is integrated into the ShibaSwap DeFi platform.
One of the most exciting projects for the ERC-20 token is the slated NFT-based game Valhalla. NFT games like Axie Infinity are the 'in thing' in the crypto world. The metaverse game takes advantage of the extraordinary demand for metaverse assets. Valhalla is a play-to-earn game that enables players to receive NFTs. So, if the game development becomes successful, it could be fun and profitable, thus driving the prices of Floki to unprecedented heights.
Another feature that could boost Floki's price is the hyper deflationary feature. Floki and other deflationary coins burn more cryptos than they mine. When the supply decreases with stationary or increasing demand, the prices are bound to rise. But value increase is not always guaranteed – instruments still experience the conventional ups and downs. Floki removes tokens from circulation through the eight-percent tax on every transaction. Four-percent goes to holders, including a burn wallet, while the other half is used for marketing purposes.
Currently, Floki has a market capitalization of about $700 million. Low market capitalization indicates there is great room for value increase. The leading meme coins Shiba Inu and Dogecoin have a market cap of $16 billion and $20 billion, respectively. The relatively small market app makes the digital coin susceptible to huge price fluctuations.
The question is whether Floki Inu will reach $0.01. Well, for that to happen, that would move the market capitalization to around $100 million, effectively becoming the third-biggest crypto after Bitcoin and Ethereum.
Inverse Finance, one of the DeFi projects that will propel Floki Inu from a meme coin to a real use case cryptocurrency, generated $44 million worth of Floki into a new liquidity pool less than a day after launch. The platform offers loans using smart contracts with a collateral factor of 50%. In addition, the DeFi project enhances the decentralized autonomous organization where the community has a say on the adoption and technical improvements.
The charitability and social factor
Floki Inu is also planning to build schools in underprivileged societies to put them in good books with the society. Currently, Floki focuses on building a school in Guatemala, Nigeria and Laos. The project partners with organizations such as Pencils of Promise and features fully equipped classroom structures, libraries and computer labs. It has also partnered with Million Gardens Movement, run by Elon Musk's brother Kimble Musk and seeks to teach people how to grow their own food.
Floki's price jumped after new collaborations and partnerships. For instance, it jumped 14% after its partnership with SSC Napoli. The value also climbed significantly during a planned appearance on the iconic Burj Khalifa building. However, the event was canceled, and the coin value tumbled.
Floki Inu suffered a major hitch of a rug pull. However, the community admins saved the day by investing their own money to keep the coin going with a security mechanism to avoid a similar occurrence.
All these factors show Floki is poised for growth, hinged on strong use cases and solid pillars. Moreover, the technical analysis supports impending growth.
Technical analysis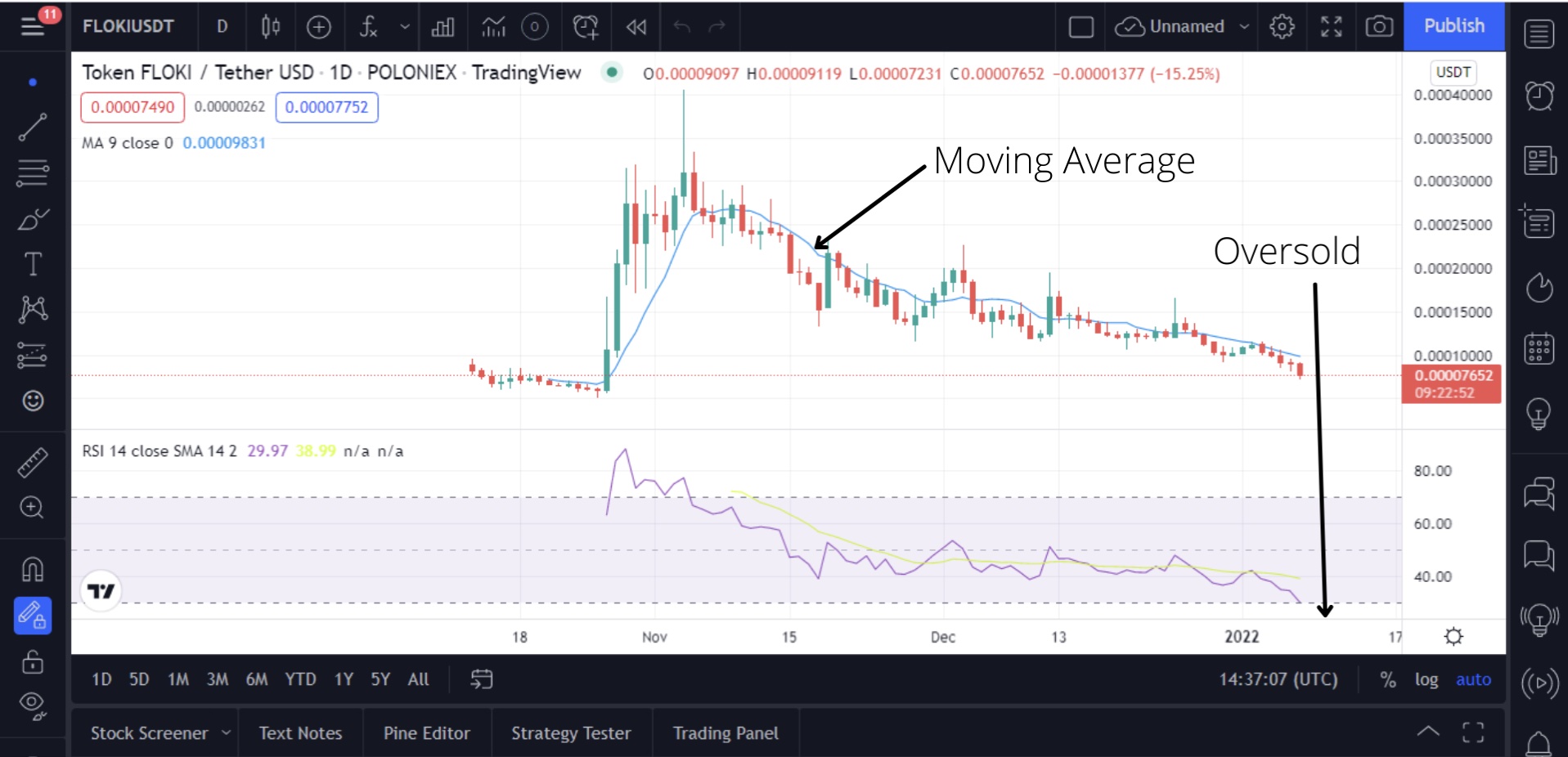 The Floki Inu trend is clearly on a downtrend. In fact, the price is trending below the moving average, which is a telltale sign of a downtrend. Therefore, the price should break above the line before investors think about jumping on an uptrend.
The relative strength indicator cements this analysis. The good news is that Floki is on the border of the oversold area. The wait is to see how long it will stay in this area before bouncing off and trending upwards. The whole point is that sellers have been in control – but their strength is dwindling.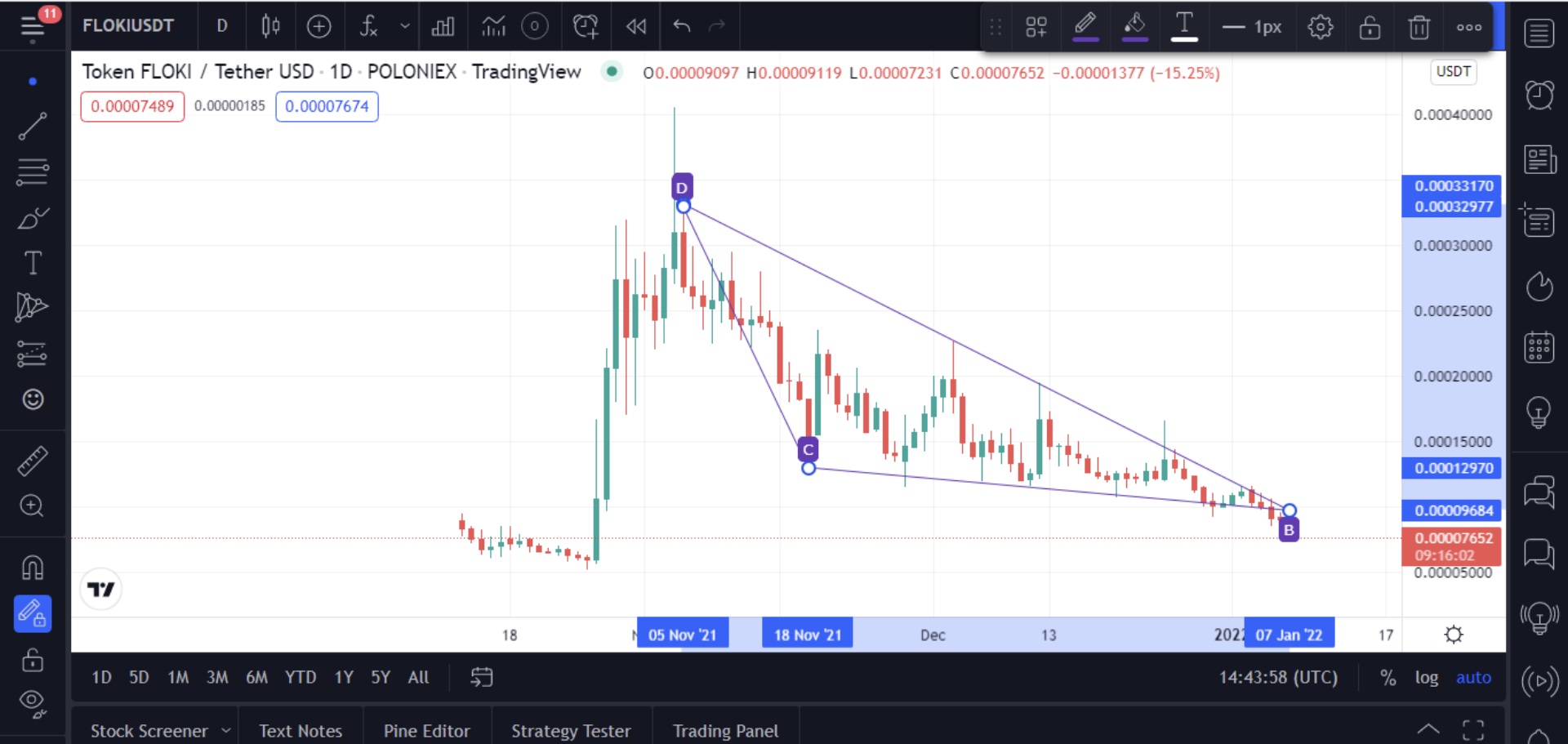 The price has formed a descending wedge, which is a bullish chart pattern. Once it finds support at the swing low, it will jump and head on a strong uptrend. As a trader, you should wait for a reversal signal and enter a long signal.
If the sellers continue dominating the market, the price could fall and find support at $0.00006. However, if the price starts ascending, it could find the first resistance at $0.0002 and the next between $0.0003 and $0.0004 at an all-time high.
Conclusion on our Floki Inu predictions for 2022
Floki Inu has experienced massive gains with the demand for dog-themed meme coins. But unlike their meme coins, Floki comes with real use cases – including an NFT metaverse game, DeFi projects and an educational platform. The value will depend on the projects' rollout and adoption of the crypto. If it meets acceptance the Floki community will grow, and Floki Inu will join the leagues of Shiba and Dogecoin. The holders will have reason to smile.
---
Michael Kuchar is a forex and cryptocurrency trader and blockchain enthusiast. He specializes in intraday trading of G20 currencies, and to anticipate potential market moves he utilizes a fusion of both fundamental and technical analysis. Michael is the founder of trading educational website, TradingBeasts, and also writes for CoinSpeaker, FX Empire, Equities, DailyForex and TalkMarkets.

Check Latest Headlines on HodlX
Follow Us on Twitter Facebook Telegram
Check out the Latest Industry Announcements
Disclaimer: Opinions expressed at The Daily Hodl are not investment advice. Investors should do their due diligence before making any high-risk investments in Bitcoin, cryptocurrency or digital assets. Please be advised that your transfers and trades are at your own risk, and any loses you may incur are your responsibility. The Daily Hodl does not recommend the buying or selling of any cryptocurrencies or digital assets, nor is The Daily Hodl an investment advisor. Please note that The Daily Hodl participates in affiliate marketing.
Featured Image: Shutterstock/Quardia/Alexander_Evgenyevich