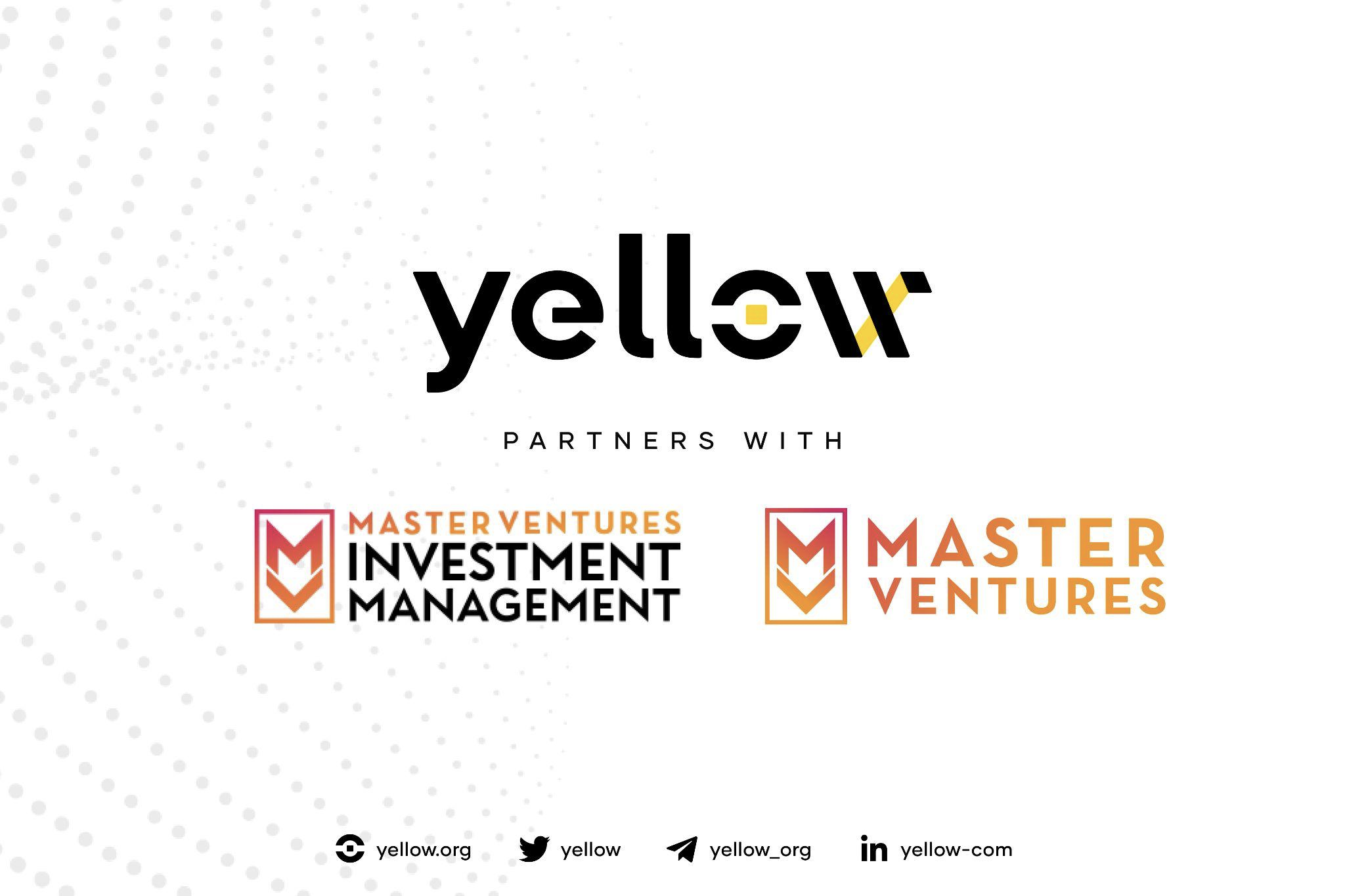 ---
Master Ventures intends to take advantage of the evolving Yellow web 3.0 financial ecosystem.
Yellow, a blockchain product and infrastructure company, and Master Ventures Investment Management (MVIM), powered by Master Ventures, a leading blockchain-focused venture studio driving blockchain adoption, are excited to announce a strategic partnership to advance the development of the worldwide crypto liquidity aggregator Yellow Network.
Yellow Network is a next-generation web 3.0 Financial Information Exchange (FIE) Network powered by state-channel technology, dedicated to interconnecting and aggregating crypto liquidity across multiple blockchains and cryptocurrencies.
Its mission is to facilitate seamless P2P cryptocurrency transactions between institutions, crypto exchange brokerages and traders.
Master Ventures brings together visionary ideas, exceptional talent and investment capital to build world-changing companies. Master Ventures' Investment Management VC Fund, launched in 2021 to support Polkadot, intends to invest in and capitalize on the upside opportunities in the evolving ecosystems of Yellow, Polkadot and Kusama.
Orion Depp, managing partner of Master Ventures Investment Management, said,
"At Master Ventures Investment Management, we are proud to support Yellow. As the first institutional sell-side research analyst on Binance Coin (BNB) in 2016 and an investment banker from the 90s, I've seen the evolution of crypto trading, and I think we need a lot more technology to properly induce mass adoption.
"We at MVIM, feel that Yellow is revolutionary and integral to this movement. Yellow's solution brings the stock market's Instinet and arca-style solutions of institutional aggregated liquidity and decentralization to the masses, allowing for faster and better execution.
"By using all the various blockchains such as Solana, Avalanche and Binance, exchanges can settle trades without even hitting the market, creating automatic and deep liquidity, replicating the efficiency of the tools used by the NASDAQ and other modern digital markets.
Further, at our parent company Master Ventures, we have backed industry heavyweights such as Coinbase, Kraken, Bitstamp, Ripple and Fluid Finance Instinet – so we think Yellow fits perfectly within our portfolio as the main industry disruptor."
Stay tuned for more VC partnership news and a global announcement at the end of the seed and strategic funding of the Yellow Network project, featuring all strategic partners involved and the total strategic investment amount.
About Yellow
Yellow is a global ecosystem of blockchain products and services for web 3.0 Internet of Finance, providing startup seed funding, mentorship, advisory, data analytics, market making and fintech software solutions. Yellow also provides developer tools, services and education programs worldwide for blockchain infrastructure developers and crypto brokerage businesses.
About Master Ventures Investment Management (MVIM)
Master Ventures Investment Management (MVIM) is a blockchain industry-focused institutional-grade investment manager backed by Master Ventures. MVIM supports institutional crypto projects that primarily list directly to tier one CEXs, and invests in various leading ecosystems including Solana, Algorand, Avalanche, Polkadot and more.
About Master Ventures
Master Ventures is a blockchain-focused venture studio building the next generation of infrastructure companies to drive blockchain adoption.
Master Ventures has been a significant incubator and investor in over 50 digital asset and blockchain networks since 2013, holding an estimated $1 billion in private market digital asset investments, including the Polkadot VC Fund, Kusama system and PAID Network.
Contact
This content is sponsored and should be regarded as promotional material. Opinions and statements expressed herein are those of the author and do not reflect the opinions of The Daily Hodl. The Daily Hodl is not a subsidiary of or owned by any ICOs, blockchain startups or companies that advertise on our platform. Investors should do their due diligence before making any high-risk investments in any ICOs, blockchain startups or cryptocurrencies. Please be advised that your investments are at your own risk, and any losses you may incur are your responsibility.
Follow Us on Twitter Facebook Telegram
Check out the Latest Industry Announcements