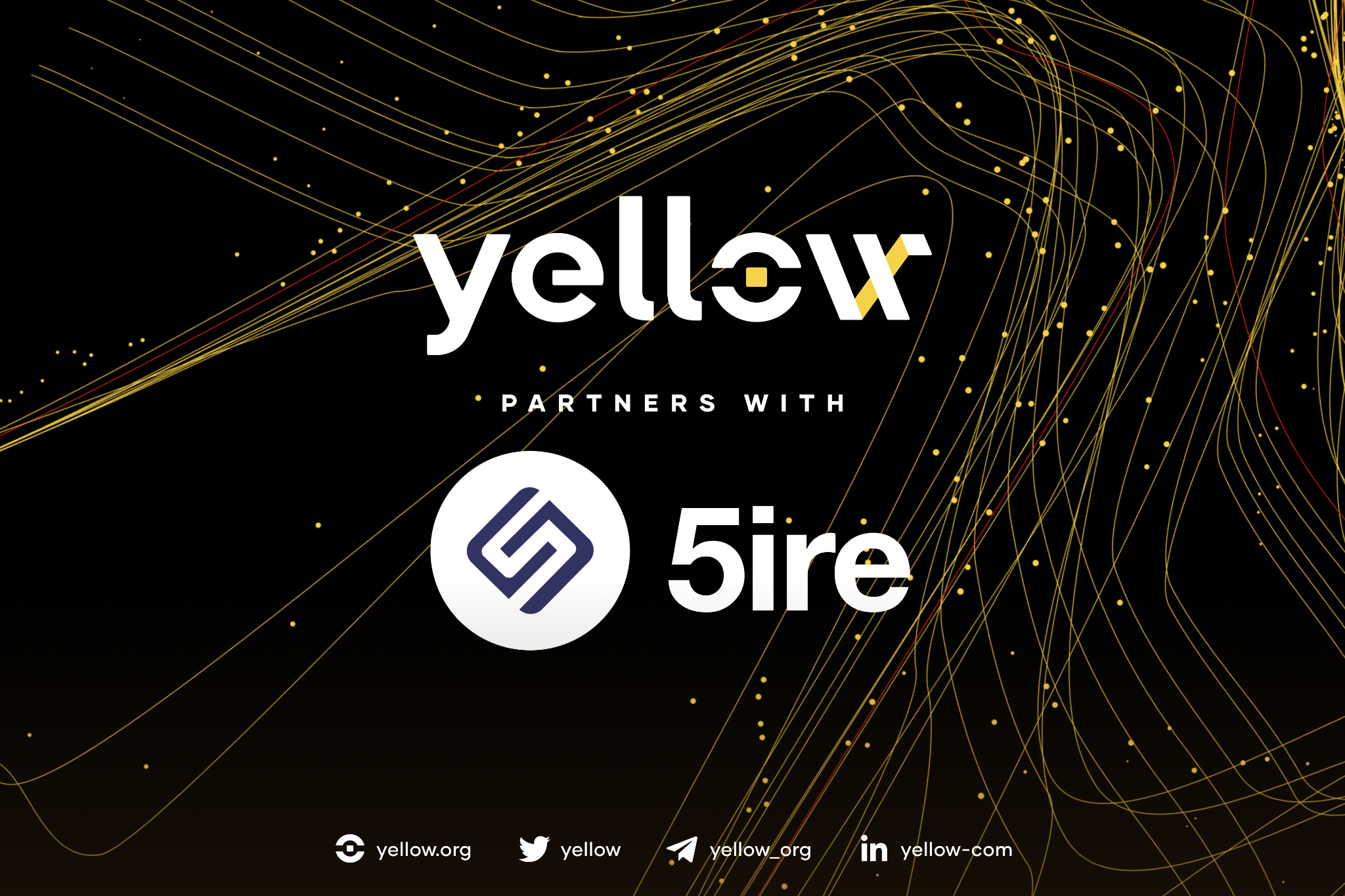 ---
Yellow Network initiates a strategic partnership with 5ire to focus on building a sustainable future for the blockchain industry.
Yellow, a blockchain product and infrastructure company, and 5ire, a fifth-generation blockchain that aims to bring a paradigm shift from a for-profit to a for-benefit economy, share the news about the strategic partnership they have established to advance the development of the Yellow Network project.
Yellow Network is a decentralized broker clearing network, with a built-in multi-asset spot trading exchange powered by OpenDAX™, that offers a real decentralized trading experience with unparalleled security and transparency for all network participants – exchanges, brokers and trading nodes.
Louis Bellet, CEO of Yellow, said,
"We are excited to get 5ire as the backer of Yellow Network as their vision and technology are very consistent with ours. It is an important step for Yellow to form such a partnership."
5ire intends to be the leading blockchain ecosystem to solve sustainability issues with its proprietary nPoS-based algorithm. 5ireChain's network acts as a governance structure that democratically empowers and incentivizes DAOs and working groups that accelerate the implementation of the UN 2030 agenda.
5ire technology stack offers protocol-level SDG oracles, cross-chain interoperability, metaverses, WebAssembly and Ethereum virtual machine (EVM) smart contracts, real-time economy data collection and telemetry with IoT, AR/VR, smart sensors and incentivized AI SDG analysis.
This partnership represents a major step forward for both companies. Yellow will be able to integrate alternative technology solutions into its product vision and take advantage of 5ire's partner ecosystem.
For 5ire, this collaboration implies a considerable expansion of their Web 3.0 infrastructure by having another groundbreaking project on board. Moreover, they will contribute to the network's liquidity by using YELLOW token for clearing operations between their nods.
Pratik Gunari, CEO and co-founder of 5ire, said,
"We're excited to be working in partnership with Yellow Network. They exemplify how thinking in terms of impact can generate benefits for all stakeholders, including the underrepresented, for an inclusive and diversified system.
"I firmly believe that by working together we can make the shift to a for-benefit paradigm with strategic partnerships such as the one we have with Yellow Network. The fifth industrial revolution is all about human-focused design, and Yellow Network showcases that focusing on DeFi just as we do with 5ireChain."
Stay tuned for more Yellow partnership news and a global announcement at the end of the seed and strategic funding of the Yellow Network project, featuring all strategic partners involved and the total strategic investment amount.
Join Yellow community to stay up to date with the latest updates.
About Yellow
Yellow is a global ecosystem of blockchain products and services for Web 3.0 internet of finance, providing startup seed funding, mentorship, advisory, data analytics, market making and fintech software solutions. Yellow also includes developer tools, services and education programs worldwide for blockchain infrastructure developers and crypto brokerage businesses.
About 5ire
5ire is a fifth-generation blockchain ecosystem, built from the ground up with the United Nation's sustainable development goals in mind. 5ire includes 5ireChain, the world's first sustainable blockchain, 5ire VC, 5ire's venture capital arm and 5ire Labs, 5ire's research and development hub.
This content is sponsored and should be regarded as promotional material. Opinions and statements expressed herein are those of the author and do not reflect the opinions of The Daily Hodl. The Daily Hodl is not a subsidiary of or owned by any ICOs, blockchain startups or companies that advertise on our platform. Investors should do their due diligence before making any high-risk investments in any ICOs, blockchain startups or cryptocurrencies. Please be advised that your investments are at your own risk, and any losses you may incur are your responsibility.
Follow Us on Twitter Facebook Telegram
Check out the Latest Industry Announcements