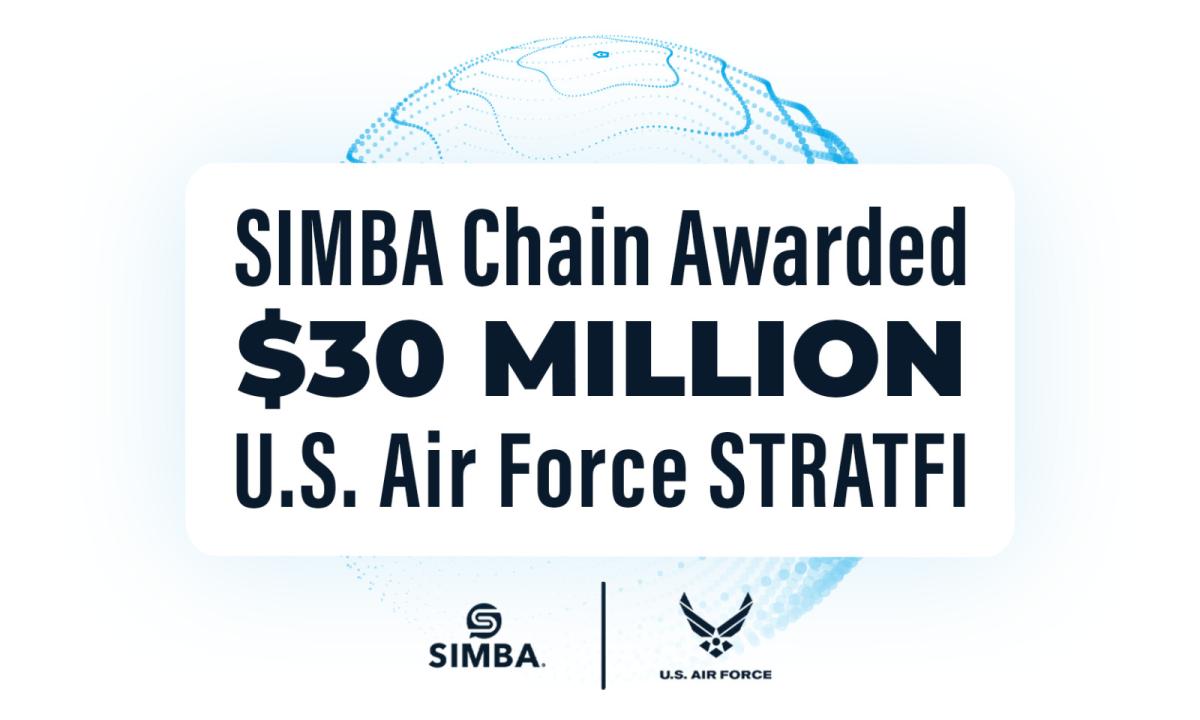 January 31, 2023 – South Bend, Indiana
---
Leading enterprise blockchain solutions provider SIMBA Chain announces it has been selected for a $30 million STRATFI with the USAF (US Air Force), following up on multiple projects the company has completed for the military branch in recent years.
The USAF STRATFI is focused on identifying and advancing technologies that have the potential to secure its future dominance. The $30 million investment reflects a significant budget increase compared to previous blockchain initiatives and will focus on the development and deployment of blockchain applications in supply chain management.
These programs are designed to be used by the office of the Under Secretary of Defense for Research and Engineering, the USAF, US Navy, US Army and the Defense Logistics Agency.
Commenting on the new partnership, Stacy Betlej-Amodeo, vice president of government operations at SIMBA Chain, said,
"Our new project for the USAF will pave the way to more efficient and comprehensive management of assets within the Department of Defense supply chain. SIMBA is thrilled to build upon our existing partnership with the DoD to scale blockchain technology across the enterprise."
Previously, SIMBA Chain has developed various blockchain applications to improve crucial USAF activities, including the tokenization of the organization's budget to enhance accounting, as well as the tracking of critical components vital to the air service branch.
The STRATFI will significantly accelerate development of the SIMBA Blocks platform while delivering in-transit visibility that supports the USAF strategic mission.
About the opportunity, Bryan Ritchie, CEO of SIMBA Chain, said,
"Through STRATFI our government partners are sending a strong demand signal for blockchain technology. Given the interconnectedness of the DoD supply chain, it also signals an opportunity to collaborate and increase adoption within the commercial industry."
About SIMBA Chain
Incubated at the University of Notre Dame in 2017, SIMBA Chain (short for Simple Blockchain Applications) is a fully integrated development platform that government agencies use to bridge and connect to Web 3.0.
SIMBA Blocks is at the core of this offering, abstracting the complexities of blockchain development to make Web 3.0 accessible to all.
SIMBA Blocks is a fully integrated platform that addresses governments' unique challenges when implementing blockchain-based solutions. From resilient information sharing and rapid decision-making to military supply chains, SIMBA's exceptional network performance and robust security features safeguard government data systems.
The robust platform delivers a low-configuration environment that auto-generates REST APIs capable of connecting to smart contracts on multiple blockchain protocols.
With the ability to choose and migrate between public, private and hybrid chains, governments can optimize their blockchain applications while future-proofing Web 3.0 investments.
Most importantly, as a government-proven platform, SIMBA Blocks ensures blockchain-based applications interact seamlessly with legacy systems across public and private domains. Visit the website to learn more.
Contact
Simon Moser, PR manager
This content is sponsored and should be regarded as promotional material. Opinions and statements expressed herein are those of the author and do not reflect the opinions of The Daily Hodl. The Daily Hodl is not a subsidiary of or owned by any ICOs, blockchain startups or companies that advertise on our platform. Investors should do their due diligence before making any high-risk investments in any ICOs, blockchain startups or cryptocurrencies. Please be advised that your investments are at your own risk, and any losses you may incur are your responsibility.
Follow Us on Twitter Facebook Telegram
Check out the Latest Industry Announcements