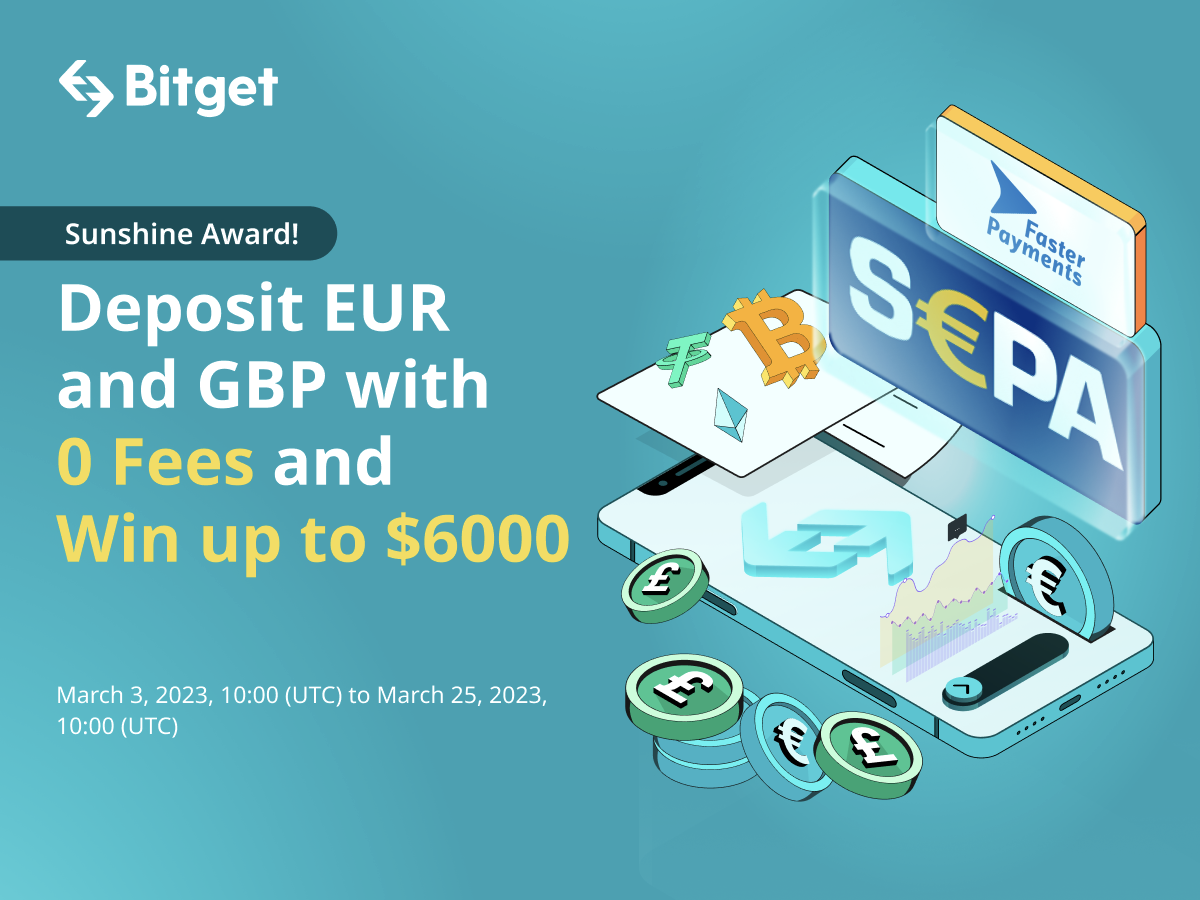 ---
Depositing and withdrawing EUR and GBP has never been easier at Bitget with a plethora of on/off ramp options introduced recently by the crypto exchange with the largest copy trading community in the world.
To celebrate the launch, Bitget has started a campaign event lasting from March 3, 2023, 10:00 UTC to March 25, 2023, 10:00 UTC with two events.
Event one ero fees and 10% cashback
You can not only enjoy zero fees for your EUR and GBP deposit – but also receive 10% cashback on your transactions. Every user can receive a maximum cashback of $30 USDT.
Event two ucky draw pool worth $10,000 for first-timers
But that's not all. The top one, top two and top three first-time fiat buyers who have the most deposit volume will also get $6000, $3,000 and $1,000.
Bitget's recent launch of fiat currencies (EUR and GBP) is indeed a step toward making cryptocurrency trading more accessible and convenient for users.
Let's break down some of the benefits and recent services introduced.
Zero deposit and withdrawal fees for EUR and GBP transactions
This means that users can deposit and withdraw EUR and GBP directly from their bank accounts to Bitget and vice versa. With bank transfer options available, no third-party payment providers are involved, which means saving in fees for users.
SEPA instant 24/7
This feature enables users to instantly deposit and withdraw EUR between bank accounts to their Bitget accounts, which is convenient and time-saving.
FPS for GBP deposit and withdrawal
The FPS (Faster Payments Service) is a UK-based payment service that allows users to deposit and withdraw GBP from their Bitget accounts quickly and easily. Payment generally takes minutes to arrive.
No third-party agency fees
Users don't have to pay any additional fees to third-party agencies for depositing or withdrawing fiat currencies from their Bitget accounts when using bank transfers.
High reputation with low risk due to bank endorsement
Bitget's bank endorsement adds to its credibility, making it a safe and secure platform for users to trade cryptocurrencies.
Real-time exchange rates with low volatility
Real-time exchange rates provide users with the most up-to-date information on currency values, allowing them to make informed trading decisions.
No gas fee for transactions
Gas fees are associated with blockchain transactions and can be a significant expense for users. With Bitget, users don't have to worry about gas fees, making trading more affordable.
Fiat trading pairs with EUR and GBP available for spot trading
Having fiat trading pairs available for spot trading on Bitget makes it easier for users to trade cryptocurrencies using their preferred fiat currency.
Overall, Bitget's launch of EUR and GBP fiat currencies with several benefits makes it a more user-friendly platform for cryptocurrency trading, offering users greater convenience, cost savings and increased security.
Bitget is also at the forefront of making the industry more transparent and trustworthy.
To safeguard users' funds on the platform, Bitget adopts top-notch security and protection measures, including a $300 million protection fund – a fund custody service pledged to be fully reserved by the Merkle Tree Proof of Reserves model. All information is transparently made available publicly.
About Bitget
Bitget, established in 2018, is the world's leading crypto exchange with a core focus on social trading, currently serving over eight million users in more than 100 countries worldwide.
The exchange is committed to providing users with secure, professional and one-stop trading solutions and aims to increase crypto adoption through collaborations with credible partners.
Bitget is the exclusive crypto exchange partner with legendary Argentinian footballer Lionel Messi, the official esports events organizer PGL and the first sleeve partner of the leading Italian football team Juventus.
To learn more about Bitget, please visit the website.
This content is sponsored and should be regarded as promotional material. Opinions and statements expressed herein are those of the author and do not reflect the opinions of The Daily Hodl. The Daily Hodl is not a subsidiary of or owned by any ICOs, blockchain startups or companies that advertise on our platform. Investors should do their due diligence before making any high-risk investments in any ICOs, blockchain startups or cryptocurrencies. Please be advised that your investments are at your own risk, and any losses you may incur are your responsibility.
Follow Us on Twitter Facebook Telegram
Check out the Latest Industry Announcements