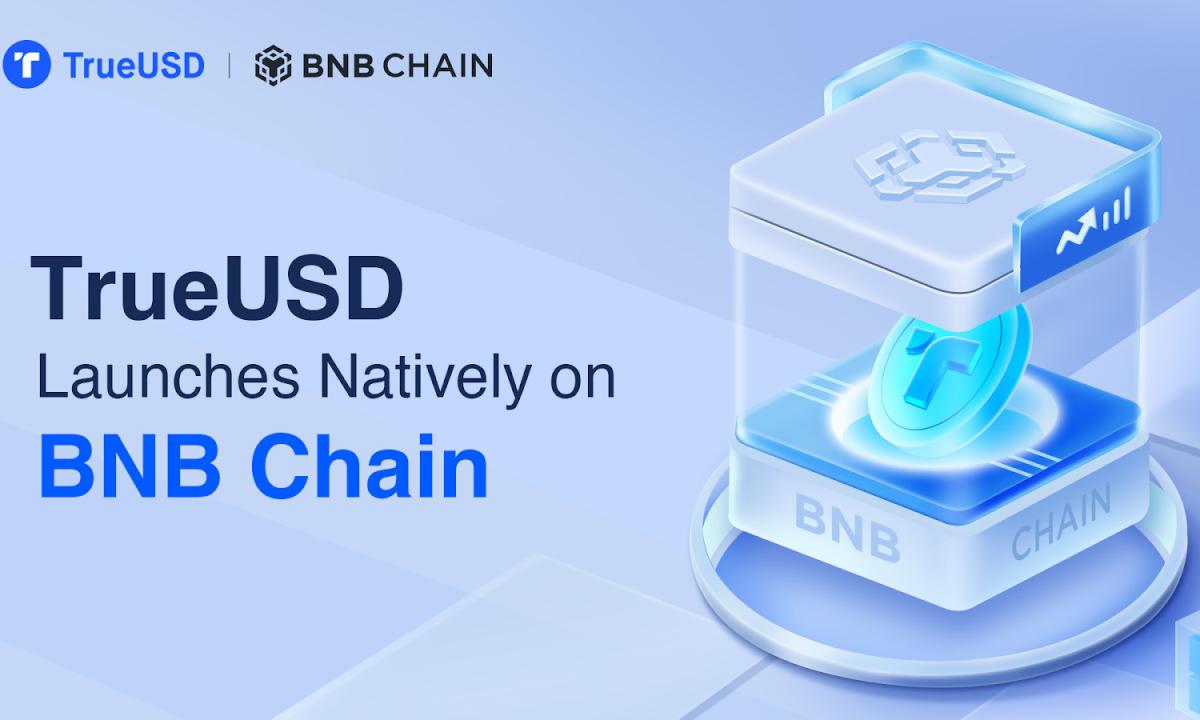 April 14, 2023 – Singapore, Singapore
---
TrueUSD (TUSD), a leading stablecoin provider, announced its deployment as a native token on BNB Smart Chain.
This groundbreaking integration marks a significant milestone in TUSD's multi-chain expansion strategy. It sets the stage for its further integration into the BSC (BNB Smart Chain) ecosystem.
The head of marketing at TUSD said,
"Individual and institutional clients can now mint and redeem native BSC-TUSD through the TUSD website. It leverages the benefits of BNB Chain's fast execution, minimal fees and compatibility with various decentralized applications (DApps)."
BNB Chain is a community-driven, decentralized and censorship-resistant ecosystem powered by the BNB token. It consists of BNB Beacon Chain for governance and BNB Smart Chain (BSC) for EVM-compatible development, which facilitates the multi-chain ecosystem.
It has processed three billion transactions to date from 200 million unique addresses, bringing developers massive user access with ultra-low gas fees.
The ecosystem has more than 1,400 active DApps across multiple categories such as DeFi, metaverse, blockchain games and NFT.
As the world's first stablecoin to offer 24-hour live on-chain attestation, TUSD has established itself as an industry leader with transparency, security and stability.
By partnering with multiple banks and institutions, TUSD enables holders to mint and redeem tokens 24/7. In addition, TUSD was the first USD-backed stablecoin to integrate with Chainlink and employ proof of reserves to secure its minting.
TUSD has pursued a multi-chain approach in recent years. It provides a stable and sufficient liquidity to various DeFi ecosystems, which bolsters their infrastructure.
The stablecoin is now native to several blockchains, including Ethereum and TRON. It has been deployed on over 10 public chains.
Top crypto exchanges such as Binance, Huobi, Poloniex and OKX have supported deposits and withdrawals for various TUSD offerings. This streamlined participation in multiple blockchain ecosystems for TUSD holders.
The launch of native BSC-TUSD builds on TUSD's extensive partnership with the BNB Chain ecosystem.
TrueUSD remains committed to bridging the gap between the crypto world and the real world by continuously exemplifying transparency, security and robustness.
As TUSD expands its use cases and introduces more market-oriented options, users can expect lower costs and a better transaction experience.
About TrueUSD
TrueUSD (TUSD) is the first digital asset with live on-chain attestations by independent third-party institutions and is backed one-to-one with USD.
So far, it has been listed on more than 100 trading platforms such as Binance and Huobi and is live on over 10 mainstream public chains including Ethereum, TRON, Avalanche, BNB Chain, Fantom and Polygon.
TrueUSD is attested in real-time by The Network Firm LLP, an independent, industry-specialized accounting firm in the US, to ensure the one-to-one ratio of its USD reserve to the circulating token supply and the 100% collateral rate.
With the integration of Chainlink PoR, TrueUSD becomes the first USD-backed stablecoin to secure minting and further ensure transparency and reliability. Users can access the relevant data via the official website at any time.
TUSD was granted statutory status as authorized digital currency and medium of exchange in the Commonwealth of Dominica on October 7, 2022.
Website | Twitter | Medium | Discord | Telegram | YouTube | Instagram
Contact
Annabel Gan, TrueUSD
This content is sponsored and should be regarded as promotional material. Opinions and statements expressed herein are those of the author and do not reflect the opinions of The Daily Hodl. The Daily Hodl is not a subsidiary of or owned by any ICOs, blockchain startups or companies that advertise on our platform. Investors should do their due diligence before making any high-risk investments in any ICOs, blockchain startups or cryptocurrencies. Please be advised that your investments are at your own risk, and any losses you may incur are your responsibility.
Follow Us on Twitter Facebook Telegram
Check out the Latest Industry Announcements